I look forward to watching Ben Aaron on LX New York everyday. His segments range from trying out umbrellas to auditioning for a job with the circus. They are always hilarious and interesting to watch. All of his pieces are so original and different each day. Recently, I met up with Ben Aaron at PJ Bernstein for an interview over a steaming hot Triple Delight, which is the ultimate chicken soup. The Triple Delight is loaded with matzoh balls, kreplach and noodles. Ben Aaron is such a breath of fresh air who is just as genuine and nice in person as he is on TV.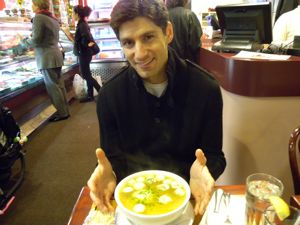 Jordana Zizmor: Do you see yourself as a serious new reporter or more of a comedian?
Ben Aaron: I try to be a balance of informative and entertaining. If I can take a really boring topic and make it interesting then I have done my job.
JZ: What was your major in college?
BA:I majored in radio. I'm a total radio guy.
JZ: How did you get on LX TV?
BA: I have been doing this for a really long time. I went to college for radio and started a few television shows that are still going. After college I went to Arizona and I did radio for 3 years. I worked at a radio station and had an Access TV show at the same time. The TV Show was live for 50 minutes and people would call in. Anyone can get an Access TV Show and it's great because it got me on live TV. It was 50 minutes straight with no commercials. I cared a lot about it and would come up with crazy segments. After that I got a job at a real TV station in Los Angeles. I worked there for a year and really figured out my situation. I'm not a news reporter guy and I love doing these funny stories. Everyone has a story and that's so fascinating to me. After that I got a job in San Diego doing live reporting for Fox. I went to work for a pop culture website at the same time doing red carpets. Then I got the call to come to New York and I moved.
JZ: How long have you been on LX?
BA: A little over a year. It was a little bumpy at first but it's doing a lot better now. We created a show that really had not been done before. It is a 5:00 show that's human interest and has features on things like fashion. Usually, at 5:00 pm people want to watch the news. It was hard at first for the public to get used to not seeing the News at 5:00.
JZ: How do you come up with your segment ideas?
BA: A million ways. Sometimes the viewers will write in with suggestions or I will be walking on the street and think of something. It's not the ideas but the angle. The angle is the most stressful part. You have to find a way to show something that no one has done before. You can't be afraid to do things differently.
JZ: What do you eat everyday?
BA:I get made fun of at work because I eat the same thing everyday. I have a ham and cheese sandwich at my desk
JZ: What's your favorite thing to do on a Sunday?
BA: My weekdays are so busy and my weekends are mellow. I love going to Central Park with my iPod and working out.
JZ: Do you love your job?
Yes, I'm obsessed with it. It's a dangerous thing because I never want to stop. When I don't have a piece to edit I actually get sad.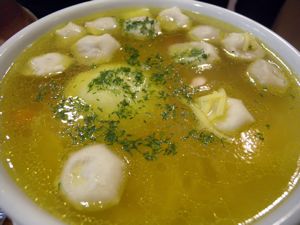 Watch Ben Aaron on LX New York on NBC at 5:00