Tim Pawlenty, former governor and current White House hopeful, thinks members of Congress should be forced to do their own taxes. "I'd like every one of those individuals to have to do their own taxes every year," he said during a recent TV appearance. "And live with the mindless burdens we visit on the American people every year."
Pawlenty's suggestion is an applause line, not a policy proposal. But that doesn't mean it's crazy. A few years ago, I wrote an op-ed suggesting that we should all file our own tax returns. And for much the same reason.
When it comes to taxes, pain can be a good thing. It keeps people vigilant, encouraging them to keep a wary eye on government. That, in turn, exposes problems and encourages reform. Making taxes easy removes an impetus for Americans to force the government to do something about the tax code.
If that's true for regular folks -- and I still think it is -- then its also true for lawmakers. Anesthetized by too much tax assistance, politicians aren't motivated to do the hard work of crafting tax reform.
Help for Needy Congressmen
And if you think that's outrageous, consider this: until at least 1994, the IRS was offering lawmakers special, VIP help in completing their returns. For decades, the agency operated special tax-season assistance centers in House and Senate office buildings. Confused lawmakers and their staffs could wander in and get an IRS employee to fill in all the confusing blanks.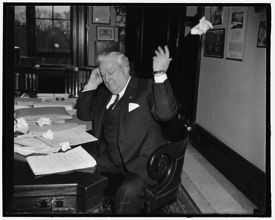 To be fair, the IRS provided a similar service to not-so-important taxpayers, too. In 1981, for instance, the agency helped 275,000 regular taxpayers fill out their tax forms. But the next year, budget cuts prompted the agency to curtail such assistance -- at least for the general public. Moved by compassion and pragmatism, officials promised to continue assistance for three especially needy groups: the blind, the illiterate, and members of Congress. (Is that three groups or just one?)
According to a story by United Press International, the IRS had originally planned on cutting off Congress, too. Complaints from lawmakers in both parties -- and Vice President George Bush -- forced the agency to keep its Capitol offices open. But after a flurry of press reports, House and Senate leaders relented. In a joint letter to the IRS commissioner, House Ways and Means Committee Chair Dan Rostenkowski and Senate Finance Committee Chair Bob Dole acknowledged that "we see no reason why we should receive preferential treatment in return preparation."
An aide to Dole was even more candid. "It's embarrassing; we don't need this," he told the Associated Press.
Within a few years, though, the IRS was again operating special tax-season offices on Capitol Hill. Then, in the early 1990s, a series of press reports brought renewed scrutiny -- and more than a few snide questions for lawmakers. "First, why should my tax dollars go to VIP help as you fill out your tax form?" asked an editorial in the Christian Science Monitor. "And second, if you need assistance to understand the tax laws you have enacted, why don't you help all taxpayers by legislating a simpler system?"
Apparently, such questions hit home. In the early days of the 1994 tax season, Rep. Dean Gallo (R-N.J.), and 35 of his colleagues from both parties asked House Speaker Tom Foley to close the temporary IRS office operating on the fourth floor of the Cannon House Office Building. "It is especially ironic that those who write the nation's tax laws should require the full-time assistance of an IRS specialist to comply with the very laws they have enacted," Gallo and his colleagues wrote in a letter to the speaker. "I am sure this irony is not lost on any of our constituents who struggle every year to comply with the tax code."
Foley sent the IRS agents packing, but according to news reports, a similar office on the Senate side of the Capitol remained open. "The office on the House side has been closed at the request of the sergeant-at-arms of the House," said Dom LaPonzia, a spokesman for the IRS Baltimore District Office. "We have received no such request from Senate officials, so it remains open."
LaPonzia also told the Scripps Howard News Service that similar offices had been operating on Capitol Hill since at least the 1960s. But the 1994 episode seems to have spelled the end for this particular congressional perk. An IRS spokesman was unable to confirm exactly when the VIP program ended, but he assured me that it was discontinued some time ago.
Thank goodness for small miracles.
Still, the fact that members of Congress need so much help in filing their taxes is just a small slice of a much larger problem. There's something deeply wrong with a tax system that more or less requires professional assistance to keep the wheels turning.
Simplification isn't easy -- and after a certain point, even desirable. Part of what makes the tax law complicated is a well-intentioned effort to assign burdens according to a taxpayer's ability to pay.
But that rationale conceals a multitude of sins. For most people, tax filing should be simple. The fact that it isn't is a scandal.

SUBSCRIBE TO & FOLLOW TRUMP'S FIRST 100 DAYS
How will Donald Trump's first 100 days impact YOU? Subscribe, choose the community that you most identify with or want to learn more about and we'll send you the news that matters most once a week throughout Trump's first 100 days in office. Learn more