The Best Book Adaptations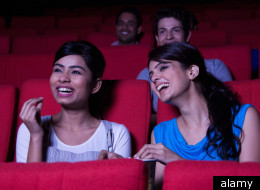 From the early days of cinema, filmmakers have been drawing on literary sources for material, out of a combination of good sense, desperation, and desire for prestige.
Harry Potter aside, the time has passed when a bestselling novel or a hit play will automatically be transferred to the screen, but the brief heyday of the original screenplay in the 1970s (most gloriously represented by Robert Towne's Chinatown) has largely been supplanted by a mania for recycling previously made material.
Today, when audiences and film companies are more prone than ever before to go for safe bets, we are deluged with sequels and remakes and rehashes of old films, television series, and much-adapted books. It's hard for original material to sneak through, despite the fact that many of the most successful and groundbreaking films still are those conceived directly for the screen.
Aesthetically speaking, though, there's nothing inherently superior in an original or an adaptation. What counts is how well any story is turned into the language of cinema. Even a so-called "faithful" adaptation of a novel or short story has to be thoroughly reworked and reimagined to make it work on the screen.
When I started teaching screenwriting after a long career working as a film and television writer, I let my students come in with original stories but quickly realized that if someone doesn't know the craft, he or she rarely will have a good original idea.
So I asked myself, "What would Jean Renoir do?" In 1961, the great writer-director declared that the way to save the Hollywood and French film industries would be to have every director do the same subject for a year (in Hollywood, everyone would make the same Western). Each film would be totally different, because it would reflect the personality of the filmmaker adapting it. Renoir said modern filmmakers instead think they're all making different stories but actually they're all making the same story. So I have my students adapt existing stories as a way of concentrating on learning the craft.
That method works well, and each adaptation comes out as something unique, suffused with the personality of the adapter. In my book Writing in Pictures: Screenwriting Made (Mostly) Painless [Vintage, $15.00], I use the same method, showing how to adapt a short story (Jack London's classic survival tale "To Build a Fire") step by step for the screen.
I've come to admire quite a number of films that have managed to take a book or short story and turn it into a first-rate screen story. Sometimes the original sources are not as good as the films made from them; and sometimes the filmmakers have managed to preserve the qualities of great originals by rethinking them in pictures.
Following are a few of the films I admire that have been taken from literary sources of diverse quality and imaginatively transformed into riveting works of cinematic storytelling.
John Huston once described MGM's 1935 version of Charles Dickens's David Copperfield as "the only great film based on a great novel." That's a bit of hyperbole, but this splendid adaptation by Hugh Walpole and Howard Estabrook, directed by George Cukor, is filled with memorable casting (including W. C. Fields as Mr. Micawber and Roland Young as Uriah Heep) and atmosphere (even though most of it was filmed in California). This David O. Selznick production is a triumphant example of the reverent but lively way Golden Age Hollywood, at its best, mined great literature for the screen.

The novel I've read more often than any other is Richard Condon's astonishing 1959 psychological thriller The Manchurian Candidate. All seven times I've read it, it seems entirely new, a tribute to how brilliantly strange is Condon's revisionist vision of the Cold War. George Axelrod deftly solved the daunting challenges in translating this surreal vision to the screen for John Frankenheimer to direct. American ideals are turned inside out in this nightmarish satire, with a Joe McCarthy figure working for the Soviets and being manipulated by his monstrous wife (Angela Lansbury), who has let her military hero son (Laurence Harvey) be turned into a programmed assassin. When Frank Sinatra (superb as Major Marco) sounded out President Kennedy about whether the book should be filmed, JFK's first question was who would play the mother. He was an expert on seemingly benign but fiercely ambitious mothers.

I put this one on the list because it is a prime example of how a first-rate screenwriter (Richard LaGravenese) can transform a trashy novel into a good film by seeking out the core of strength beneath its breathless style and tawdry scenes. LaGravenese eliminates author Robert James Waller's notion of having the Italian American farm woman and the itinerant photographer copulate wildly all over her farm and substitutes a subtle, low-key love story beautifully played onscreen by Meryl Streep and Clint Eastwood (who also directed).

I once taught a course called "Irish Literature/Irish Film," in which we read celebrated literary works and then watched the film adaptations. We found most of the films vastly inferior to the originals. The sterling exception was The Dead, John Huston's final film as a director, adapted by his son Tony Huston from the James Joyce short story often considered the finest in the English language. Revolving around a holiday party and a secret revealed by a wife to her husband, the story (from Joyce's collection Dubliners) is supremely subtle and delicate and as such was long considered virtually unfilmable, but the Hustons triumphantly brought it to the screen. John Huston's secret as perhaps the finest cinematic adapter of literary works was to channel the author's spirit rather than trying to impose his own style. But in so doing, he still brought his own mordant fatalism to each of the adaptations.

Nunnally Johnson admirably condensed John Steinbeck's sprawling masterwork for the screen, and director John Ford, working with master cinematographer Gregg Toland, created unforgettable image after image of the Joad family's heartrending journey from Dust Bowl Oklahoma to virtual enslavement as California migrant farmworkers. Johnson arguably improves on the book, at least structurally, by removing Steinbeck's somewhat pretentious poetic interludes and keeping the narrative focused more tightly on Tom Joad (Henry Fonda). Steinbeck was dubious about Hollywood tackling his fierce work of social criticism, but after seeing the film, he called it "a hard, straight picture in which the actors are submerged so completely that it looks and feels like a documentary film and certainly it has a hard, truthful ring. No punches are pulled -- in fact, with descriptive matter removed, it is a harsher thing than the book, by far. it seems unbelievable but it is true." A recent Los Angeles Times report about how descendants of the Okies are returning from California to Oklahoma to find better job opportunities could serve as the basis for a bitterly comedic Grapes of Wrath II.

It's sometimes said that more great films are taken from second-rate books than from literary masterpieces. Too much is lost in translating a major book to the screen, starting with its style. But a lesser book with a strong story can be a springboard for a major film. Such was the case with Touch of Evil, writer-director Orson Welles's 1958 nightmare vision of police corruption in a hellish border town. The film is taken from Badge of Evil, a competent but uninspired novel by Whit Masterson (the pseudonym of Robert Wade and Bill Miller). What's remarkable is how much the book actually contributed to the film, even though Welles's flamboyant style and deeper characterizations greatly improve upon it, including changing the character played by Charlton Heston from an Anglo assistant district attorney to a Mexican government official, a decision that has been thoughtlessly derided (including in the movie Ed Wood, in which the Welles character complains about Universal imposing it on him).

One of the few period films that seems so convincingly remote from modern times that it makes you feel as if you are back in another era, Stanley Kubrick's Barry Lyndon is a lavishly beautiful, deeply melancholy adaptation of an 1844 comic novel by Willliam Makepeace Thackeray, The Luck of Barry Lyndon, aka The Memoirs of Barry Lyndon, Esq. Kubrick offers a balletically stylized portrait of the rise and fall of a mediocre Irish social climber (Ryan O'Neal, perfectly cast) who can never achieve acceptance in eighteenth century British aristocracy. Kubrick, who also wrote the script, has transformed Thackeray's satire into a darker tale of epic failure. The film ends with this chilling title card Epilogue taken from much earlier in the book: "IT WAS IN THE REIGN OF GEORGE III THAT THE AFORESAID PERSONAGES LIVED AND QUARRELED; GOOD OR BAD, HANDSOME OR UGLY, RICH OR POOR THEY ARE ALL EQUAL NOW."

The book about Watergate by Carl Bernstein and Bob Woodward may be largely a fairytale -- for more accurate accounts of that scandal, see Secret Agenda: Watergate, Deep Throat and the CIA by Jim Hougan and Silent Coup: The Removal of a President by Len Colodny and Robert Gettlin, and Oliver Stone's film Nixon -- but William Goldman's masterful screenplay adaptation of All the President's Men makes for a riveting thriller. Goldman invented the famous line "Follow the money" for Deep Throat (Hal Holbrook) and cut through the maze of names and events for his heroic myth about journalism, which has inspired generations to go into a largely unremunerative profession. Goldman made some daring decisions along the way: "We got great credit for our faithfulness to the Woodward-Bernstein [sic] book. Total horseshit: the movie ended halfway through the book," with the reporters, ironically, making their greatest mistake -- and a wire service machine rattling off the rest of the story leading up to President Nixon's resignation.

The powerful star Lillian Gish asked for a Swedish master, Victor Sjöström, to direct MGM's silent adaptation of Nathaniel Hawthorne's novel about adultery in Puritan New England because she thought a Scandinavian would instinctively understand the Puritan mindset. Frances Marion, one of the most prolific and versatile of screenwriters in the Golden Age of Hollywood, found many vivid ways of translating Hawthorne's somber imagery to the visual medium. This haunting and poetic film doesn't need dialogue to be one of the most faithful-in-spirit adaptations of a literary masterpiece. (The less said the better about the atrocious 1995 adaptation of the book starring Demi Moore, which makes life in Puritan Massachusetts seem like Sex and the City.)

Ray Bradbury's 1953 novel was a protest against McCarthyism and the anti-intellectualism of that era. French director François Truffaut -- who adapted this dystopian fable about book-burning with Jean-Louis Richard -- made the film in England during the vogue of McLuhanism, when a new generation was rejecting the written word in favor of imagery. Truffaut viscerally expresses his love of books and his mourning for their loss by showing them curling and flaming and going up in smoke at the hands of a totalitarian society fearful of the "antisocial" nature of reading. Anti-intellectual sixties audiences scorned this seemingly retro paean to literature, but today the film seems perhaps even more compelling, in a time when literacy is even more in peril.