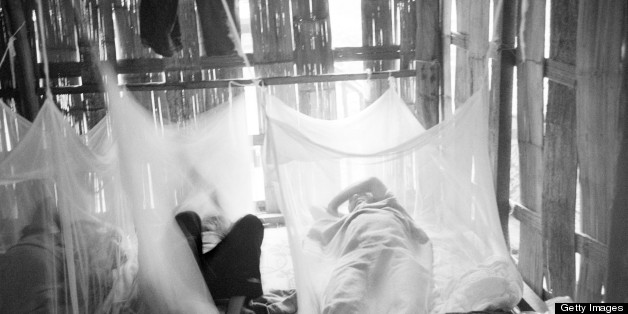 It's World Malaria Day and this year, we can't let the sun set without taking one simple action for Malaria eradication efforts across the world. There are many great organizations fighting to stop Malaria, and you can make a difference right now that you'll feel good about before falling into a peaceful sleep in your comfortable bed free of Plasmodium-infected mosquitoes.
Malaria claims hundreds of thousands of lives each year across Africa and throughout the world. It used to kill more. Since 2001 progress has been made to the tune of a 25 percent reduction of malaria deaths per year worldwide. That's thousands of lives saved. We've seen an increase in that effort since 2007 when the World Health Assembly formally designated April 25 as Malaria Day, and the issue was catapulted into the hearts and homes of millions around the world.
Unfortunately it's not enough. According to the World Health Organization, 650,000 people still die every year from this preventable disease, and most of those people are children under five years of age. Stop here and let that sink in: 650,000. Imagine the elementary school in your neighborhood. Elementary schools in America have on average about 500 kids. Using that standard, Malaria completely wipes out over 1000 elementary schools every year. That's literally every single elementary school in the entire state of Kentucky, every year. Be brave; imagine it.
But don't dwell too long on that thought because guess what? There are solutions! The United States ambassador to the UN, Susan Rice, tweeted last year on World Malaria Day that "around the world, there are problems of baffling complexity. Malaria is not one of them. It is preventable."
So, let's streamline the simplicity. Do you have Internet access? Do you use pay pal? Do you have a dollar, or five or ten? Of course you do. That's life here in our mosquito-net-free world. So embrace your role, here are three things you can do:
1. Donate Money
The UN Foundation's campaign, Nothing But Nets, just launched the website coverafrica.org. It's an interactive map of Africa with pins where Malaria nets are needed. It tells you how many nets that area needs and for $10 you can send one net to the region of your choice. They also attach stories to each location so you can learn about the individuals whose lives will be touched by your efforts. Some of the needs are huge: Togo needs 94,000+ nets. Some areas need less. The Batalimo community in the Central African Republic needs 500 nets. Seriously, you could do an office pool and quite literally cover the Batalimo area with enough Malaria nets to stem the tide of that disease in their midst. However you choose your approach, your help is needed. And Cover Africa connects you to those projects using innovative mapping and rich data to not only take your money, but to share the positive results of it with you!
2. Social Media Blitz
Another leading organization in the fight, Malaria No More is also busy celebrating today for advocacy and involvement in its work. According to their website, "If it's late April, it means we're firing on all cylinders at Malaria No More." Of course they want money, and they do make it very easy to donate to them. But with what they are calling a "Mass Media Take Over" in a focus country, Chad, as well as a partnership with the Peace Corps promoting volunteers who blog about Malaria this month, they are also all about the social media awareness and advocacy for the cause. What you can do? Celebrate! Apparently. "Let us know what you're doing for World Malaria Day by telling us on Twitter or Instagram @MalariaNoMore."
3. Host an Event
Roll Back Malaria goes a step further, asking you to host your own World Malaria Day event and to put it on their digital pin-board map. As they look to the 2015 Millennium Development Goals, their social media hashtag is #thebigpush. But don't worry if you want to help and don't know how. They also have an idea page!
So that's it, give money, learn about the issue and the people affected by it, give more money, tweet your support, then host an event where other people tweet, put it on a map and give money. And why not? It needs to be done. So chip in a couple bucks. Don't worry about it. Your couch cushions take more money from you. Then you can brush your teeth for two minutes (the time it takes two kids to die from Malaria) and go to bed, knowing you did something. Hey, you did something! It's a good feeling. Oh, and read a Peace Corps blog on Malaria for Pete's sake!
SUBSCRIBE AND FOLLOW
Get top stories and blog posts emailed to me each day. Newsletters may offer personalized content or advertisements.
Learn more