A special showing of Steven Sebring's movie Patti Smith: Dream of Life will take place at the National Gallery of Art in Washington, DC, on Sunday, June 27th, in the East Building Concourse Auditorium. The director will be making a personal appearance.
Dream of Life, a beautiful documentary, is Sebring's debut full-length feature film. He has also photographed Patti for her albums Gung Ho, Land, and Twelve, and for several books by and about the once and future queen of punk, a title that I believe she will retain in perpetuity.
Last month, I reviewed Dream of Life for HuffPost and subsequently had the opportunity to conduct an email interview with Mr. Sebring. I thank him for his thoughtful replies to my questions. His answer to the last one is quite surprising.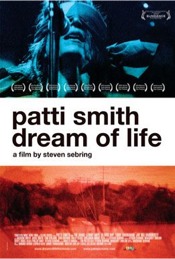 Why Patti Smith? What brought you to the decision to invest years of your life focusing on this particular artist?
In 1995, I was asked to photograph Patti for Spin Magazine. Upon meeting her, we had an instant connection, and I was immediately interested in learning more about her.
I know you spent eleven years working on this film. How much of it did you shoot yourself, and how much of it is comprised of archival footage from other filmmakers?
90% is my filming and sound recordings -- there was no film crew. There is minimal archival footage; I didn't want it to be that kind of film.
How well do you know Patti personally, and how familiar are you with her music and her poetry?
Patti and I are family -- I know her very well. I'd say we are of the same mind. But when we met back in 1995, I didn't know who she was. I wasn't familiar with her music, poetry ... anything. She saw that in me, and I believe that was interesting for her.
What impresses you most about her? Her personality, her artistry, her intensity ... ?
What impresses me most about Patti is the fact that she is a true artist. By that I mean she is unrelentingly true to herself. She never compromises her artwork, poetry, or music.
It seems to me that you incorporated Patti's sense of artistic freedom and her love of creative chaos into the way you put together your film. Was that a conscious decision on your part, or was it just a natural outcome of working so closely with Patti?
Dream of Life is a work that says as much about who I am as an artist as it does about Patti Smith. It all stems from the immediate sense of trust we have -- it was as if nothing needed to be conveyed in words. So I guess a lot of my film making -- the direction, the editing, the sound -- was unconscious, because artistically Patti and I are on the same path. She was very generous with me creatively and gave me the same sense of artistic freedom that she herself possesses ... it's an amazing blessing that we met.
How much were you influenced by the work of D. A. Pennebaker, particularly his Bob Dylan documentary, Dont Look Back?
Never seen it. I will eventually ...

This Blogger's Books and Other Items from...
FOLLOW HUFFPOST