Earlier this year, Florida concealed handgun permit holder Robert G.Webster and his wife were returning home from a visit to the doctor when he got into a confrontation with neighbor and fellow concealed handgun permit holder Charles E. Ingram, 57. According to witnesses, as the argument escalated Webster, 63, walked out of his yard with a handgun at his side and then raised it. Ingram, who had also left his yard, standing in the sidewalk and street, raised his handgun as Webster approached. Both men fired at approximately the same time. Webster died at the scene. Ingram died less than a month later from wounds inflicted by Webster. Detectives investigating the shooting concluded that both men might have faced criminal charges had they lived.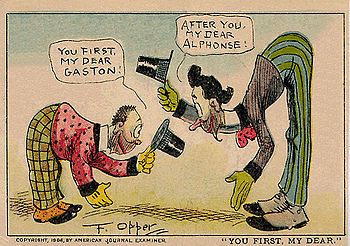 So much for the promise, first offered by Robert Heinlein and faithfully trumpeted by CCW (Carrying Concealed Weapon) aficionados, that "An armed society is a polite society. Manners are good when one may have to back up his acts with his life." The reality is that when Webster and Ingram faced each other armed, they didn't magically transform into Sunshine State renditions of the painfully polite Alphonse and Gaston. Instead, each pulled the trigger of his handgun to successfully kill the other.
The deaths of Webster and Ingram are just two of the killings contained in the August update to the Violence Policy Center's Concealed Carry Killers website.
Since May 2007, concealed handgun permit holders have killed at least 189 individuals--including nine law enforcement officers--in 26 states. Of the 114 incidents that resulted in the deaths, in more than half (63 incidents) the concealed handgun permit holder has already been convicted, committed suicide after the shooting, or was killed in the incident. Of the 51 cases still pending, the vast majority (44) of concealed handgun permit holders have been charged with criminal homicide, two were deemed incompetent to stand trial, two incidents were unintentional shootings, and three incidents are still under investigation. Of the 114 incidents, 16 were mass shootings where concealed handgun permit holders claimed the lives of 65 victims.
New incidents added this month include:
In July 2010, Michigan concealed handgun permit holder Justin Luckhardt, 32, shot and killed Kim Luchie, 25, at the Cabin bar in what was described as a "jealous, race-fueled rage" before taking his own life. Luckhardt, who was separated from his wife and was convinced she had an African-American boyfriend, had spent his day drinking and playing golf when he saw Luchie, an African-American, drinking with Luckhardt's sister-in-law. Luckhardt shot and killed Luchie with a .357 Glock pistol. Luchie, who had a long-time girlfriend, was not romantically involved with Luckhardt's wife or his in-laws. Luckhardt then left the bar, crashed his car, and fatally shot himself.

In July 2009, Alabama concealed handgun permit holder Laquintta Turk, 23, shot and killed Rosetia Smith, 24, in a parking lot. The shooting occurred during a confrontation involving two other women--Tiffany Allen and Lashan Catlin, both 23--over the fact that Allen's sister had had a baby with Catlin's ex-high school boyfriend. Each woman had arrived in a separate car with additional passengers, including friends and children. As Catlin and Smith fought, Turk shot Smith. The fatal bullet landed at the foot of Smith's oldest child. During Turk's trial, Prosecutor Mike Philpott told jurors, "This is a case about a woman who brought a gun to a fist fight, and the tragedy that resulted." Turk was convicted of reckless murder and faces up to life in prison. Turk and Smith did not know each other.
Perhaps that's why it's called science fiction.