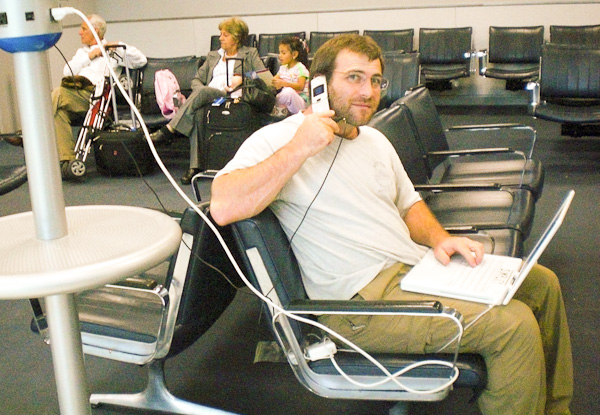 The author, a 'power user,' logs on before a flight to Nicaragua. (Photo by Louise Daniels.)
Boingo Wireless, a major Wi-Fi software and services provider, announced an agreement with Denver International Airport (DIA) today that will provide a new hybrid Wi-Fi Internet service for passengers in Denver.
When I first saw this news, my heart dropped. I've been enjoying free Internet at DIA for many years. Call me spoiled and entitled, but I have come to expect this service when I travel, and dislike having to pay extra for it. I thought for sure that Denver was moving to a pay wall.
But as I learned more about the deal, I breathed easier. Boingo, said the announcement, will still provide free basic Internet access allowing users to users to check email, watch videos, stream music, surf the Internet, and book hotels and car services.
Still, I wanted reassurance, so I contacted Katie O'Neill, corporate communications manager for Boingo Wireless, Inc., and asked her if basic Internet services still be available for free, and still be easy to access?
"Yes!" O'Neill responded. "With our new agreement with Denver International Airport, casual users -- such as travelers hoping to check their email or Facebook, and surf the web -- will be able to access Wi-Fi for free in 30 minute increments. If free access is sponsored by one of Boingo's advertising partners, travelers may be asked to watch a brief 15-to 30-second ad before starting another 30 minute session. Currently, users at Denver International will simply need to log back in to enjoy subsequent free 30 minute sessions.
"Wi-Fi will continue to be very easy to access at DIA," she continuted. "All DIA passengers will need to do is open their browser and log-in via Boingo's walled garden page to get connected to free or premium Wi-Fi."
At the same time, said Colby Goff, senior vice president of strategy and business development for Boingo Wireless, "power users" can purchase a premium connection to help with "connecting to corporate VPNs, streaming high definition video, sending large files, and using other data intensive applications."
This tiered service, said O'Neill, will allow business travelers and others "to meet their mission critical deadlines" while traveling. "In addition, the tiered services help generate the airport revenue necessary to ensure a highly available Wi-Fi network, delivering the best customer experience possible."
The service is going live this spring, and will be available on any of Boingo's hourly and day pass plans, and also in their monthly plan ($9.95 a month).
"Denver was one of the first major airports in the country to have a Wi-Fi network installed throughout the facility," said Goff. "Over the last few years, data demand has undergone explosive growth and put a tremendous burden on many networks, including Denver's. We understand the complexity of managing Wi-Fi services to account for the growth and deliver a quality experience across laptops, smartphones, tablets, e-readers and other Wi-Fi enabled devices."

Boingo manages the Wi-Fi at 60 leading airports worldwide. Denver International Airport is the 10th-busiest airport in the world and the fifth-busiest airport in the U.S., with more than 50 million passengers traveling through the airport each year.
I look forward to the enhanced system at DIA for my "mission critical" needs.
SUBSCRIBE TO & FOLLOW LIFESTYLE
HuffPost Lifestyle is a daily newsletter that will make you happier and healthier — one email at a time. Learn more