Flip Your Wedding Gown (And Cut Your Dress Cost in Half)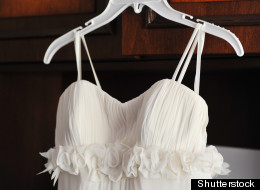 Today's smart bride knows that she can recoup hundreds, even thousands, of dollars by selling her wedding dress. And honestly, what's better: cash in your pocket or a never-to-be-worn-again dress taking up serious closet space?

I sold my own wedding dress and it was a lovely feeling to know that my gorgeous ball gown was headed off to be enjoyed again by a bride who had fallen in love with it, just as I had.

I didn't save my dress. I knew that if I ever had a daughter, I'd want her to have her own exciting and emotional search for her perfect dress... to experience that moment when she puts a dress on, stands taller, feels beautiful and declares, "this is the one." (And now that I actually have my amazing daughter, I can't wait to share that moment with her.)

Many women do keep their gowns for their daughters, yet only six percent of brides ever consider wearing mom's wedding dress. So why not sell your dress and cut its cost in half?

It's true. If you sell your gown within three years of wearing it, you can expect to re-coup about 50 percent of the retail price. (Finally, wedding cash in-flow after so much out-flow)!

Here are some tips that will help you sell it fast. (It took mine five months to sell after I listed it!)

Dress Listing Tips:

1) Great Pictures: A picture really is worth a thousand words and great pictures of your dress will help tell its story. Show the front, back and details of the dress on a person so buyers can see how it fits. (A perfect excuse to show off some of your beautiful wedding pictures!)
2) Rich Description: Provide details on your dress as if buyers are unfamiliar with it. Describe the fabric, the fit, the details and any alterations you made. The more information you can provide, the faster a bride will know if your dress is a match for her.
3) Reasonable Price: Reasonably-priced gowns always sell faster. A used wedding dress in good condition and less than three years old should be priced at 50 percent of retail. Pricing for sample and unworn gowns should start at 15-25 percent off the price paid (for sample gowns, use the sample sale price, not the retail price).
Pre-Sale

The earlier you list it, the more exposure it will have.

Pre-sale means listing your dress for sale even before you wear it at your own wedding. It's like offering an option on your dress. With pre-sale, buyers and sellers connect before the first bride's wedding. They can agree, early, on the price, shipping date and terms of sale. Once the wedding occurs, the transaction proceeds.

With Pre-sale, the buyer knows exactly when her dream dress will be available -- and the price at which she can get it. And the seller can walk down the aisle knowing that her dress has been sold. It's truly a win-win.
Keeping Resale in Mind

If you Pre-sell you gown -- or just know you'll list it the minute after you walk down the aisle -- you can alter and wear the dress with resale in mind.

Alterations are the perfect place to start planning for resale. If your seamstress knows you'll be selling your dress, she can leave additional fabric in the seams (undetectable to you, but helpful to the next bride), or she can save the extra fabric so you can pass it along for future alterations.

On your wedding day, have a friend take some pictures of the dress (since your photographer's pictures will take several weeks to arrive.) With great pictures in hand early, you can list your dress right away, and sell it sooner.

And when you do sell your wedding dress, I hope you have the same "this-gorgeous-dress-was-meant-to-be-shared" feeling that I did. And smile knowing that your dress had two (if not more) big days and is part of a modern sisterhood of brides.
Follow Josie Daga on Twitter: www.twitter.com/PreOwndWedDress