Stretching out from the Qatari coast, the way into The Pearl, a luxury community being built on a man-made island, seems more runway than road.
Haute couture brands like Gucci, Hermes, and Versace welcome the visitor into a community where a two bedroom, sea-view apartment costs $907,000, and some properties include berths for a mega yacht.
In June, The Pearl opened its fourth residential tower with an extravagant gala, featuring a lightshow and swimmers dressed as mermaids splashing in a flower petal-filled pool. Naturally, the event was by invite only.
Even with the global economic crisis, the Persian Gulf state's oil wealth has provided for such excesses. But as these exclusive enclaves spread to the rest of the Middle East, especially Egypt, critics argue such guest-list lifestyles are dividing Arab society like never before.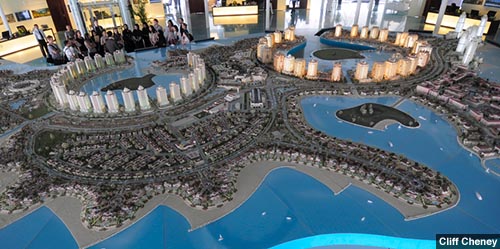 One American scholar in the Qatari capital of Doha has watched as desert has transformed into lush, luxury communities. It is part of a trend in social segregation unlike anywhere else in the world, said Andrew Gardner, an anthropologist at Qatar University.
Unique about The Pearl, and every other development in Qatar, Gardner explained, is that in addition to determining what could be built where -- governments around the world plan their communities according to zoning plans -- the state decides who can live where, and where certain "Western" behavior will be tolerated.
Gardner theorizes such development is akin to state-sponsored social segregation, and he can even draw a map of Doha that is entirely dependent upon class, religion, and origin. "It's the compulsion to compartmentalize," he said.
Just a half-hour drive away from The Pearl is a residential community in the middle of a dusty industrial area, owned by the state's Qatar Petroleum. Literally called Mesaieed Industrial City, it is home to the thousands of low-paid migrant laborers who staff the materials shipping hub.
People who work in Mesaieed must live near by, said Dominic Carlone, acting manager of the business and investment group for Qatar Petroleum. His explanation is that they must remain close for emergencies. With only Friday off, many of the workers never have the chance to see the beaches or booming skylines of Qatar.
"It's a little strange from a North American perspective to force people to live somewhere," Carlone admitted.
Social divisions don't need to be enforced in Egypt, where extreme poverty is a fact of life. But as Qatar and other Persian Gulf countries build luxury developments like The Pearl there, the divide has become a social chasm, as the wealthy live in isolated areas resembling American gated communities, while many poor subsist in ad-hoc, crammed neighborhoods in the city.
Qatari Diar, which is funded by the revenues of Qatar Petroleum, is building a $1 billion project on the Nile in Cairo. Al-Futtaim group, a Dubai based real estate investment fund, is building the $3.5 billion Cairo Festival City in New Cairo.
New Cairo is a 43,000-acre development that the Egyptian government plans to be a satellite city outside central Cairo under its "2050 plan." But the future of Egyptian life is already observable here: most of the homes are investment properties of the wealthy, while those who work in New Cairo do not live there.
Anchoring New Cairo is The American University in Cairo. It moved from its downtown Cairo home of 90 years to a massive new 260-acre campus in the desert suburb.
The road from Cairo to the new AUC campus is a series of villas and gated complexes. According to AUC economics professor John Salevurakis, much of this construction comes from foreign investment from the Gulf. "It's just a mass of what are probably second, third or fourth homes for families," he said.
Nader Fergany of the Al-Miskat Center for Research, an outspoken critic of Egyptian's economy, said the focusing of wealth in such a small group of people has hurt those most in need. "The chances of the sons and daughters of a poor family in this country are almost nil," he said.
The university's newspaper, The Caravan, uncovered an example of the social disparities forming in these new luxury residential developments.
After AUC's move, janitors at the new campus were unable to afford the Western cuisine offered at the school, the paper reported. While the school gave free meals to students upset by the higher food prices, janitors didn't get a raise in food allowances, and picked the trash for the leftovers of students.
All of these workers come from communities in Cairo like Embaba, where cafes are full of unemployed men, spilling onto dirt streets. Many arrive in New Cairo aboard old crammed Peugeots and minibuses.
Still, the commute is one fourth of the salary of one janitor at the university. The miles he covers and hours he works leave him with only $80 a week to live on. "I live with my parents and I don't think I'll ever make enough to get married," he said.
On his ride to work each day, cramped in a minibus with many other workers, he sees the houses being built.
"Sometimes I wished I live there," he said. He has sense of fatalism about his position in Egyptian society though. "People who are high class will stay high class and people who are low class will stay that way," concluding, "I can't afford to dream about tomorrow."
Gregory White is a graduate student at Columbia University and recent graduate of the London School of Economics. With an academic passion for international affairs and finance, White hopes to pursue a career reporting on global markets in print or video and, eventually, international politics in the same mediums.
FOLLOW HUFFPOST