There are few living artists as underappreciated today as Dundee born, William Turnbull. For close to six decades now, he has been creating an artistic body of work, lauded by many of the most artistic minds of the second half of the 20th century -- figures such as Eduardo Paolozzi, Mark Rothko, Richard Hamilton, Alberto Giacometti, and Barnett Newman not to mention retrospectives and shows at the Tate, Whitechapel Art Gallery, Serpentine Gallery, Waddington Galleries, Yorkshire Sculpture Park, and the Tate Britain's Duveen Galleries.
As a pioneer of British modernism, Turnbull has aided it's artistic development over the last 60 years. With a strict adherence to his principles, Turnbull's work was unique during a period of rampant commercialism in the arts.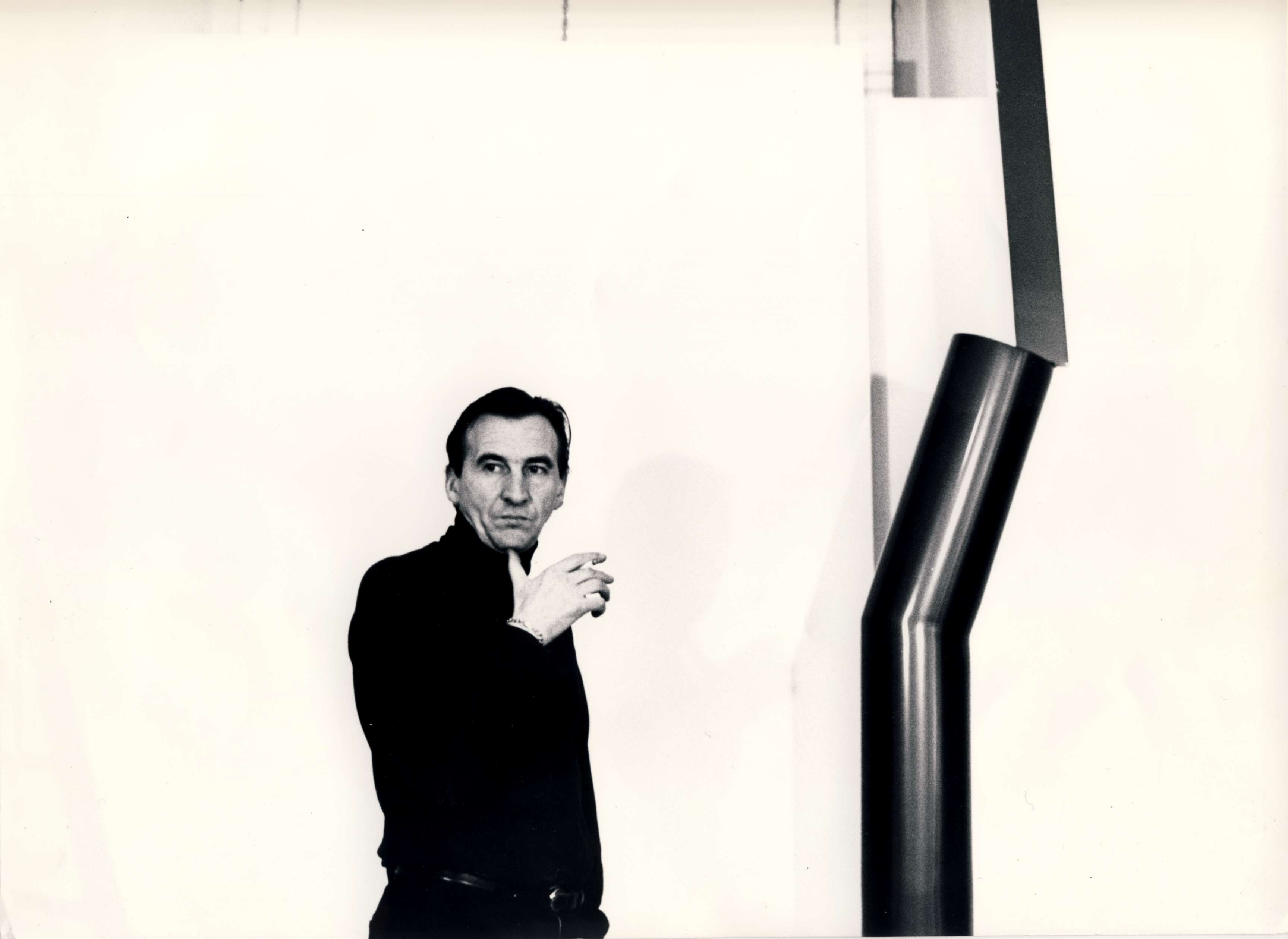 Beyond Time, a documentary directed by Alex Turnbull, provides a poignant look at the very private life of the artist as well as an in depth look at one of the least documented periods in art, Post War. For four years, Alex Turnbull and his partner Pete Stern meticulously gathered information, interviewing artists, critics, and curators about Turnbull's life and work. The end result being a film rich with revealing and fascinating stories about Turnbull and his role in modern art.
I recently had the pleasure of sitting down with Alex Turnbull (DJ, Former British Skateboarding Champ, Martial Artist, Producer) to talk about this father and his first feature film, which premieres this Saturday at LACMA.
Joy Yoon: Before we get started on your father and the film, could you tell me a bit more about yourself?
Alex Turnbull: Early on I was a British skateboarding champ during the early wave of British skateboarders. But from 1980, I was a punk. My friends and I were the first skate punks, and I was in a band called 23 Skidoo. My background is mainly music. We were quite an avant-garde influential music group. We pioneered a lot of the use of cassette looping before sampling with old Sony Walkmans, very influenced by William Burroughs. This was prior to the whole commercialism to music. Commercialism was a dirty word for us.
At first we used conventional instruments and were press darlings, but we did everything to confound that. Shaved our heads, wouldn't play our albums at the gigs, confounding everyone's expectations of what the music/ audience relationship was. Every now and then people come back to us, but experimental now is nothing what it was like back then. We used imagery and projections on ourselves, no gaps between songs, we didn't really care of people liked it or not. It was more about challenging people's expectations. Now where we're its only about satisfying the audience.
JY: Did your father give you advice in regards to your music or encourage you to do art?
AT: My father encouraged us (me and my brother) to draw, but we were never really encouraged to do art and I sort of regret that. My dad and my mum grew up during a time when being an artist was a really difficult profession.
JY: You grew up with your dad's work. Did it have an impact on you back then or more now after the whole film making process?
AT: When we washed it for pocket money. That was like washing the car for pocket money.
JY: You washed his sculptures for allowance?
AT: That's what we did. It's always just been there. Same as my mum's work so it was something we never even thought about. It was just always there. And it's now after making the film; we're reappraising it and being able to understand it and explain it.
JY: How do you feel about his work?
AT: I think it's incredible. I've tried to follow my own creative paths in life and do my own things. Its one of those things, you don't' want to have to compare yourself to your father and in a way, I wouldn't and I couldn't. I've got no reason to because I'm myself and I've done my own stuff. But it's an amazing body of work. He's always done his own thing. Which has hindered him in a way. It's nice to make the voyage of discovery for the stuff I've been staring at all my life.
JY: Is this your first feature full-length film?
AT: Yes. I've been trying to become a filmmaker for a long time. Now I can finally say that I am one. I made it, funded it and produced it myself. Ironically, I started my career by making the hardest and most personal one.
JY: When did you start? Where did the idea come from?
AT: 2006, five years ago. I was watching a show called South Bank Show. It use to be a good art show, but has been very dumbed down. There was an episode on Howard Hodgkins and I called Bill and he said, "I fucking hate Howard Hodgkins" and hung up. I realized that no one want to do something like this till you're dead. Pollock, Warhol, everything is posthumous and you only hear from critics but never from the artists themselves. The stuff my dad and his peers were doing was 10 years before Lichtenstein and Warhol, but they're unknown and unrecognized.
JY: What was your dad's reaction to you telling him that you wanted to make a film about his life?
AT: I think he was quite amused. The cool part was that he wouldn't have let anyone else do it. He's a very private person and he's not really interested in marketing himself in anyway.
JY: Did you have any inspiration references before filming?
AT: Actually, the blueprint of the film is from Dogtown and Z-Boys.
JY: How did you get together with Pete Stern to do this film?
AT: Pete Stern is a really talented artist and musician. We use to skate together when we were kids and he's a big fan of my dad's. We've been involved in music together and have known each other all our lives. I really couldn't have done it without him. He filmed all the stuff. I did all the interviews, but he's been the whole technical side of things.
The nice thing was that it was just Pete and I. Just the two of us showing up, natural lighting and a very informal setting, which made for really relaxed conversations instead of just art interviews. It was very organic and unusual, but I don't think I could ever spend that much time on a film again. I'm glad Pete stuck with me all the way.
JY: Other than the length of time it took to complete the film, what were your biggest obstacles?
AT: It's been very consuming. Actually, but it really hasn't been difficult. Everyone said yes. It's interesting. Both of my parents have an enormous amount of good will towards people in the artistic community so everyone was like "When?"
JY: What about dealing with the other artists' estates to get permission to use their artwork or images?
AT: Well, funnily enough, the really great one was with Rothko. I had written an email to Ambassador Donald Blinken at the Rothko Foundation. He put me in touch with Chris and Kate, Rothko's children and Chris wrote back. Not only did he give me permission, he gave me these amazing pictures from the exact time period, the mid '50s.
There's another funny story with artist Antony Gormley. Gormley first encountered Bill's work in of two David Hockney's L.A. paintings: Beverly Hills Housewife (Betty Freeman, 1966) and The American Collectors (Fred and Marcia Weisman 1968). In both portraits, Bill's sculptures are prominently displayed. We wrote to Hockney's people and they wanted an outrageous sum of money, and we wrote again and explained to them why they needed the images, a connection between Hockney, Gormley and my dad, which was pretty amazing, and then they gave us permission.
JY: The film's quite short in comparison to other films, why?
AT: It was originally up to 80 minutes. There are around 10 interviews that never even made it in. We watched it with a collector friend of mine and he said, "It's amazing, but its too much information; too much to take in. And you're at the risk of losing what you're really trying to deliver." After that we edited out a quarter of it, which was hard, but needed to be done. People need to be able to assimilate, not come out of the theater and not remember what they've just seen.
JY: How did Jude Law get involved? Was Morgan Freeman busy?
AT: Ha. Jude saw the film last year. He did it as a favor and wouldn't if he didn't believe in it. We tried to do the film without a narrative but it was hard to gap certain events together without it. And I was under a lot of pressure to do the narration, which would have made it more of a son's journey learning about his father than what it was. When I mentioned that to Jude he said, "You're right, it'll detract from the film." I asked him if he'd do it, and he said yes. He was happy to do it because he loves art. It's amazing as a filmmaker to have someone like Jude as part of your film.
JY: At the age of 89 is your father still working?
AT: He's slowed down a lot, but still does stuff. You come to a point in your life where you get to a more reflective mode.
JY: What did you walk away with when you finished the film?
AT: An appreciation of Bill's work. My father had to contend with being a painter, sculptor, and drawer, and fighting against the stigma of being a polymath in Britain. I don't see creativity as one thing or another; creativity is expression, whatever it is. Art was about challenging preconceptions, not entertainment, and that's why his story is so interesting. He's been very single minded about sticking to his principles his whole career.
A part of the journey in making this film was seeing what we were doing with Skidoo and realizing that Bill was doing this 25 years before we were born and how close our creative paths were. Almost like a genetic predisposition to anti-establishment practices.
I've inadvertently become the authority on him over the years. He's old school so he doesn't really talk about what he does and what he's achieved so making this was pretty special.
Beyond Time premieres this Saturday at LACMA as part of BritWeek.
Britweek Art Program is presented with the LA Art Machine, in partnership with the British Council.
Beyond Time: William Turnbull