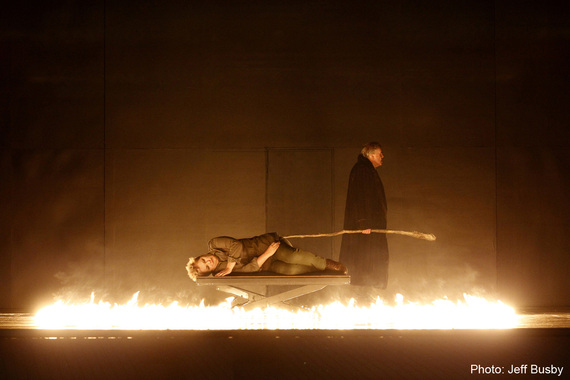 It has been possible to chase composer Richard Wagner's quest for endless melody around the globe in this year.
With more than a dozen productions of his epic four-opera Der Ring Des Nibelungen - the Olympics of the opera world - staged everywhere from Mannheim to the Metropolitan, Ring cyclists have had to pedal hard to keep up.
As twilight descends on Wagner's bicentenary, Australia has unveiled the final Ring cycle of the year.
It is the first time Opera Australia has tackled the work, and it has staged it not in the iconic Sydney Opera House, where the problematic pit is too small to accommodate the massive orchestra needed, but in Melbourne.
Wagner's 16-hour fable of power, greed and the end of the gods is here set in a recognizable, contemporary world. There are business-suited corporate giants, a combat-ready team of warrior maidens and a terminally ill earth goddess.
The production invites reflection on what happens when a mineral-rich land that has quarried its way to glittering wealth - as Australia has - counts the cost.
Director Neil Armfield, the country's leading theater director, has taken a pared-back approach with clear story-telling and nuanced characters. The production emphasizes family drama over lavish spectacle, but is not without its dazzling elements.
Among them are the initial moments of Das Rheingold when glimmers of gray-dawn light pierce the dark stage to suggest a universe being born. As the long opening chord of Wagner's Ring cycle continues, a sea of bodies of assorted shapes and ages is slowly revealed. Reflected in a mirror above the revolving stage, about 100 figures are clad in swimsuits.
It suggests that despite the gods and monsters, dwarves and seers we are about to encounter, it is humanity that is center stage.
Realizing this $20 million sell-out show has not been without its dramas. Initially a co-production with Houston Grand Opera, Houston had a problem and withdrew. Mid-year, the original conductor departed, citing a lack of chemistry with the cast. The baton was handed to 33-year-old Finn Pietari Inkinen.
Wagner's curse claimed another victim three weeks before opening when Alberich withdrew due to illness. Understudy Warwick Fyfe stepped up.
Fyfe stole not just the gold but the show on opening night with his vocal strength and complex characterization. Churning with rage and malevolence, his revengeful greed took a dark edge indeed when his theft involved abducting a child in possession of the shimmering gold.
The first work in the cycle - to be staged three times in the next month - had a Busby Berkeley feel with sparkling feathered Rhinemaidens and chorus girls who led the gods across the Rainbow Bridge. Blinded by sparkling hedonism, the king of the gods Wotan (Terje Stensvold) ascended to Valhalla blissfully unaware of the disastrous seeds he had sown.
A denser psychological landscape unfolded in Die Walküre in which designer Robert Cousins shifted the visual scale. An alpine hut in the opening scene gave way to an imposing spiral ramp that evoked corporate wealth for the entry of Wotan with favorite daughter Brünnhilde (Susan Bullock). With cropped-hair and in jungle greens, daddy's girl bristled with a precocious energy more boyish than fierce warrior-woman.
The Valkyries - descending from the heavens on trapezes - provided the evening's only light moment. With the cavernous stage bare for much of the pivotal third act, the focus was on the music and singing. Visually underwhelming, there was an inertness at times and an acoustic quirk that resulted in a distracting echo.
The minimalist approach was at its most effective in Wotan's farewell. As he stroked Brünnhilde to sleep on the rock to which she is banished, Wotan was a loving father calming his anxious child rather than cruelly punishing his disobedient daughter. The result was heartbreaking.
Wagner created a new musical and theatrical world with the Ring, and theatrical references abounded, particularly in Siegfried, from the false proscenium used throughout this opera to a huge projection of the dragon Fafner applying grotesque stage make-up.
Evoking a dragon without descending to pantomime - which here involved a projection, a spray of dragon's blood and a naked and bleeding bass-baritone - was among the most affecting elements and revealed a simple but inventive economy, the hallmark of Armfield's "poor theater" style.
The final opera Götterdämmerung was a compelling realization - from the Norns unable to mend the torn fabric backdrop of their world to Brünnhilde's immolation in which the lovers stood like a bridal couple at the center of a universe.
Lacking in the production was a visual unity with each installment appearing as though conceived by a different designer.
There was no shortage of ideas - about the plunder of the natural world, reality and illusion and the need for compassion toward all sentient beings. Armfield's light touch enhanced Wagner's exhilarating and vivid music, creating a space for it to breathe. But some ideas were introduced and not continued. What happened, for example, to Rheingold's abducted child?
Stefan Vinke delivered a sustained and energetic Siegfried, who grew convincingly from unruly brat to a man tempered by experience and destroyed by treachery.
As Brünnhilde, Bullock sang with fire, clarity and emotional intensity and brought an element of vulnerability to the role.
After a subdued start, Stensvold's Wotan was most commanding as he reappeared, bare-chested and bronzed, in the guise of the Wanderer.
In other roles, Jud Arthur (Hunding/Fafner), Deborah Humble (Erda/Waltraute) and Warwick Fyfe (Alberich) were outstanding. Inkinen set an assured if slow pace, but one in which the orchestra, especially the brass, shone.
The 100 silent extras deepened the humanism. They functioned as a voiceless humanity whose fate rests on capricious and flawed gods. In the closing moments they sat on bleachers at the back of the stage, their ranks peppered with beach boys, showgirls and other figures encountered over the previous three performances.
They appeared like a reflection of the auditorium. We have been watching theater, but we have also been looking in a mirror.
Der Ring des Nibelungen continues at the Arts Centre, Melbourne, until December 13, 2013.