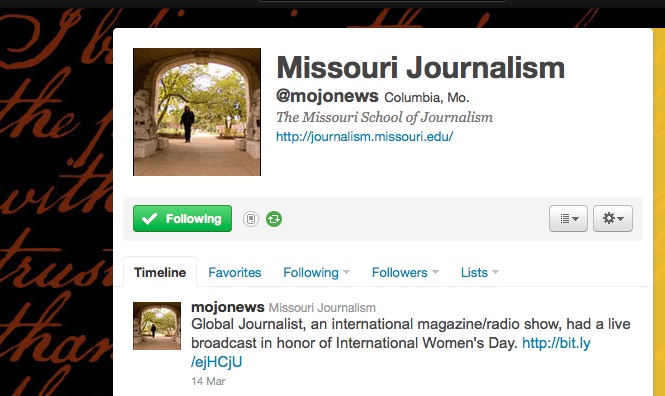 Do you check the official Twitter feed for the Missouri School of Journalism on a regular basis? Probably not, based on the dismal number of followers.
As of Wednesday night, the Mizzou J-School's official Twitter account has just 650 followers. That is a far cry from most other top journalism schools and a negative reflection on our own.
Just by the number of followers, let's see how the Missouri School of Journalism's Twitter feed stacks up to other journalism schools:
At least we have more than Kansas...but not by much.
As students at the Missouri School of Journalism, we're familiar with the J-School's reputation as one of the top journalism schools in the country. For years, Mizzou has sat comfortably at the top, alongside universities such as Columbia and Northwestern. But since we are a school that prides itself on innovation in online media, why is it that our social media is so lacking?
If you do look at the Missouri J-School's Twitter feed, you'll notice its content is made up entirely of press releases. They're about J-School students and professors winning awards and other news that boosts the school's reputation. This content is important to include, as Twitter is a great public relations tool. At the same time, press releases are boring, and unless yours or your friend's name is in that press release, most students won't care enough to read them.
Plus, with a measly 15 tweets since the Spring 2011 semester began, we can hardly count on Twitter to keep up with the happenings in the J-School. Maybe that's why just two months after J-School Buzz began publishing, our Twitter account already has 967 followers, 300 more than the journalism school's.
Like any other typical college student, checking my Twitter and Facebook accounts is one of the first things I do when I sit down at my computer. And because we spend so many of our waking hours (and some of our non-waking ones) in the J-School, it's only natural to expect more communication from it.
Columbia Journalism School uses its Twitter feed to remind students of workshops and lectures as well as to publicize content that its students have published. It even engages in conversations with students sometimes, @ mentioning them and responding to their comments. Its Twitter is friendly, interesting and consistent, with about two tweets per day.
The University of North Carolina School of Journalism and Mass Communications has a similar approach. It also retweets students and other UNC accounts on a regular basis. You can read tweets about upcoming events, view students' work and even find links to internship and job opportunities.
SUBSCRIBE TO & FOLLOW LIFESTYLE
HuffPost Lifestyle is a daily newsletter that will make you happier and healthier — one email at a time. Learn more