The last stop on their recent North American tour, Philadelphia was wowed and wondered by French pop trio Yelle this past Saturday night. Sounding similar to dance-pop groups like CSS and Cut Copy, Yelle stands alone in how its music influenced an entire population of Francophone youth.
The "Tecktonik" lifestyle emerged in France around 2008. The arm-flailing, leg-shuffling, and head-rolling dance movement of Tecktonik is still prevalent in the French-speaking world, including Canada, Northern Africa, and much of Europe. The song that arguably pioneered this movement is Yelle's most famous single, "À Cause Des Garçons" (which translates into "Because Of The Boys"). The single's official music video features demonstrations of the constantly-moving dance.
Although dance and house music began its popularity in Europe ages ago, its delayed journey across the Atlantic Ocean to the Americas only augmented American interest in it. Band member Tepr remixed Yelle's original release of "À Cause Des Garçons" to make it more suitable for Tecktonik dance. Tepr's remixes of songs would ultimately cover Katy Perry's "Hot N Cold," which prompted Perry to ask Yelle to open on her California Dreams Tour this past spring.
The Safari Disco Club Tour in North America was in support of Yelle's most recent album Safari Disco Club. Generally themed around the idea of going on safari, Julie Budet, Jean-François Perrier, and Tepr (Tanguy Destable) were dressed in camouflage netting and tan safari clothing with visored hats, respectively. After opening the show with "Safari Disco Club," Budet shed her netting, revealing a leopard-printed and sequined jumper with a giant animal face embroidered therein. Hey, it's art!
Yelle is known for lively performances that basically beckon its audience to let loose and dance (although being well-rehearsed in Tecktonik is not a prerequisite). To see the French-pop trio at its best -- on stage in front of a live audience -- was an incredible experience. I went to the show with two good friends, and we were all taken away by the ambiance in the room, shaking our bodies, dancing in place, and singing the words we knew. There was a group of teenagers next to us that had driven over an hour to see Yelle live!
All of Yelle's songs are in French, but they can still captivate an audience just as effectively, if not more so, than an English-speaking pop band. Light songs like "Je Veux Te Voir" ("I Want To See You"), "Chimie Physique" (Physical Chemistry"), and "S'enteint Le Soleil" ("The Sun Goes Out") show that Yelle's musical catalogue ranges from heavily-remixed pop ballads to meaningful songs of fleeting regret.
I was lucky enough to meet Yelle after its concert. Fortunately articulate in French, I spoke with Budet about how much I loved her vocals in the show. One of the most down-to-earth artists I have ever spoken with, she graciously thanked me and personalized her signature on my shirt with "Bisous, Judah! Merci!" ("Kisses, Judah! Thanks!").
No, thank you, Yelle, for touring North America and honoring Philadelphia with your music on your way back to France.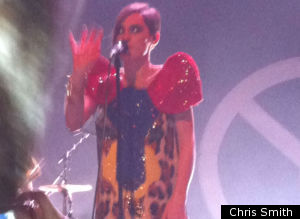 SUBSCRIBE TO & FOLLOW THE MORNING EMAIL
The Morning Email helps you start your workday with everything you need to know: breaking news, entertainment and a dash of fun. Learn more