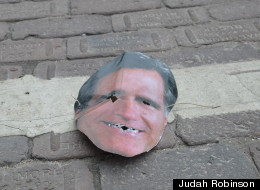 Despite the ever changing weather conditions, protesters continued along with their plan to "March on the R.N.C." Assorted organizations gathered to make one thing very clear: they are not aligning themselves with the Republican Party.
Photos from the demonstration are below.
Security forces standing guard on top a bridge near the location of the "March on the R.N.C." protest.

Police and 'March on the R.N.C." protesters make their way down East Whiting Street in downtown Tampa.

At the frontline of the demonstration where protesters hold a sign that says,"March on the RNC."

Enthusiastic protesters at the front line of the march canting slogans.

More protesters, voicing their opinions.

Policeman in full uniform near protesters.

A policeman in full uniform, with the Tampa Bay Times Forum in the background.

Police waiting along the sidelines.

A mask left behind when protesters cleared this area.
Follow Judah Robinson on Twitter: www.twitter.com/judah_robinson