Wow! That was my initial reaction when I was asked last July to be on Stephen Colbert's show. After being a federal district judge in New York for the past 17 years, I had just written a book, at the tender age of 78 (my first and probably last), which I named DISROBED: An Inside Look at the Life and Work of a Federal Trial Judge. The Colbert Report invite had come right after I was interviewed by Brian Lehrer for NPR on his New York City morning radio show. Someone from Colbert was listening and liked what she heard.
I was psyched. The book had been published by Thomson Reuters Westlaw, a well-respected legal academic publishing house but with little input into the commercial book publishing world. In that world there were no takers for a first-time septuagenarian author writing a law-related non-fiction book. And Thomson Reuters made it clear to me that while it was willing to publish the book, I should not expect it to spend any money for book tours, advertising or public relations gurus; it's not what it did.
But I had written a book for the general public -- not just for lawyers -- because I believed that there was a real need for more transparency from federal trial judges about who we judges are, how we got our jobs, what we really do and the types of cases we handle. In order to appeal to the general public, however, the book would have to be entertaining, laced with humor and easy to read, while at the same time being provocative and informative. The reviews I got for the book cover from the likes of President Clinton, Jeffrey Toobin, Ben Brafman (the famous criminal defense lawyer), Judith Kaye (former Chief Judge of the State of New York) and even Judge Judy, made me feel that I had written just such a book. So when Colbert called, I thought that I would be able to bridge the hurdles I faced by not having a commercial publishing house behind me, and possibly realize my goal to get the book out to the general public, instead of it being consigned to the dusty shelves of academic libraries. The 15 million people who tune in to Colbert each night across the country would watch me being interviewed by him and instantly know about my book. It would lead to other national media interviews and tons of sales. I was told this was known as the Colbert Bump.
The date was set for August 29. The interview would be shot live at 7:00 p.m. at Colbert's studio at 45th Street in New York City. It was a done deal -- or so I thought. I had to give his producer four copies of the book; the names of two people who would be allowed to be with me in the "green room" -- the place where you waited just before you went on -- and the names of four others who would be allowed to be in the audience, including my out-of-town editor who had made plane reservations to come.
I rearranged my court schedule to break early that afternoon so as not to be pressured, and decided to show my gratitude by bringing something with me that this wonderful comedian might get a kick out of -- a giant two-foot gavel. It cost $225.00 (plus postage). I had it inscribed: "Stephen, Thanks For Having Me On Your Show, All My Best Fred Block." To my surprise, however, shortly before the show was to go on I was told something came up and was asked whether I could come on one of three dates in October. I picked October 2, polished the gavel, and told tons of people to tune in. But that was not to be either. The producer thought that since the next day was the first presidential debate, a more relevant guest was warranted. With apologies, I was assured that "we will make it worth [Judge Block's] while when we finally get him on air." It never happened, and last month I was told that the show now had second thoughts and was not ready to commit. I thus became a victim of a different Colbert bump.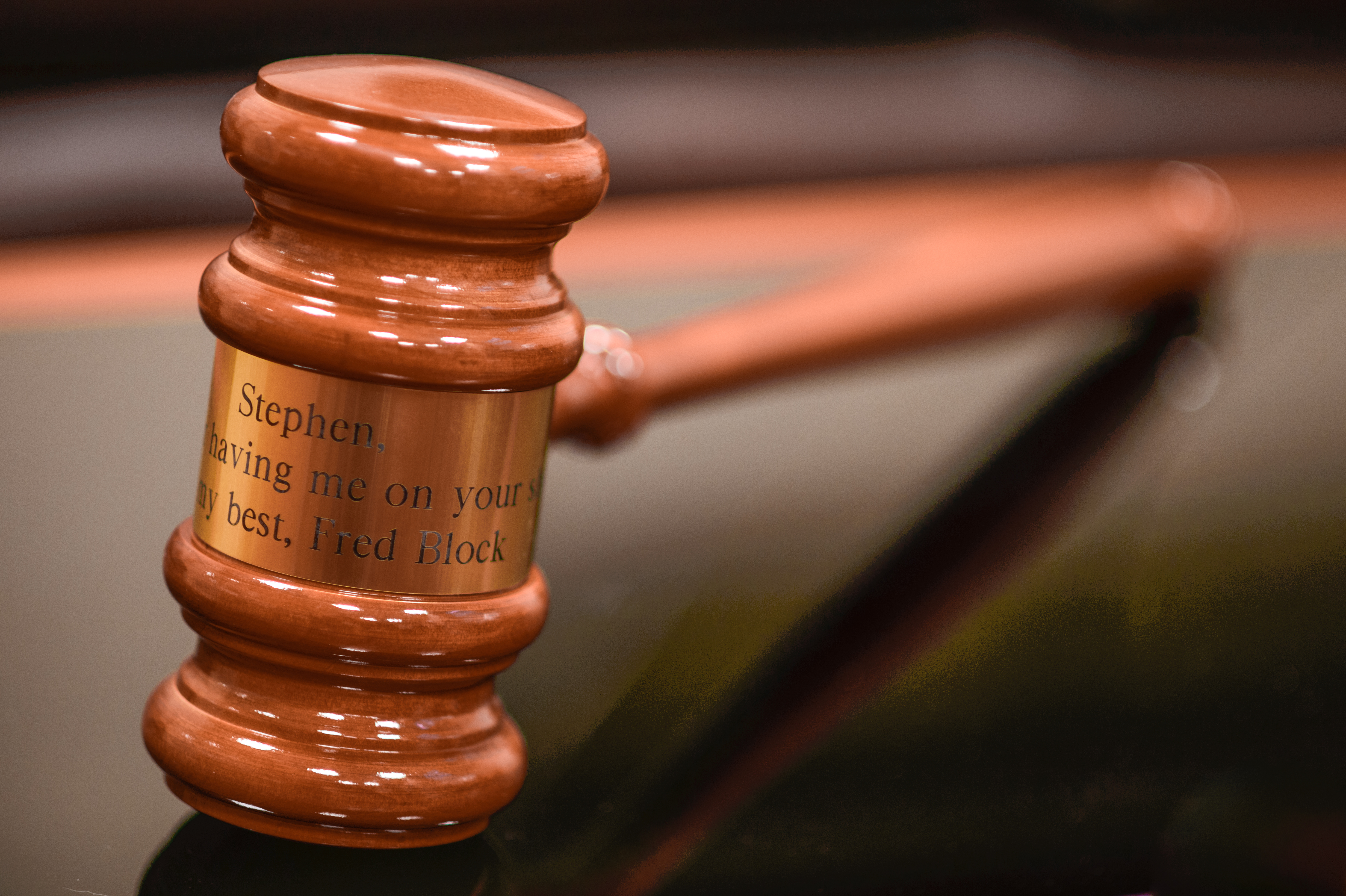 I chalked it all up to "that's show biz" and licked my wounds. And it's kind of humbling for a judge to be dumped on like that. But what would I do with the gavel? A few thoughts popped into my head: (1) hunt down Colbert and bop him over the head with it (probably not a good idea if I want to keep my judge job); (2) chop it up for firewood, toss it in the fireplace, light it, and watch Colbert's name go up in smoke; (3) sell it on eBay and donate the proceeds to the Society Against Cruelty to Federal Judges; (4) keep it on the bench in my courtroom to remind me every day what kind of jerk I was for buying it. I would like to get other ideas that the reader may have.

As for the book, there have been wonderful things that have happened. The publisher has done a great job letting the legal community know about it and it has been well-reviewed in a number of legal publications -- and there have been lots of sales in that world. On the commercial side, however, wide-spread national media outreach to the general public has been hard to come by. Sam Roberts of the New York Times did give it a terrific review, calling it "engaging", and explaining: "Judge Block offers a rare look behind decision-making on the federal bench. His stated goal was to make judicial proceedings accessible to the layman and -- mercifully, without footnotes -- he largely succeeds." But his review only appeared in the Metro Section, and TV appearances, radio interviews and press coverage have also been pretty much confined to the New York metropolitan area.
However, there have been many things that have happened that made me feel very good about writing the book: It was amongst the top sellers this year at the prestigious National Press Club's Annual Book Fair in Washington, D.C., and hardly a day goes by without receiving extraordinary letters from an array of readers. They are all very special but the ones that I particularly cherish are those from the general public for whom the book was written. The last one was from a man who said he bought the book at the NPC Book Fair for his mother. She described it to him as being "everything" - "very entertaining," "funny" and filled with "lots of history and interesting facts. " He added that "I wish I recorded all the wonderful things she has said about your book."
But while I'm thrilled to learn that the book has resonated with the limited members of the general public who have learned about it, I am saddened to realize that without widespread national media coverage the general public outside of New York will probably never know about the book I have written for it. Ah, if only I had gotten the right Colbert bump.
Frederic Block has practiced law for 34 years. He was appointed to the federal district court as a judge in 1994 by President Clinton. Block is the author of Disrobed: An Inside Look at the Life and Work of a Federal Trial Judge.