I missed National Sibling Day. When was this holiday created? Are we soon to start sending "Happy Sibling Day" cards to one another?
I learned, belatedly, that April 10 was declared National Sibling Day through Facebook. Adorable images in yellowed tones of friends as youngsters with their siblings sprinkled through my "news feed." The photos evoke a nostalgic mix of familiarity (did we all wear the same knee socks and striped shirts?) and loss (how did we become middle-aged so quickly?), capturing the closeness of siblings through the idealized lens of a parent who has placed one child in another's lap or instructed the kids to hold hands and smile for the photo. I'm not saying that siblings don't hold hands and smile at each other -- perhaps just not quite as often as we seem to in family photographs.
Take the photo that I (belatedly) posted on my Facebook page. My brothers and I, ages 3 and 5, crowd together on a hallway step, dressed in Halloween costumes. I was Cinderella in an era before Disney figured out the genius of marketing sparkly ballgowns to toddlers. I wear a long white polyester sheath covered with blue stars and pink trim and I carry a star-shaped wand handmade from aluminum foil. My brothers were my cats (did Cinderella have cats?). Their enviable auburn hair hangs over their eyes, which glare red from the flash. Uniforms resembling pajamas cover their stout little bodies, one brother in shiny red and yellow and the other in white with a picture of a cat popping out of a pumpkin on his torso. Three red slightly-smudged lipstick lines radiate out of each side of their noses and across their cheeks to evoke whiskers. Both brothers wear identical navy sneakers on their square feet. Only I am smiling; they look a bit confused. It's pretty cute.
Tucked close together on a hallway step of my parents' Victorian house, we were about to embark on our annual ritual of trick or treating. Ah, the promise of childhood. It seemed an apt image to mark National Sibling Day on my own Facebook page.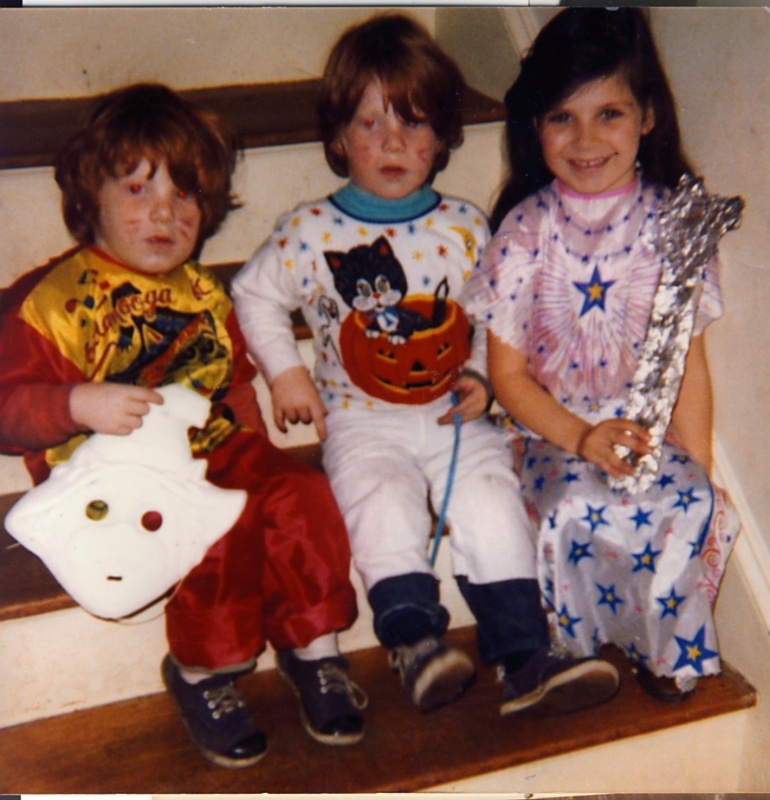 I "tagged" the photo. One brother wrote "Thanks, sis." Then he added: "Why did I write that? I never call you sis." What was it about National Sibling Day that made us both feel a need to reaffirm our bond of kinship? Moreover, why has this day come into existence at all?
Sibling relationships and rivalries are as old as time. Think of your favorite books and it's easy to find plots that depict sibling conflict and violence. Jealousy and subversion between brothers abound in the Hebrew Bible. Cain kills Abel, Jacob steals Esau's birthright, and Joseph's brothers throw him down a well. If Oedipus stands as a parable for the unconscious drama of the parent-child triangle, then the third part of Sophocles' trilogy, Antigone -- ever the loyal sister -- reminds us that sibling dramas can also lead to tragic ends. Perhaps what is new is the opportunity to promote a fantasy of sibling relationships. National Sibling Day offers one more opportunity to manipulate and promote idealized selves through social media.
Apropos of this new national holiday, our dog Nala, age two and a half, just had her first experience of sibling rivalry. Our friends adopted a ten-week old puppy, Cooper. He's pretty much the cutest thing on the planet. We figured out that Nala and Cooper have the same father, so they are, in fact, half-siblings. So when Cooper's family traveled out of town for the weekend, we jumped at the opportunity to puppy-sit and to introduce Nala to her half-sibling. "She'll have so much fun!" we thought. How mistaken we were.
Poor Nala was already slightly traumatized before the weekend began. A terrible haircut was the culprit. Our shaggy dog usually resembles a dust mop. But when the groomer shaved her down to resemble a Jack Russell terrier, we were all aghast -- especially Nala. Don't get me wrong; we admire the handsome muscular physique of our friend's Jack Russell dog, Hermes. Our shock came from the transformation of our fluffy half bichon. Even most of her ears were gone. "Is that Nala?" both of my kids asked. I heard the same question repeatedly during the week. Nala typically preens on her walk home from the groomer, attracting glances and praise as she prances down Columbus Avenue. This past week, the only thing that caused a tail wag was the promise of a treat. And eating out of depression never comes to good ends. Nala's middle has been expanding rapidly. So she wasn't at her best when Cooper, the cutest puppy ever, showed up with his crate, toys and water bowl to share Nala's corner of our apartment.
On the positive side, siblings can offer companionship and playmates. There were times over the weekend when Nala and Cooper enjoyed chasing a ball down the hallway together and simultaneously chewed a stuffed miniature tiger toy from different ends. When Cooper's family eventually packed him up, food bowl and all, and took him away, Nala drooped and sniffed around the empty spot where Cooper's crate had been. But there were plenty of times when Cooper drank from Nala's water bowl and Nala raised her enormous black eyes to me for aid. Quite frequently over the weekend, I had to yell: "Don't hump your sister, Cooper!", while Nala pushed the yet un-neutered puppy off with her back leg. Ah, the challenges of little brothers. When I asked my kids whether we should consider adopting a second dog, both cited concerns for Nala's well-being. As for now, she's remaining an only pet.
My son is studying genetics in school. He learned that he is, genetically speaking, "half" his father and "half" me (his phrasing). I'm not entirely sure what aspects of it captivate him, but he ponders that fact a lot. We discuss how his sister is the only one in the world who is also genetically "half" of each of us. He and his sister share more DNA with one another than with any other people in the world. Quite a bond. Beyond the fascinations of physical resemblances, the bond doesn't actually depend on DNA but rather on shared experience. The play currently on Broadway, Vanya and Sonia and Masha and Spike, cleverly incorporates adoption into a comic update of Chekov's studies of sibling relationships.
Siblings can provide an irreplaceably deep connection to ourselves, our families, and our pasts. In families that have experienced trauma, a sibling can become a lifeline or a wound that cannot heal. Auschwitz survivor Charlotte Delbo conveys the interwoven identities of sisters trying to survive the camp together and the blurring of boundaries between the sisters when one dies and the other survives. In her harrowing and brilliant book, Days and Memory, Delbo writes: "She lives in her grief, lives with her sorrow, that unfaltering double of herself. She bears her grief ever since she bore in her arms that sister of hers, who died in the night." Years after Auschwitz, the surviving sister is unable to move beyond the moment that one sister drew in the other's last breath. For those who share trauma with siblings, identity may be fractured and bonds between siblings can grow especially thick.
After reading Delbo, my previous musings and the very idea of a National Sibling Day seem trivial. But, in all of the variants of sibling relationships, from the traumatic to the neurotic to the least conflicted, in many ways we are more connected to our siblings than any other beings, as my son observes.
Much as I make fun of it, National Sibling Day encouraged me to place a photo of my siblings on "my" page of virtual identity. Although I smile in the photo and lean into one brother, layers of complex emotions percolate beneath -- love, anger, competition and loneliness. For one, the very day that the photo was taken, my maternal grandfather had died. My dad probably took the photo so my mom could see what we looked like in our costumes -- since she had gone to Philadelphia for the funeral. I was actually missing my mother and must have felt the loss of a grandfather who adored me. Furthermore, the fact that I claimed that my brother's costumes were thematically linked to mine (let's face it, Cinderella doesn't really have anything to do with cats) masked a deeper sense of jealousy that those two cute red-headed brothers not only shared a costume that day but also many other interests and traits. I long yearned for a sister (I only recently abandoned that wish after reading Lucinda Rosenfeld's funny, biting, and unsentimental novel The Pretty One about three sisters, and the rivalries among them). Under my smile lay a sadness over having been ousted from my central place as the object of parents' adoration when, at only 22 months, I had to make room for these two boys.
I guess in the end, National Sibling Day invites us to recognize that for better or worse, we have siblings, and they are part of the identities we construct whether in the virtual or real world. Siblings are entangled in a unique mix of intimacy and competition. If I were to make a card for this new "holiday," perhaps I would caption it with an observation that my own just-turned three year-old-daughter said to me when her baby brother was born: "Mommy, I just love you so much that it's hard to share." Wise words.
SUBSCRIBE TO & FOLLOW SO YOU WANT TO RAISE A FEMINIST
Start here, with the latest stories and news in progressive parenting. Learn more