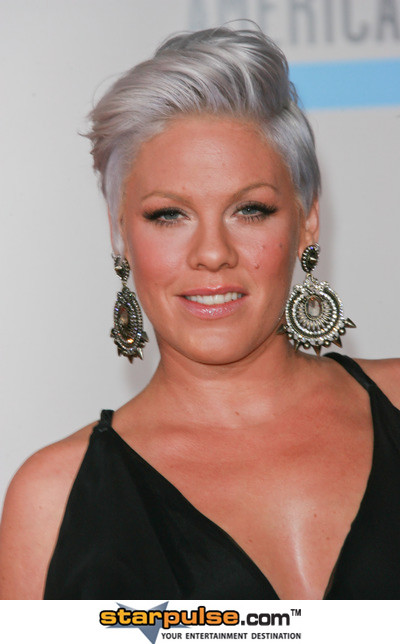 When it comes to battling the paparazzi, pop star P!nk ain't no baby.
The entertainer took to her website this week to launch a verbal throwdown against the paps who are trying to snap the first pictures of her newborn daughter, Willow Sage.
Calling relentless photogs "aggressive" and "unsafe," P!nk declared in a lengthy post that, "it's one thing to harass and stalk us, the adults, the celebrity that signed up for this life, but children should be protected and safe. There should be a clear distinction between us."
Now the new mama is putting her baby photos where her unabashed mouth is and giving pics of her bundle of joy the Brangelina treatment. Just as Angelina Jolie and Brad Pitt did when they sold photos of their infant twins to People magazine for a reported $14 million back in 2008 (and apparently donated much of that paycheck to charity) P!nk and husband Carey Hart plan on giving their first baby snapshots to the highest bidder.
P!nk wrote in her online post that all the money from the personal photos of Willow will be donated to good causes, such as the Ronald McDonald House and Autism Speaks.
Future playground bullies beware: if P!nk can manage to turn a negative into something positive, and whip those wild paps into shape, you're as good as toast if you mess with Willow.
Falling Star - Lindsay Lohan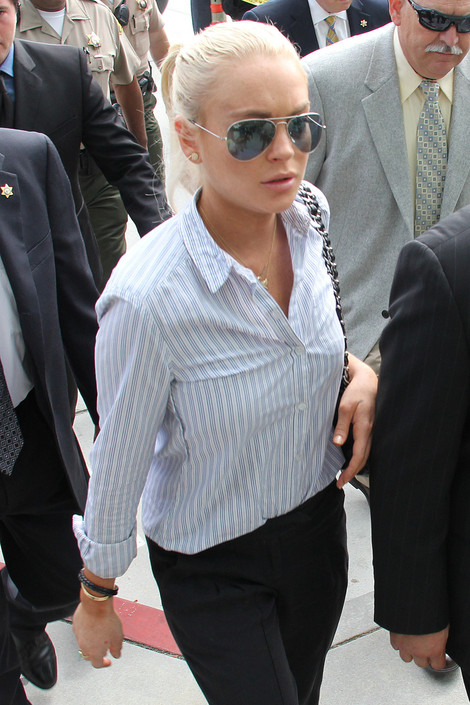 David Tonnessen, PacificCoastNews.com
It seems like Lindsay Lohan's bad case of "party girl-itis" is showing no signs of letting up. Is there a prescription for being utterly unmanageable?
LinLo made her umpteenth (I've seriously lost count at this point) appearance in a Los Angeles courtroom on Thursday after failing an alcohol test while on probation. According to reports, the Tinseltown wild child flunked a booze test that was given a day after she had a soiree at her house. But, as Hollywood history has proven time and time again, it may help to be a celeb if you're ever in dire judicial straits.
The judge in Lohan's case ruled that the actress, 24, could return to her humble Venice, California, abode where she's serving 120 days of house arrest. The reason that Lohan got off pretty much scott-free? The judge who originally set the probation requirements didn't make drug and alcohol testing a part of the terms after February 2011. Whoopsies.
The failed test also came just days after Lindsay claimed that alcohol was a no-no in her home, telling Life & Style magazine, "When my friends come over, they're not drinking. Alcohol is not in my house, so it's just not a part of my life." Maybe she was just trying to see if her acting chops were still intact with that statement, right?
Lohan's judge on Thursday did call her out for partying while on probation, saying that the Mean Girls star was guilty of "extremely poor judgment." Lohan was also banned from having more than one person at a time at her pad, except for family members.
Meantime, Lohan's attorney, Shawn Holley, insisted at a press conference that her troubled client has "done nothing wrong, she has done everything right." Done everything right? Maybe LinLo's denial is contagious at this point.
SUBSCRIBE TO & FOLLOW ENTERTAINMENT
HuffPost Entertainment is your one-stop shop for celebrity news, hilarious late-night bits, industry and awards coverage and more — sent right to your inbox six days a week. Learn more