Venture is a rich and readable collection of true microfinance stories. It is written for anyone who would like to better understand the realities faced by the the aspiring middle class in the world's least developed countries, the range of factors that affect their prospects for working their way out of poverty, and how microfinance can impact their lives.
The entrepreneurs featured in this book are all members of Zidisha Microfinance, a web-based crowdfunding platform that allows low-income, computer-savvy entrepreneurs in developing countries to share their stories and negotiate microloans directly with individual lenders. As the world's first person-to-person lending service to eliminate intermediaries and connect individual web users and entrepreneurs across the international wealth divide, Zidisha is uniquely positioned to offer an undistorted depiction of the variety of individual stories and circumstances that come to play each time a microfinance loan is disbursed.

Each story paints an unforgettable picture: A 70-year-old goat farmer who relocates his home to better care for his ailing father, carrying the sticks and metal sheeting it was made from across the mountains on his back. A plump, beaming detergent saleslady who lives in a home no larger than an ordinary bathroom but has adopted five orphans. A cancer survivor who supports herself and two children by pounding millet for $1.58 per day. An irrepressible lady who supplies half of her neighborhood with much-needed IVs and other medical supplies by day, and by night checks into the local cybercafe to chat with Facebook friends on the other side of the world. A young man who has no arms but insists on working to support his able-bodied parents out of filial duty. An accounting student who pays for his university tuition by purchasing a taxi and splitting proceeds with a hired driver. A bright young lady who renounces college to care for her orphaned siblings and overcomes gender stereotypes to launch a thriving construction business.
At its heart, "Venture" is a tribute to the remarkable community of Zidisha Microfinance entrepreneurs and countless others like them -- a tribute to their grit, ambition and indomitable spirit in the face of overwhelming obstacles. We hope this book will help translate the statistics about poverty and the opportunities afforded by microfinance into human terms, and inspire readers to reach out and connect with their counterparts on the other side of the international wealth divide.
Story 26: Survival Strategies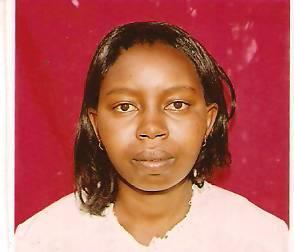 The last year has been tough for Mary Mwangi. A longtime second-hand clothing retailer in Nakuru, Kenya, she used her loan of $341 to purchase a large quantity of the old clothing that is imported in bales from the United States and Europe. Unfortunately, her investment coincided with the onset of a severe drought, and the resulting economic downturn reduced her customers' purchasing power. The clothing sat unsold in Mary's kiosk for months.
Seeing that her situation was deteriorating and given the little hope that the economy of the area will improve in the short term, Mary decided to change her business and open a small restaurant. Mary, her husband and her sister are now serving mainly lunch and tea to the local workers. After three months of operation, the restaurant has proved itself to be more profitable than the clothing boutique, but not profitable enough to cover all the expenses of the family. The thirty meals served each day generate a profit of about $3.50 per day or $856 per year.
As do many villagers in Kenya, Mary and her husband cultivate their own fields to complement their revenue. The harvest season for their two-hectare maize field will come in December, and if the rains are good and prices remain high, the crop should allow them to make a bigger profit than with the restaurant. Mary's husband told me that since farming was their most profitable activity he was planning to rent more fields during the next year.
The stock of clothes from Mary's old boutique is stored at their home without generating any revenue. Mary will try to sell this stock to a wholesaler in order to use these funds in their farming business. Last year, the revenue of their field was very small because the rain destroyed their entire tomato plantation. This is why, this year, Mary and her husband decided to plant maize, a less lucrative but also less volatile crop, to reduce the risk of a catastrophic loss.
While Mary struggles to earn enough to support her family, she still wants the best for her only daughter. Instead of sending her to the local public school, Mary prefers to pay $178 per year for a private academy that will provide her daughter with a better education.
Mary's Words:
The business was very down due to some economy problems but I know God will help me make the loan. I will try my best and pay the loan. I have gone to cooking some food like chapati [flat bread], tea etc. The business of selling clothes did not go well. I am even doing farming which I will harvest in December so when I harvest I will put some money to the loan
You may view more comments and photos at Mary's Zidisha Microfinance profile page.
From Chapter 26 of Venture: A Collection of True Microfinance Stories by Zidisha Microfinance.
Next time:How a simple microfinance loan multiplies a resolute farming family's maize crop...