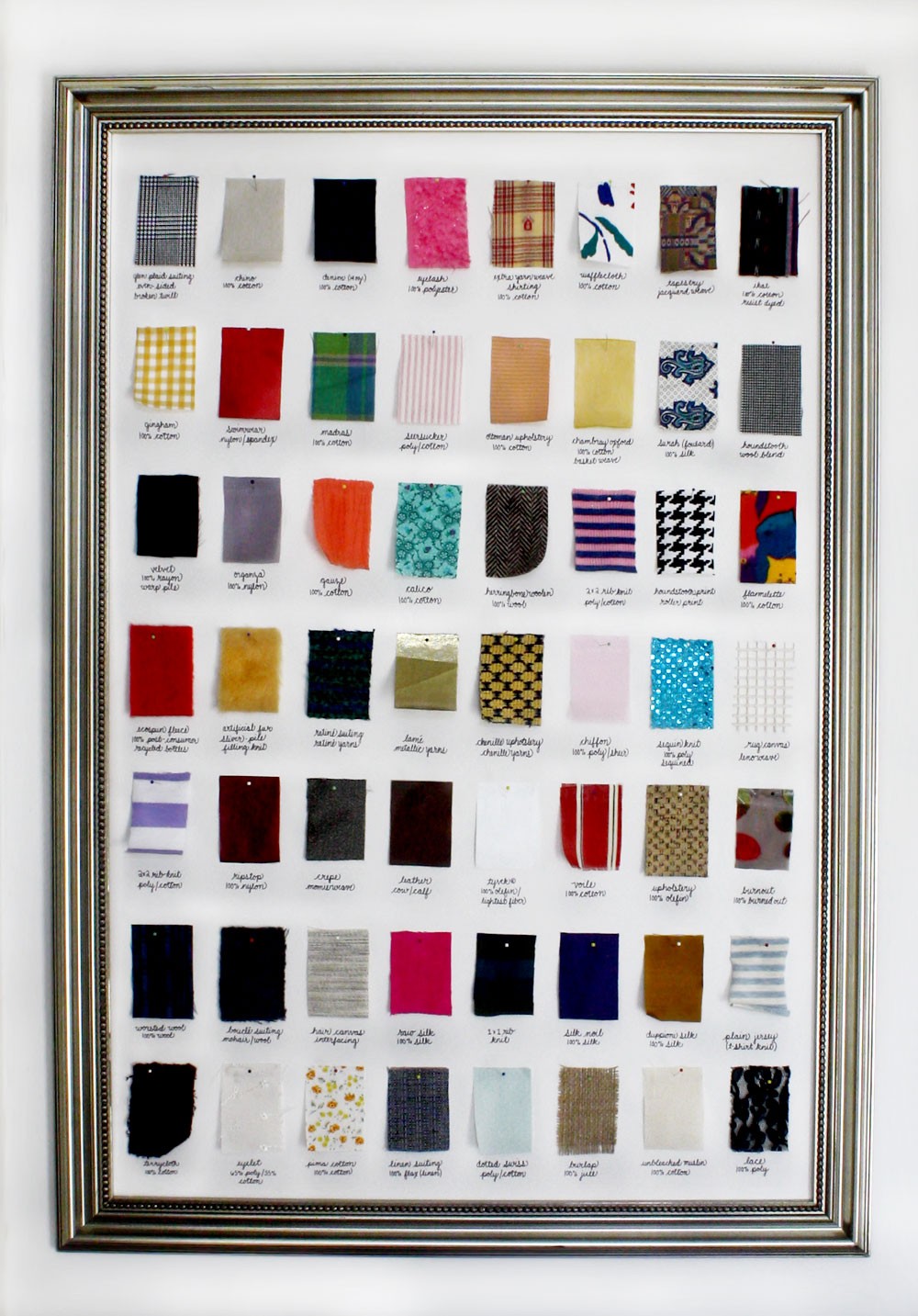 Know a wall that needs a little lovin'? Dress it up with a statement art piece, like this framed DIY fabric swatch display! Simple, stylish and scholarly, this DIY decoration will add fashionable flair to any home, whether you're a diehard fashion fanatic or a fairweather Project Runway follower.
Picture frame
White foam core
Various fabrics
Quilting pins
Fine-tip marker or pen
Permanent double-sided tape
Sewing iron
Ruler
X-Acto knife
Cutting mat
1. Pick your fabrics! I repurposed the contents of my old swatch binder from fashion school, but you can just as easily acquire materials from the scrap bins at fabric stores or thrift shops. Or, you can get all your fabrics in one swoop by investing in a pre-assembled textile kit. It's up to you!
2. Grab your picture frame, X-Acto knife, ruler and cutting mat. If your frame comes with a glass pane, take it out and use it as a guide as you cut your foam core to the same size as the glass. If your frame doesn't have glass, use a ruler to measure the inside of your frame, and then cut the foam core to those dimensions.
3. Cut your fabric swatches to your desired size and shape.
4. Before you lay your swatches down, make sure they're looking their best! Iron out kinks or wrinkles, and trim any offending loose threads. Then, arrange your swatches on the foam core. Use a ruler to ensure all swatches are perfectly lined up!
5. Adhere the swatches to the board by placing a strip of double-sided tape to the top of each swatch. The other 80 percent of the swatch should float off the surface.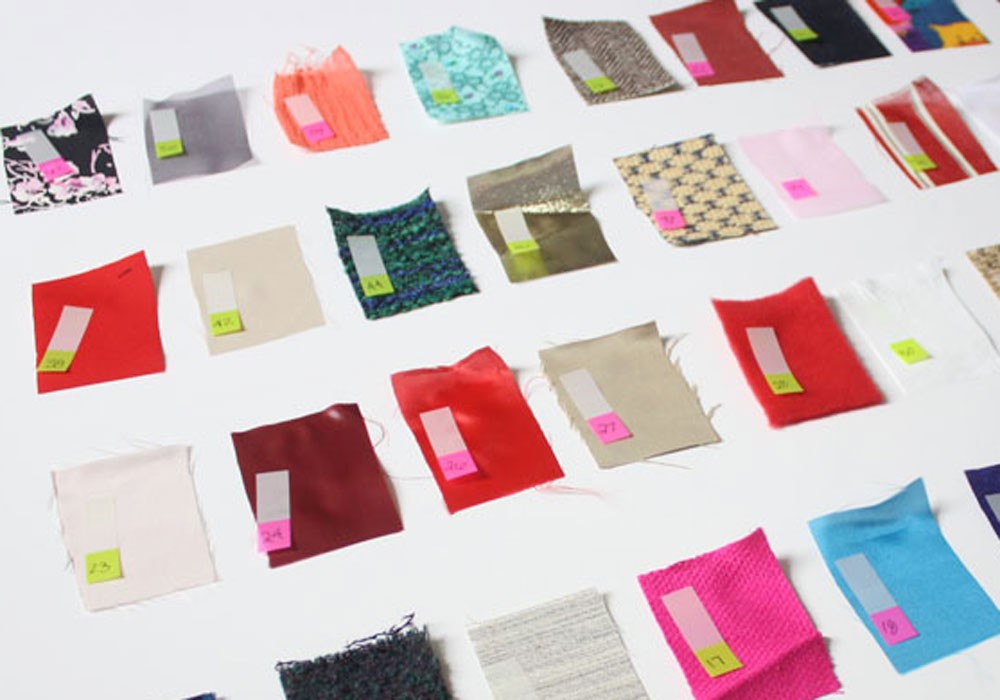 6. Next, take a fine-tip pen or marker (I chose Pigma's Micron 05 pen) and write the name and description of each fabric under each swatch. I wrote names, followed by fiber content. Be very, very careful not to smudge the ink as you write!
7. Stick a quilting pin into each swatch to give your piece the illusion that each swatch was effortlessly pinned onto the board.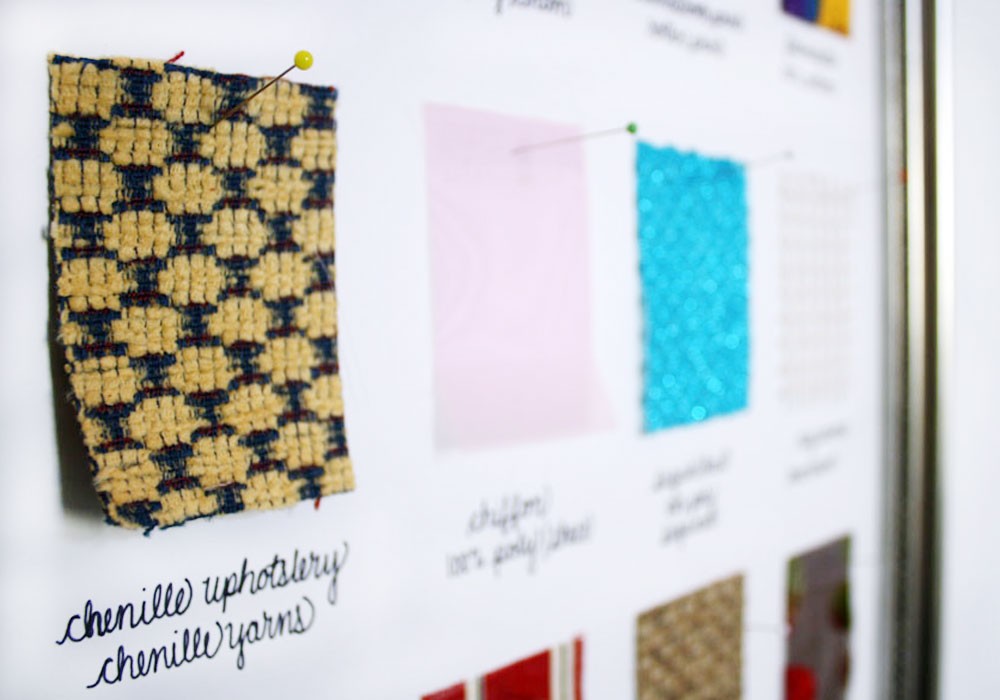 8. Secure the foam core to the back of the frame, and prepare it for mounting. You won't need your glass pane, so I suggest you whip up a DIY involving glass panes after that!
9. Display for others to see your colorful creation! Without the glass covering, passersby are welcome to study your artwork by sight and touch. Whether you feature only a few fabrics or assemble a comprehensive textile reference, this DIY decor piece will surely inspire a stylish, intelligent conversation with anyone who enters your abode!
FOLLOW HUFFPOST