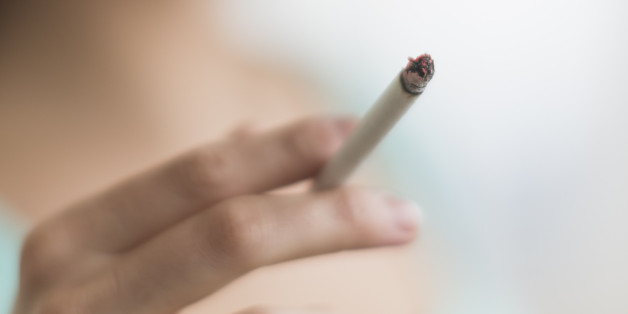 There's no question that smoking is bad for you. We all know that lighting up regularly can set the stage for a lengthy list of health issues, including lung cancer and heart disease. But now new research published in the New England Journal of Medicine reveals that smoking's reach may be even more dangerous than once thought, causing a number of other illnesses and diseases not already associated with the habit. (1)
A study conducted by Brian D. Carter and his team at the American Cancer Society reveals that breast cancer, prostate cancer, liver damage, kidney failure and infections can be added to smoking's existing roster of health risks. (1)
A More Serious Smoking Risk
In his research, Carter analyzed data from five studies involving more than 954,000 men and women, and discovered that 17 percent of excess mortality cases -- the number of untimely deaths likely brought on by unnatural reasons -- were caused by diseases not already established as caused by smoking. Currently, experts formally link smoking with 21 common diseases (six categories of heart disease, 12 types of cancer, diabetes, chronic obstructive pulmonary disease and pneumonia including influenza). (1)
In fact, the study linked smoking with two of the most common forms of cancer, breast and prostate cancers. Cases of death from prostate cancer were 43 percent higher and breast cancer was around 30 percent greater among current smokers than those who didn't puff on cigarettes. Previous research on smoking's influence on these diseases was mixed, but this new data makes a strong correlation. (1)
These results worsen smoking's already dismal outlook on health. Smokers have mortality rates that are two to three times higher than non-smokers. The U.S. Surgeon General estimates that smoking in adults causes approximately 437,000 deaths per year. But factoring in Carter's research, this number can increase by 60,000 to 120,000 -- to as many as a staggering 556,000 deaths each year. (1)
An Ever-Growing Body of Evidence
It's eye opening to think that the first report of the Surgeon General's Advisory Committee on Smoking and Health was released more than 40 years ago. In 1964, the organization concluded that smoking was a probable cause of lung cancer and chronic bronchitis. (2) This report had a profound effect on Americans' knowledge: One Gallup survey revealed that, in 1958, only 44 percent of Americans believed that smoking caused cancer, compared to 78 percent in 1968. (2) It was this information that triggered the public health campaign to encourage Americans to quit smoking and prevent children from lighting up in the first place.

A Healthy Incentive
Why do I bring all of this up? The point is that science is constantly unearthing how our lifestyle can influence our health. Even many decades after we first learned that smoking is harmful, scientists are still discovering new diseases that it can bring on.
This means that we have all the more reason to make healthy choices, such as eating right, exercising, sleeping well and managing our stress levels.
Let's take, for instance, not getting enough shut-eye at night. It was once thought that the worst result of going to bed too late or waking up too early was constant yawning and sleepiness throughout the day. But, over the past few years, science has shown that sleep deprivation can have a serious impact on our wellbeing: A growing body of research shows that not getting enough zzz's at night can have a detrimental effect on health (3,4,5).
Case in point: A study published in the journal Sleep Medicine showed that people who tended to get less than six hours of sleep per night were more likely to have high cholesterol, hypertension, diabetes and to be obese. (3) Meanwhile, researchers from the University of Chicago have linked sleep deprivation to coronary artery calcification, a risk factor for heart disease. (4) And the Centers for Disease Control and Prevention (CDC) has even gone so far to declare a lack of sleep as a public health epidemic. (5)
Even with this compelling evidence, many of us aren't heeding these calls to action. Although experts say that adults need seven to eight hours of shut-eye a night, some 35 percent of us are logging less than seven hours each evening, according to another CDC report. (6)
But if this is the research that's available in 2015, what will scientists report in 2055?

Looking to the Future
When it comes to our lifestyle choices' impact on health, scientists are just chipping at the tip of the iceberg (1). Studies already shows the benefit of eating a healthy diet (8); getting seven to eight hours of sleep a night (3, 4, 5); exercising at least 30 minutes a day, five days a week (9); and managing our stress levels (7). On the flipside, research also illustrates how falling short on these healthy behaviors can set the stage for illness and disease (10, 3, 4, 7) -- and I suspect that there's still a lot of other problems associated with them that are yet to be discovered.
Instead of waiting to see what other effects that bad lifestyle behaviors can have -- like the other illnesses linked to smoking -- I encourage my readers to make the right choices at the outset. While there are a lot of uncertainties with the future of medicine, this we know for sure: Using the knowledge and information we have now on healthy living will definitely pay off for our wellbeing in the future.
1. Carter BD1, Abnet CC, Feskanich D, Freedman ND, Hartge P, Lewis CE, Ockene JK, Prentice RL, Speizer FE, Thun MJ, Jacobs EJ, Smoking and mortality--beyond established causes. New England Journal of Medicine. Feb 12, 2015; 372 (7), 631-40.
2. "The Reports of the Surgeon General," National Institutes of Health,
http://profiles.nlm.nih.gov/ps/retrieve/Narrative/NN/p-nid/60
3. Grandner MA, Chakravorty S, Perlis ML, Oliver L, Gurubhagavatula I. "Habitual sleep duration associated with self-reported and objectively determined cardiometabolic risk factors," Sleep Medicine, 2014 Jan;15(1):42-50
4. Christopher Ryan King, BS; Kristen L. Knutson, PhD; Paul J. Rathouz, PhD; Steve Sidney, MD, MPH; Kiang Liu, PhD; Diane S. Lauderdale, PhD, "Short Sleep Duration and Incident Coronary Artery Calcification," Journal of the American Medical Association, December 24, 2008, Vol 300, No. 24
5. "Insufficient sleep is a public health epidemic," Centers for Disease Control and Prevention, http://www.cdc.gov/features/dssleep/
6. Morbidity and Mortality Weekly Report, March 4, 2011, Centers for Disease Control and Prevention, http://www.cdc.gov/mmwr/PDF/wk/mm6008.pdf
7. Krantz, D.S., Whittaker, K.S. & Sheps, D.S. (2011). "Psychosocial risk factors for coronary artery disease: Pathophysiologic mechanisms." In Heart and Mind: Evolution of Cardiac Psychology. Washington, DC: APA.
8. Dehghan M1, Mente A, Teo KK, Gao P, Sleight P, Dagenais G, Avezum A, Probstfield JL, Dans T, Yusuf S; Ongoing Telmisartan Alone and in Combination With Ramipril Global End Point Trial (ONTARGET)/Telmisartan Randomized Assessment Study in ACEI Intolerant Subjects With Cardiovascular Disease (TRANSCEND) Trial Investigators, "Relationship between healthy diet and risk of cardiovascular disease among patients on drug therapies for secondary prevention: a prospective cohort study of 31 546 high-risk individuals from 40 countries," Circulation, 2012 Dec 4;126(23):2705-12.
9. "American Heart Association Recommendations for Physical Activity in Adults," http://www.heart.org/HEARTORG/GettingHealthy/PhysicalActivity/FitnessBasics/American-Heart-Association-Recommendations-for-Physical-Activity-in-Adults_UCM_307976_Article.jsp
10. Odegaard AO1, Koh WP, Yuan JM, Gross MD, Pereira MA, "Western-style fast food intake and cardiometabolic risk in an Eastern country," Circulation. 2012 Jul 10;126(2):182-8
SUBSCRIBE AND FOLLOW
Get top stories and blog posts emailed to me each day. Newsletters may offer personalized content or advertisements.
Learn more