It is true. We are living in the age of the voyeur. I don't even notice the unfathomable amount of surveillance devices around me every day, even as I happily stroll through stores fully stocked with hundreds of cameras armed with no other purpose than to document my every move. Images permeate most events in our lives today, from the cameras that track us walking down the street, to the number of photos we take on vacation, and even to the constant supply of celebrity images we see every day.

Yeah, I'm aware, this is no breaking news for anyone. But, after seeing SFMOMA's Exposed: Voyeurism, Surveillance, and the Camera Since 1870, this fact has resurfaced to the front of my mind. This exhibition is all the rage these days, mainly because it is controversial in nature and extremely approachable in subject matter. Exposed offers the viewer some of the complex layers that the documentary photograph has provided over the course of its history. But, it is the mundane in this extensive project that tell this tale the best.
Thomas Demand. Camera, 2007. Courtesy Matthew Marks Gallery, New York and Spueth Magers Berlin London. © Thomas Demand VG Bild-Kunst, Bonn / DACS, London.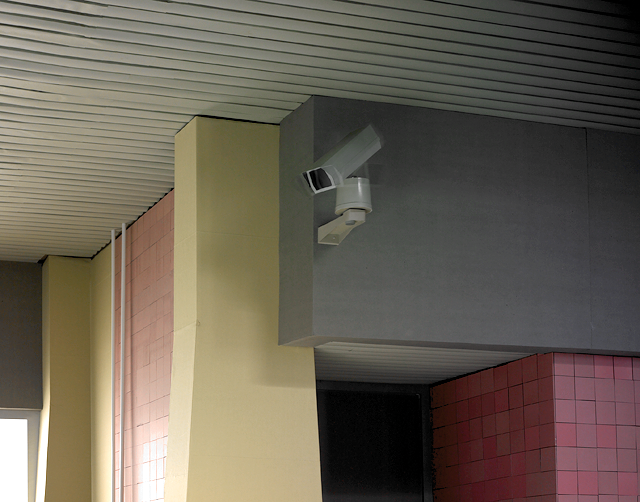 Although filled with work that explores the aggressive structure between photographer and subject, the works that resonate best are those which expose the camera a medium for displaying how we interact with each other. For example, one of the greatest testaments to this idea is Bruce Nauman's Office Edit I (Fat Change John Cage) from Mapping the Studio (2001). This typically Nauman video maps his studio with the camera's night lens over weeks, leaving you to look for what is not there -- the viewer and subject. What remains is just a document of seemingly nothing, which now functions best as a medium between two things -- a man and his studio.
Larry Clark, Untitled, from the portfolio Tulsa, 1971, printed 1980; gelatin silver print; 8 x 12 in. (20.32 x 30.48 cm); Collection SFMOMA; © Larry Clark.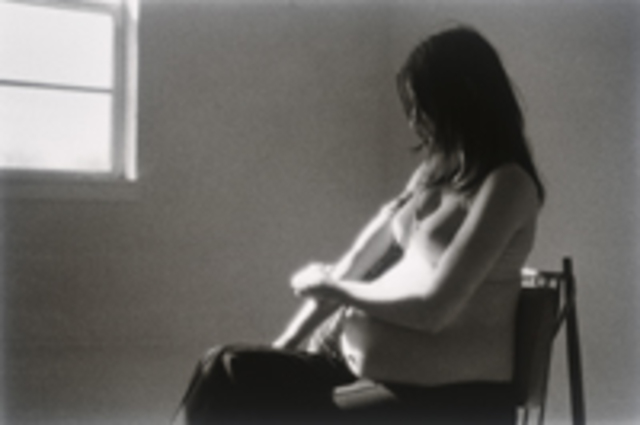 The documentary image always contains it's maker, whether from the point of who positions the security camera, or the artist that takes the beautiful photograph, and what Exposed gives us is just this. In an interview with HuffPost contributor Cherie Louise Turner, Exposed curator, Sandra Phillips states that:
One issue here is how important in photography [it is] for the photographer to be an artist. I don't think it's important at all. I think the only thing that matters is the picture. And the picture can be taken by a robot or a child or a master photographer.
And, this is exactly what you see. The relationship that the work in Exposed provides is one between people -- an extensive document of how we relate to each other.
Divided into five sections -- the unseen, the clandestine photographer, voyeurism and sexual desire, celebrity, and witnessing of violence and suffering -- Exposed successfully weaves a story of the photograph's uses. Yet, this function is somewhat leveled by the shear mass of hostile, direct, and aggressive imagery. Thomas Demand's Camera, which watches as an airport surveillance camera slowly pans over its subjects, sits surprisingly close to Harun Farocki's Eye/Machine II, a video exploring the distance between the gulf war and the western viewer. The pervasive technology present in this exhibition does no more than show how fiercely we watch those around us, leaving little room for the experience of discovery and exploration into the depths of how man uses machinery.
Trevor Paglen, Chemical and Biological Weapons Proving Ground/Dugway, UT/Distance ~42 miles/10:51 a.m., 2006, 2006; chromogenic print; 50 x 50 in. (127 x 127 cm); Collection SFMOMA, Anonymous Fund purchase; © Trevor Paglen
The holder of power is consistently obvious in Exposed; as is visible most clearly in the room which contains Vito Acconci's Following Piece and Sophie Calle's The Shadow, where both the voyeur and the subject lie outside of the hands of the documentary photographs. Although beautiful complements, these two pieces in succession direct the museum goer to one fact - the aggressive and powerful position of the voyeur. And, in each room of Exposed, we are reminded how dominant the camera has become, whether it is documenting the trauma of life in Larry Clark's Untitled or the limits of telephotography in Trevor Paglen's Chemical and Biological Weapons Proving Ground/Dugway, UT/Distance ~42 miles/10:51 a.m., 2006.
What Exposed does provide is a view of our culture's both comfortable and suspicious relationship with images and how pervasive the act of documenting our world is. The work in the exhibition takes many paths to reiterate this fact, leaving the viewer with a sense that there is no escape from our current visual environment. Although there are many interesting ways to tell this tale, Exposed draws seemingly obvious social, political and visual parallels to our current media-driven world. But, at the end of the day, what remains is photography's promise of recording that which lies between -- person to person.
SUBSCRIBE AND FOLLOW
Get top stories and blog posts emailed to me each day. Newsletters may offer personalized content or advertisements.
Learn more