One night, five years ago, I was asked to babysit the children of Derek and Kristi Haas. Derek and Kristi are both affable, unaffected Texan-Hollywood transplants with two adorable boys. While driving home from their house that night, impressed by their stylish home décor and fantastic DVD collection, I called my sister to find out exactly who they were. I live in LA after all. My sister, who had referred me to them, told me that Derek was a big-time screenwriter and that "Kristi was awesome."
I come to find out that Derek who appeared seemingly laid-back, was a bona-fide workhorse; writer of four novels and screenwriter for movies such as 3:10 to Yuma, Wanted, 2 Fast 2 Furious, as well as co-creator of the show, Chicago Fire. He is also the editor and creator of a literary pulp genre website called Popcorn Fiction. And, in fact, Kristi is awesome.
So, once a week, I enjoyed the splendor of the Haas home. Seeing as I know his kids pretty well, it dawned on me, "What was the childhood like of the man who spawned these two little creatures?"
Julie Ingram: Hi, Derek! Let's do this. Where did you grow up?
Derek Haas: I grew up in a suburb of Dallas, TX named Richardson. Very middle class... lots of kids on bicycles.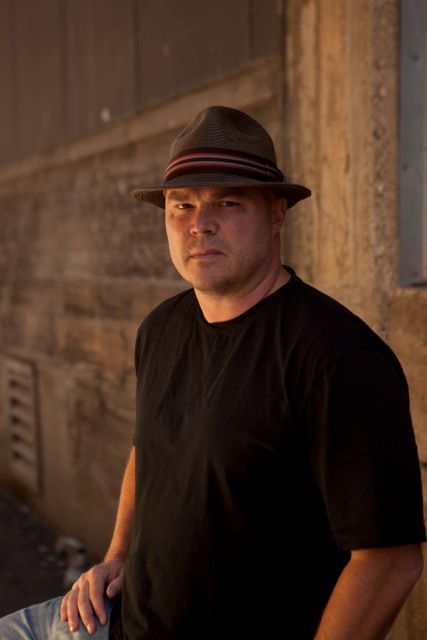 (Photo by Andy Sacks)
What books influenced you growing up?
My dad used to leave books lying around and when I was around 12, I picked up Stephen King's DIFFERENT SEASONS, a collection of four novellas. The third story "The Body," probably has more to do with my desire to write fiction than anything else.
Was there one particular literary fictional character that you aspired to be like?
Great question. Like for almost everyone, Junior High was awkward for me. I just wanted to be cool and not worry about what other people thought of me. Of course, I wasn't cool and deeply pined for everyone's approval. t think those kids in "The Body," who stood up to their nemesis Ace... I wished I could be that self-assured or make a hero's stand like they did. Before that, I had the Hardy Boys and Encyclopedia Brown to look up to.
What movies influenced you growing up?
I loved the action movies of the 80s. DIE HARD, LETHAL WEAPON, RAIDERS OF THE LOST ARK, PREDATOR. Those blew my teenage mind.
With which TV character or movie character did you most identify? Do you still identify with this character?
From TV, I identified with Richie Cunningham... he had the Fonz as a best friend and even though he didn't have the greatest social skills, he usually ended up ahead. That's how I feel with Brandt now... I'm Richie, he's the Fonz. Or maybe I'm Potsie. I need to reassess.
Your literary website, Popcorn Fiction, celebrates short fiction in the vein of what one might listen to on classic radio or read in a magazine in the mid-twentieth century. As a child, did your family listen to shows on the radio, or did you discover it later in life?
I discovered it later in life. My parents moved away from Texas when I was in college and for the long drives in the summer, I would listen to tapes of old radio shows. When satellite radio started, I found the "Radio Classics" channel on Sirius/XM with Greg Bell hosting, and started listening to it all the time. Great old shows like Suspense and Have Gun Will Travel and X Minus One. That was definitely the impetus for creating Popcorn Fiction.
What was your favorite subject in school?
It was always literature. I've loved to read all my life.
Who was your favorite teacher?
I've had a lot of good ones... Mrs. Nagel in 5th grade was always so encouraging and creative. I reconnected with her via Facebook, and she's still awesome. I also had a 6th grade teacher named Mr. Colonna who let me write short stories during "reading" time. I'll never forget that.
What movies are you excited to share with your children that you haven't yet?

The Indiana Jones movies. Also, JURASSIC PARK... they're on the cusp of being old enough. And when they're teen-agers, it will be fun to show them the GODFATHER movies, Tarantino's work, the Coen Brothers, old Clint Eastwood films. And of course, WANTED and 3:10 TO YUMA.
*Derek's most recent novel, The Right Hand, just reached #1 on Amazon in the "Spy/Espionage" category. You can find it here.