Ask boxing champion Sugar Ray Leonard why he supports the Juvenile Diabetes Research Fund and he'll tell you, "When I select an opponent, I won't stop until he is knocked out." Leonard and his wife Bernadette graciously opened their Pacific Palisades home and their hearts on June 12th for Vintage Hollywood's annual fundraiser. Leonard, along with Nick Jonas and Mary Tyler Moore together have created awareness to raise funds for JDRF.
Vintage Hollywood Board Members Mike Alexander, Linda Daly, Charlotte and Rick Shephard
Several hundred guests attended this year's Vintage Hollywood to help the cause and share in the delights from prominent restaurants and wineries.
Foodies enjoyed the deviled eggs with sweet shrimp from First and Hope while sipping on fine wine from the Hitching Post and many other prestigious wineries.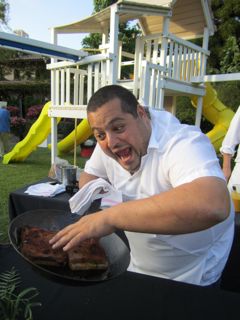 Eric Greenspan - The Foundry on Melrose
The Foundry
on Melrose Executive Chef and Owner, Eric Greenspan was on hand serving his famous Tallegio grilled cheese sandwiches on raisin bread. Greenspan was proud, and rightly so, to let us know that this famous sandwich will be featured on the Food Network's "The Best Thing I Ever Ate."
Other restaurants serving signature dishes included Jar, Whist at the Viceroy, and Culina at the Four Seasons Hotel. Crumbs Bake Shop provided dessert with their red velvet cupcakes.
KNX Radio anchorman Jim Thornton was the emcee for the silent auction. Thornton spoke about his teenage son who was diagnosed with diabetes. Arlene Wszalek, President of Vintage Hollywood is also the parent of a diabetic child.
Funny man Greg Proops led the live auction, or as he described it, the non-silent auction to a crowd bidding away on Leonard's private tennis court.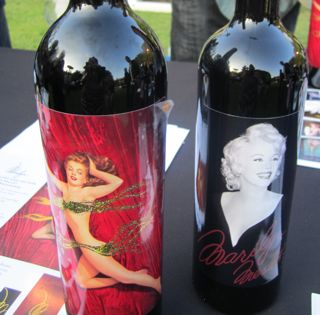 Over 25 wineries participated in the event including family-owned Marilyn Wines had their display of the elegant Marilyn Monroe-inspired wine collection including the 2009 Marilyn Sauvignon Blonde™, just bottled in April, 2010 and the Marilyn Merlot™. I'm not sure which the crowd liked more, the classic bottle design with the blonde bombshell from "The Seven Year Itch" or the taste of the vintage itself.
Event sponsors included Courtney Cox and David Arquette who also donated a walk on the set of Cougartown for the live auction. Other charities selected in prior years include Save the Children, United Friends of the Children, and Children's Action Network.
JDRF's mission is to find a cure for diabetes and its complications through the support of research. JDRF is also committed to developing new and better treatments that improve the lives of people with type 1 diabetes and keep them healthy while they advance toward a cure.
This Blogger's Books and Other Items from...
FOLLOW HUFFPOST