While some were celebrating the St. Patrick's Day festivities this week, others were getting ready for LA Fashion Week and were appropriately dressed in green for the occasion.
The day started with an enjoyable presentation and luncheon hosted by the Costume Council of LACMA, where costumer designer and stylist Arianne Phillips gave a talk along with her friend, style journalist Rose Apodaca.
Phillips, whose career was launched with musician Lenny Kravitz, also received an Academy Award nomination for the film, Walk the Line. She has worked with Justin Timberlake and collaborated with Madonna on her concert tours and album covers. Her credits also include the design for Tom Ford in his directorial debut of A Single Man and numerous magazine covers. You may have seen her as a guest judge on BRAVO TV's Project Runway. She's a busy lady and we were lucky to have her as a guest speaker.
Many of the Costume Council members wore green in honor of St. Patrick's Day, and one member was seen wearing green shamrock Chanel earrings. I have to love stylish ladies who came dressed to impress. The Costume Council is a support group for the Department of Costumes and Textiles at the Los Angeles County Museum of Art.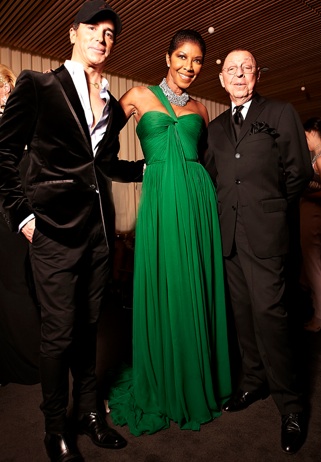 Lloyd Klein, Natalie Cole, and James Galanos
Photo Credit: Stefhan Gordon
The day ended with the beautiful Natalie Cole, dressed in a stunning green gown, who arrived with designer Lloyd Klein to the Fashion Group International's Meet the Designers &
Their Muse 2nd annual event. Hundreds attended the VIP reception at The Standard hotel in downtown Los Angeles which included designers Sue Wong, Elizabeth Mason, Eva Franco, and Project Runway stars Althea Harper, Mila Hermanovski and Nick Verreos. In attendance was fashion legend, James Galanos, who is known as "The Godfather of LA Fashion."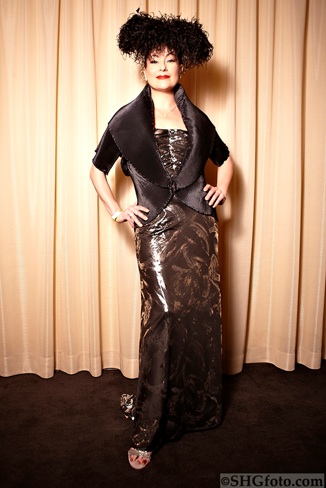 Maggie Barry's muse, Morganne
Photo Credit: Stefhan Gordon
I enjoyed a lengthy conversation with stylist Maggie Barry along with her muse, singer and entertainer Morganne. Later in the evening, guests enjoyed the sounds from DJ Ben Adams and a special performance from up-and-coming star, Australian Singer/Songwriter, Katie Cole.
SUBSCRIBE TO & FOLLOW LIFESTYLE
HuffPost Lifestyle is a daily newsletter that will make you happier and healthier — one email at a time. Learn more