I admit it, I'm a happy fool. With 3 days to go, I postponed my own book launch for 33 Million People in the Room the moment I received an email from Huffington Post asking me to live blog the inauguration. I didn't even think twice about it, or about the repercussions to my book sales (sorry Financial Times Press!). Instead, I high tailed it to DC with my good buddy John Perry Barlow, cyber-activist and lyricist for the Grateful Dead along with a couple million of our 'closest friends'. Together, we watched Obama flub the oath from the National Mall as I color commented the events live for HuffPo along with other members of the twitteratti.
A special Thank You! to all of the HuffingtonPost readers who contributed to our liveblog comments.
It made all of the difference in the world to get instantaneous feedback on what we were sharing with readers. The instant response on HuffPo and Facebook just added to the knowledge that we were a global community co-creating history. I feel so privileged to have been asked to contribute my thoughts to the historic coverage and I can't help but think that had this been 50 years before, I NEVER would have been given that opportunity because of many reasons, including my obvious mixed heritage (African-American, Scottish, German, French and Native American).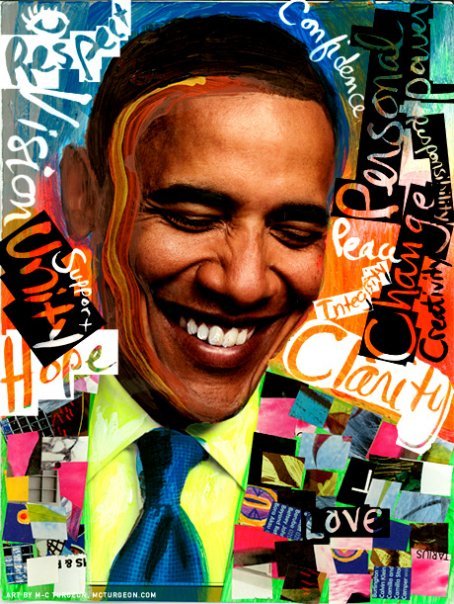 Yet there I was, liveblogging away on the homepage of one of the most influential news websites in the world. I'd arrived in DC to witness random acts of kindness and people of all beliefs, races and creeds smiling and nodding at each other in the streets. By 2am on January 20th, the temperature had dropped below 25 degrees yet there we were in the hundreds -- most of us in our twenties and thirties- people who had come from all over the world to find each other and in some cases, ourselves; many huddled under blankets and camped out all night, bound together by hope. Here was a disparate group firmly intent on finding and contributing to a renewed sense of shared community. The same feeling was happening online as artists like Marie-Chantale Turgeon in Montreal uploaded Obama art to Facebook (thanks for the use of your image here Marie-Chantale) and journalists like CNET's Caroline McCarthy and the NY Post's Justin 'Rocket' Silverman tweeted their own community-driven experiences live. Could it be that after over 200 years of struggle, we finally have the America that we always thought we had?
I hope the US looks beyond the election's erasure of color lines to see there's a happy man at the helm. Happy people aren't haters! - Richard Vandentillart comment on live HuffPo tweets through Facebook
Case in point: after the inauguration, it took several hours to get back to our hotel near Capital Hill as millions of us were corralled into a slow moving sea of well-wishers. Impervious to the cold, as well as to the color and creed of individual participants, the crowd remained joyous with street vendors hocking Obamawear at every slow moving step. The streets were lined with percussionists banging the drums of change that triggered spontaneous dancing breakout sessions as people cheered on and chanted: 'O-ba-ma! O-ba-ma!
That wasn't so surprising on this of all days. What was absolutely stunning to me though was the enthusiastic congratulations with which people everywhere greeted me (as if I was the one who had won the election!). That same reaction has welcomed me all the way back home to New York. Could it be that in our small way each one of us has been part of the change we've all wanted to see? I'd love to hear your thoughts and stories on your experiences on how Obama inspired you to co-create history.
Oh and if you do have any ideas on where in NY you think I should do my book launch in the next 2 weeks, just send me a tweet or Facebook me!
SUBSCRIBE TO & FOLLOW TRUMP'S FIRST 100 DAYS
How will Donald Trump's first 100 days impact YOU? Subscribe, choose the community that you most identify with or want to learn more about and we'll send you the news that matters most once a week throughout Trump's first 100 days in office. Learn more