Anyone who has met David Ortiz, knows that his nickname, Big Papi is on point. Ortiz is like a big daddy always congenial and speaking with the soft voice of a caring father.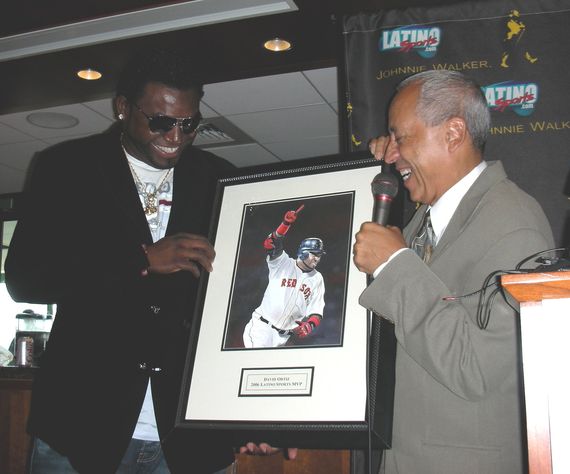 In 2007 we took a crew to Florida to do the Spring Training rounds and interview many of the winners of the previous seasons LatinoMVP awards. Our photographer could not make it so we recruited a local, my brother in law, Tony Figueroa who was also a good photographer. Tony was a true hardcore Yankee fan that forced me to warn him that one of our main interviews was with David Ortiz. He told me straight out, "I hate that guy." Being hard pressed for a photographer, I asked him if he could control his emotions and do a good job taking pictures of the Ortiz interview. He assured me that he was a professional, that he would not do anything stupid, but that he did not care to meet him, or be part of any informal small talk with, or about him.
When we arrived at the stadium we walked around spoke to a few players until we located Ortiz who was working out at the batting cages. We quickly told him our purpose and he told us to stick around that he will talk to us when he finished.
As promised we waited and when he finished he walked up to us and we all introduced ourselves, including Tony, our photographer. The interview with David was really so positive and fun because after our introductions, David treated us as if we were his "home boys." He was quite comfortable and made all of us feel the same. We all got involved in the conversation with Ortiz. When the interview was finally over Tony walked up to me and told me, "I was wrong about him, he is a cool dude." For Tony Figueroa a staunch Yankee loyalist to say something positive about a Red Sox, especially Big Papi who had always been something of a Yankee Killer was like something out of the Twilight Zone.
That same year we held our first LatinoMVP event in Boston at Fenway Park for David. Due to a previous last minute commitment David arrived late to the luncheon. Our rental of the facility at Fenway needed to be vacated by before we had a chance to accomplish everything we had planned for David. Unfortunately, this did not allow for much other than giving David his award. Seeing this, David made arrangements with the Media Department to move the awards presentation downstairs in the stadium behind the Red Sox dugout. The approximate 100 local Latino community, corporate leaders and youth in attendance were ecstatic when they were told that the event would continue in the stadium. Once their, David sat in the middle of the group and spent time to greet all of the guest. That was a once in lifetime experience that would not have occurred with any other player.
Anyone that has met David Ortiz would tell you the same; he is really more like a Big teddy bear. When the Red Sox visits New York, David has spent a lot of his time visiting several Latino restaurants in our Barrios. He has attended funerals, and personal events something that very few local players from the Yankees, or Mets might not due unless it was scheduled, or with an entourage. He rarely has turned down a fan that ask for an autograph.
Ortiz has also been a supporter of the Retire 21 Campaign to retire Roberto Clemente's #21 from all of baseball. For all of these reasons I and many other non-Boston fans respect and wish David "Big Papi" Ortiz the best in this World Series.
Check out the vintage pictures related to this article at:
http://latinosports.com/reason-red-sox-david-big-papi-ortiz/