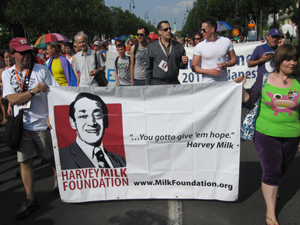 Budapest's Lesbian, Gay, Bisexual and Transgender Pride march had just concluded. Jeered and taunted by hecklers -- most chanting, "Kill the fags! Kill the Jews!" -- marchers had peacefully walked along Andrássy út (Boulevard) from Hősök tere, Heroes' Square, to Constitutional Square, one block from Hungary's Parliament. The previous year, the protests were so intense that police canceled the march.
Stuart Milk, nephew of slain San Francisco supervisor Harvey Milk and co-creator of the Milk Foundation, had spoken to the marchers at the outset, offering hope and encouragement.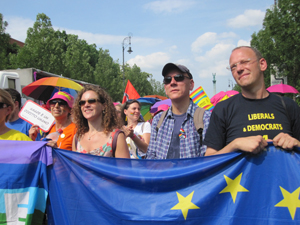 Joined by a group of 5,000, only about 15 to 20 percent of the marchers were Hungarian, while the rest were from neighboring countries. Some had clothes covering their face -- one would assume that the masked marchers were part of the Hungarian minority. Stuart pointed out the difference between the large grey wall of anger and hate, the protestors, against our colorful wave of diversity, love and authenticity.
Now, at the end of the exhilarating and exhausting day, the two of us decided to return to our hotel.
I joined Stuart, a pioneer in his own right, much like his late uncle, in Hungary to offer support and assist with the Hungarian press.
To get to the hotel, we had to leave the route of the march and head down a narrow side street and pass through fencing that had been erected ostensibly to protect marchers.
Seven policemen in riot gear holding guns stood shoulder-to-shoulder in front of the fencing. The festering buildings on opposite sides stood tall and dark. They let us pass.
Half a dozen teenagers were standing in the street to our left. The four skin-headed males wore the black cargo pants, black vest and red-and-white-striped kerchiefs of the Hungarian Guard, a wing of the far-right Jobbik political party. One of them brandished a chain.
These were the protesters we'd heard chanting, whom we'd seen from a distance. Now they were a few feet away, regarding us with both malice and menace.
"We will see hate-fueled protestors today, but we have something they do not: courage," Stuart said in his speech.
"My uncle, Harvey Milk, gave his life 32 years ago, knowing only that he had the dream that young gays, lesbians and transgenders will hear his story, and through that story they will have hope."
Except now we were seeing them a little too closely.
We kept our heads facing forward as we walked along the sidewalk, but it took only one sideward glance to see that we were being followed.
Our chaperon, Tom, a member of the Budapest Pride committee and a former New Yorker, told us quietly what we already sensed: "We are not safe."
We stepped off the sidewalk and into the street, hoping the group would keep walking. But after a few steps, the Hungarian Guard kids stopped, turned toward us and tried to stare us down.
Tom suggested returning to the route of the march. That was only 50 feet back the way we'd come, but it seemed miles away.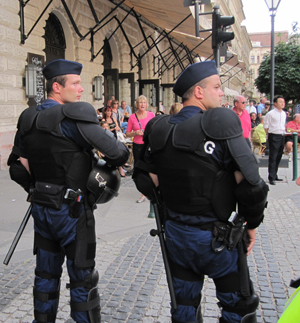 When we walked back to the fencing, the police refused to let us pass through. All seven policemen quickly took formation to block us.
Speaking broken Hungarian, Tom tried to explain our situation. The police looked at the Hungarian Guard, whom in my head I had taken to calling "Nazi kids." They were now only a few feet behind us.
The police shook their heads. We couldn't pass back through the fence. They didn't look us in the eye.
We were trapped. We couldn't go back and we couldn't go forward. The thought was if we stayed close to the police, that would increase the odds of our safety. I've never felt so powerless.
Stuart remained calm and fearless.
Then a group of three people came toward us after exiting the march. We hurriedly asked if we could join them.
"Come with us," they said.
The "Nazi kids" followed.
At the end of the street, there was another crossing manned by police. We paused to consider our next move. Metro? Taxi? Keep walking?
I regarded the Hungarian teenagers, puzzled by the intensity of their hatred.
When they saw that we weren't in any rush to move away from the nearby police, they decided to leave.
I held my breath as they passed, mesmerized by their hard faces. I expected something to happen but was still surprised when they spit at us, calling us "buzi" -- "fag" in Hungarian.
I'd never been spit at. It's shocking but only degrading until you consider who did it. I saw the boy with the chain go past and it struck me: they were kids, kids who should know better, who should be smarter and more unchained in their worldview. Maybe with time.
They disappeared down a side street. As we continued toward the hotel, I replayed the encounter in my mind, my fists clenched.
We were lucky.
Media accounts confirmed that some Pride marchers were beaten, several severely enough to be hospitalized, on their way home from Constitution Street. Similar reports alleged that there were more protestors against Pride than people there marching for it.
Hungary and its history, much like its language, is complex. The country has overcome Nazi and Communist regimes. Its modern troubles from the extreme right and growing fascist ideology make it a challenging region to encourage forward-thinking ideas.
New Hungarian leadership has brought a revised Constitution that threatens democracy by challenging media laws, altering the structure of government and limiting civil rights -- including prohibiting same sex marriage.
Still, a dedicated and impressive herd of activists muscle through similar daily battles to help shift public opinion to protect their rights. With an overwhelming need for hope on that clammy June day, Stuart's speech delivered that message, and his graceful actions continue to have more weight than his words.
I remembered part of Stuart's speech: "We are not asking for tolerance. We do not want to be tolerated. We are human. We're to be celebrated."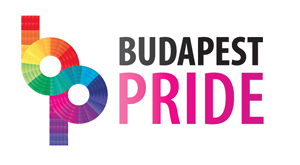 Follow Justin Knighten on Twitter: www.twitter.com/@JustinKK