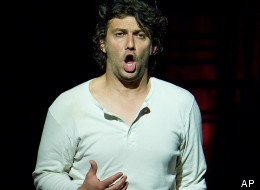 "It' ain't over till the fat lady sings." We have all heard this popular allusion to the folly of rushing to judgment, and its accompanying image of the overweight soprano in braids and horned-helmet in the role of Wagner's Brünnhilde. It's commonly believed to refer to Wagner's Siegfried, where Brünnhilde doesn't appear until the final scene of a very long (5 hrs. 20 min.) opera. The stereotype of the over nourished opera singer reflected the reality of what past generations of opera-goers had been accustomed to seeing on the stage. Countless reasons for this phenomenon were offered up, but the most popular seemed to be that large girth is necessary for producing big sound.
Things began to change in the middle of the last century. Artists began to demonstrate a new commitment to delivering performances where the dramatic content was as outstanding as the vocal delivery. This was new -- singers had been accustomed to delivering their lines with static dignity, and a world of new possibilities began to open up. Maria Callas experienced a much-discussed period of weight loss in the 1950s, and brought a level of glamour and dramatic conviction that was a revelation to opera audiences.
Current audiences have come to expect much of our opera singers. Vocal standards are higher than ever, and while delivering the most demanding music, singers must engage in sword play, physical assaults, and other challenging stage direction. Today, in order to get through a complete opera, especially in a lead role, singers must be as fit physically as they must be vocally.
The growing prevalence of the media, including television and DVD recordings, requires singers to be almost as concerned with their appearance as with their voices. Especially in Europe, opera stars grace the pages of fashion magazines often. Marie Claire Italia recently ran a story on the five sexiest men of opera, which prompted a Facebook post by Florida Grand Opera asking which singers had been left out. The result was a flurry of comments that led to this very blog post.
The fact is, today's opera stars, men and women alike, must have the whole package. They need to be as convincing in their appearance as they are in their singing. Here is a slideshow featuring some of opera's most striking singers -- each a world-class voice and a rewarding sight to see on stage.
Dubbed "the Marlon Brando of opera" by the international press, this bass-baritone is well-known for his interpretation of the title role in Mozart's Don Giovanni, a role he has been said to perform … often shirtless. Opera Today has described him as a "well-toned voice … [with] a well-toned body." Photo by Karin Cooper.

An international sensation often seen at Milan's La Scala and the Royal Opera House in London, this Romanian soprano is also an established recording artist. The dark-haired beauty has performed an assortment of leading female roles, from Mimi in La bohème to Violetta in La traviata and Juliette in Roméo et Juliette. Photo by Stefano Massimo.

This American baritone has performed in some of the world's most well-known opera houses - including the Metropolitan Opera, Royal Opera House, Paris Opera - and is also an accomplished recitalist. Known for his vocal prowess and acting ability as well as an impressive physique, he was featured in People magazine's 2008 "Sexiest Men Alive" edition Photo courtesy Dan Rest/Lyric Opera of Chicago

Arguably one of the most celebrated soprano of her time, Nebrebko's ample range in both voice and acting ability has made her a regular in the most prominent opera houses around the globe - from the Metropolitan Opera in New York to Milan's La Scala. During her most recent performance as the leading lady in Manon, The New York Times described her sound as "rich, gleaming sound and vocal charisma." Photo by Dario Acosta.

Recognized for his good looks and Maori-inspired tattoo, the New Zealand-born baritone, also known as "the Singing Surfer", launched his international career with an acclaimed performance of Dandini in La Cenerentola for Opera Australia. Following that debut, he has toured prominent theaters around the globe, including the Metropolitan Opera, Welsh National Opera, the Théâtre du Châtelet, and many more. In 2000, he made headlines when he performed the role of Escamillo in the Metropolitan Opera Live in HD telecast of Carmen with just three hours notice. Photo by Marco del Grande.

With music deeply rooted in her family, this Latvian mezzo-soprano is known for her affinity for bel canto. Opera News describes her as a "cool beauty and sultry mezzo," who starred in the 2010 HD broadcast of the Metropolitan Opera's Carmen. Photo by Gabo DG

The "silver fox" of opera, this Russian baritone has sung in virtually every major house in world and is particularly well-known for his interpretation of Tchaikovsky's Eugene Onegin, a role The New York Times affirms he was "born to play." Photo by Pasha Antonov.

Since winning the 2005 BBC Singer of the World Competition, this American singer has fast become one of the most sought after lyric sopranos of today. Trotting the globe, she dedicated last season to the music Mozart, singing the Countess in Mozart's Nozze di Figaro in Montreal, Pamina in Die Zauberflöte at the Lyric Opera of Chicago and Donna Elvira in Don Giovanni in Tokyo. The Financial Times calls her a "... faultlessly gleaming soprano, a technique with no loopholes, and bags of confidence. It should do no harm that she is also tall, slim and glamorous ..." Photo by Devon Cass.

With a new album under his belt and a face as striking as his voice, this Harlem-born tenor is making strides in the opera world, most recently listed as one of the five men in Marie Claire Italia's "Sexiest Men in Opera." He is the first black musician to top the British classical music charts and has been called a "beefcake" by The Observer and a "white hot talent" by The Washington Post.. Photo by Mitch Jenkins

This remarkable Australian lyric soprano has been making waves and setting records from a young age, making her professional operatic debut at 15 with the Los Angeles Opera and becoming the youngest singer to ever participate in the Metropolitan Opera's Lindemann Young Artist Development Program at age 19. With a voice described as "seductive enough to woo gods as well as mortals" by The New York Times, she has appeared in productions of a number of baroque operas on stage and DVD. Most recently, she appeared as Ariel in The Enchanted Island for the Metropolitan Opera. Photo by Decca/Chris Dunlop.
Follow Justin Moss on Twitter: www.twitter.com/FGOpera