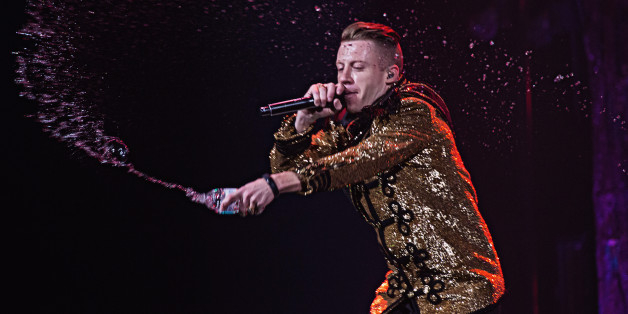 There's this guy named Ben Haggerty from Seattle, and he's basically my inspiration for life. If I described what he looks like to you, you might know who I was talking about, but if I described his hit music video of 2013, you'd know right away. You might have seen him win the 2013 American Music Award in the Best Hip Hop/Rap Album category, or seen a grainy YouTube clip of him crowd surfing in a fur coat at one of his sold out concerts. Macklemore, the thrift shopping king in the superman onsie.
I was introduced to Macklemore by my mother, as "Thrift Shop" blared over the speakers of our car while we were, cosmically, en route to the thrift store. "Justina, this is the song I was telling you about!" I cracked up that a song about something I've been doing my whole life had made Top 40. A RAP song, no less. I hit up YouTube, and knew immediately that I liked this guy. I followed the suggestion links through his entire independent album, each uncovering a piece of a guy who was doing something revolutionary for his chosen genre: condemning homophobia, telling us the effects of "purp" straight up and speaking out against racism, while acknowledging white privilege. He's honest about what he knows, and never tried to be "gangster." In his song "Otherside" he recounts his personal struggle with substance abuse, counting Lil' Wayne, (well known for his constant codeine sipping) as a favorite of his, and reminding his fellow rappers that "Us as rappers underestimate the power and the effects that we have on these kids" and telling us "the fact of it is most people that rap like this talkin' about some stuff they haven't lived."
He sums up my feelings on gay equality in the line "I might not be the same, but that's not important/No freedom till we're equal, damn right I support it" from his song "Same Love." He denounces his genre for the common thread of using gay slurs as demeaning references, and has several times used the 20 seconds you get after winning an award to encourage everyone to stand up for equality. And yet, that's some people's biggest issue with him.
He is a white, straight male, who grew up middle class. He's never faced "the struggle," whichever one that particular critic has. Therefore, many people seem to believe he is ineligible to speak on it. Upon winning his first AMA, he quickly reminded us that racial profiling is alive and real, and left us with the great Martin Luther King. He also, most likely unknowingly, started an Internet war. Many people felt like he didn't know what he was talking about, or were angry because "he's white, what does he know?" I personally feel that it's great that he's using a moment he could have kept for himself, thanking his mum, his producer, whoever -- and he used it to talk about an important issue. Maybe he hasn't personally ever been followed around a store, and no, he's not gay, but that doesn't mean he doesn't understand the issue, or shouldn't talk about it. You can always stand up for someone else and make an impact.
This rings true with me because of my personal experience being a straight, bi-racial, teenage girl growing up in Northern California. I'm often told that I don't (and can't) understand the racial struggle faced by African-Americans, or that because I'm a teenager, I don't know about the "real issues." It's true, I've been lucky enough to have grown up in a place where I've never been exposed to racial discrimination, and I'll never personally know the struggle of an LGBT teen. But that doesn't mean I can't stand up for someone else's rights. That's something Macklemore tells us over and over again. He's like a male counterpart to our favorite female, Jennifer Lawrence, who has often given us the same idea. Be who you are, and help others to be able to do the same.
Macklemore doesn't rap about important stuff for the recognition of being "the social issues" guy, he raps because music is a medium that speaks to everyone. You can send an important message, and reach people that might not otherwise care. "Now I never ever did it for a throne/that validation comes from giving it back to the people." You hum a chorus, then memorize the lines, four replays later and it's in your mind. Twenty-first century activism, brought to you by a man who only had $20 in his pocket.