9 Fitness Retreats To Whip You Into Shape For Summer 2013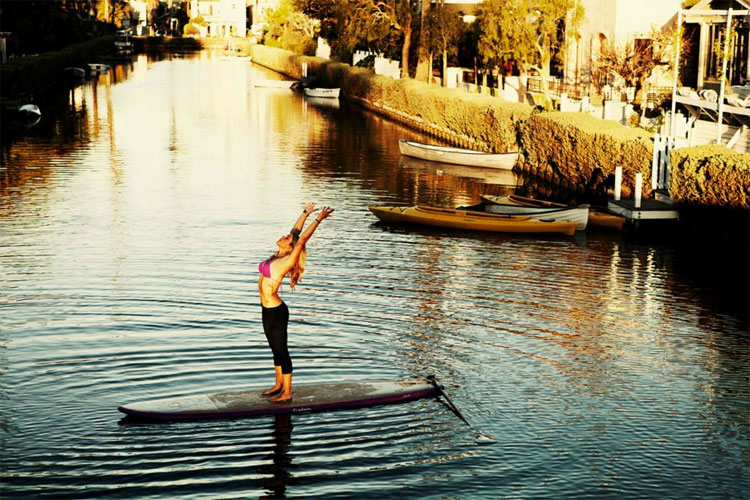 (Photo Credit: YOGAqua/Ashley Barrett)



With less than two months to go until swimsuit season, it's time to start thinking about working off that winter chub and getting back into trim, fit and fighting form. If it's hard to force your body back into the standard "fit body" routine of regular five-mile runs and cross-training sessions at the gym, we recommend kick-starting your program with a "pre-vacation" at a luxury fitness retreat. Resorts and fitness companies are coming up with innovative, fun and unique programs that combine strength training, dance, hiking, biking, meditation and more.



By Lena Katz
Fitness Retreats To Whip You Into Shape
A serene and friendly wellness resort just two hours outside Los Angeles, Oaks at Ojai offers all sorts of specialty programming throughout the year. Its On the Ball week (May 20-24) is the toughest offering on the spring calendar—as those who have done even a standard hour on the stability ball know. It tests one's balance, core strength, and hundreds of tiny muscles you don't even realize you have—50 minutes wipes out most people. Five days is only for those with champion willpower. Photo credit: ThinkStock/IT Stock

We love this mentally challenging and oh-so-intelligent new offering by Fairmont's Willow Stream Spas in Southampton, Bermuda. Led by Dr. Daniel Friedland, author of Evidence-Based Medicine, it helps participants achieve peak wellness via mindfulness. The weekend workshop (April 12-14) will focus on navigating and coping with stress, improving person-to-person communication, and making better decisions. Photo courtesy of Fairmont Hotels & Resorts

Another holistic retreat with unique cultural offerings is tucked away in Paia, where the seaside meets upcountry Maui. Lumeria is a place for naturopathic healing, New Age classes, organic food, and a surpassing beautiful setting. 'Symphony of the Senses' is its latest specialty workshop—a hybrid of yoga, meditation and music. Off-property excursions visit some of the island's sacred sites. Photo courtesy of Lumeria

Got balance? Then you'll dig this yoga/stand-up paddleboarding hybrid. Fans of SUP enjoy this kayak-like ocean sport because it's easy to learn, great for your core, and takes less balance than regular surfing. However, once you start incorporating yoga poses while on the board, things get substantially more challenging...and more interesting! That's why YOGAqua is all the rage in Florida and other warm locations with calm seas. Photo courtesy of YOGAqua

No daycare? No need to skip your workout. In California, New York City and other fit-minded places, some instructors are asking moms to incorporate their little ones into special workout programs, using them as weights, partners and of course moral support. The generic name for this new trend is "stroller fitness," and it's well on its way to becoming not just a specialty activity, but nationwide craze à la Zumba. Photo courtesy of FIT4MOM

Got your wheatgrass fix for the day? How about a nice, cold-pressed ginger/cucumber/kale blend? All-natural juicing has become so popular that the Westin New York Grand Central made organic juices a key offering in their "New Year, New You" package. It was so popular, they've extended it through March 30. Westin Workout studio access and New Balance gear lending are also a part of this fitness-focused package. Photo courtesy of New Balance/Westin

Maybe you're just not an exercise person. Maybe you're more of a foodie, or just prefer to be outdoors. In that case, trick yourself into getting seriously active with a hiking-wine tasting trip along the Rogue River Trail in Southern Oregon. Over four days, hikers will cover 40 miles of terrain following the river, with nightly wine tastings followed by lodge dinners. Hikers who get fatigued can hop on the supply raft and float down the river. Photo courtesy of ThinkStock

It's not quite as indulgent as wiking, but the inn-to-inn hiking offered in Estes Park, Colorado is great for people who like to be outdoors for sport, but then comfortably indoors with good food and full power/water by evening. This activity takes place along the Walter Tishma Way primarily, and was inspired by the country walking tours offered in England or France. Not only do participants get a full-service indoor breakfast and dinner every day, but they also don't have to worry about carrying their supplies on their back—a transport car takes care of luggage transfer. Photo courtesy of The Warming House

If you're one of the 90% of people who think there's nothing to do in N'Awlins except party and eat, then here's a surprise for you: Half-day urban kayaking tours take participants through the historic Bayou St. John waterway. They see all sorts of iconic New Orleans landmarks and neighborhoods while getting some low-impact exercise, along with a guide to share plenty of colorful history. Sunset paddles are available and highly recommended in warmer months. One quick note: You will get splashed. Be prepared. Photo courtesy of KayakitiYat
Follow JustLuxe on Twitter: www.twitter.com/JustLuxe