Luxury In The Yachting Capital Of The World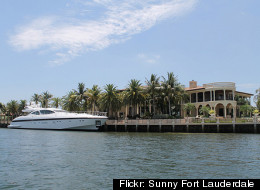 With 300+ miles of inland waterways and 50,000 registered yachts, Fort Lauderdale is often dubbed "the Yachting Capital of the World."
It's home port to the two largest cruise ships in the world and home to the largest boat show in the world (Fort Lauderdale International Boat Show). The famed Intracoastal Waterway offers close -- and scenic -- proximity from the inland waterways to the Atlantic.
Factor in 3,000 hours of sun annually, and it's obvious why this South Florida town would be the ultimate Stateside haven for a boat-up luxury lifestyle
-- Lena Katz
Boat-Up Luxury in the Yachting Capital of the World
It's a toss-up whether Fort Lauderdale or Miami is the biggest cruise port. However, in addition to luxury cruise liners, Fort Lauderdale's waters welcome some of the world's largest mega-yachts. Steven Spielberg, R&B singer Usher and Microsoft magnate Paul Allen are just a few of the glitterati who keep slips here. Photo Credit: GFLCVB

Another of Fort Lauderdale's nicknames is "the Venice of America," thanks to the many canals that criss-cross it. Houses on the canals will have a normal suburban front yard, and a boat slip in the back. The ultimate Lauderdale living situation is a mansion on the Intracoastal, with a Ferrari parked in front and a megayacht in the back. Photo Credit: GFLCVB

For those who haven't quite worked their way up to full ownership, it's easy to charter a boat or ship of any size, for any time period. Rent a small motorboat or a pontoon for a few hours, or charter a luxury catamaran or Sunseeker for a few weeks of Caribbean cruising. Locals recommend Best Boat Club for rental needs. Photo Credit: GFLCVB

Warm year-round water temperatures and Blue Wave Certified clean beaches make Fort Lauderdale's 23 miles of coastline a favorite place for underwater exploration—even among those who have little or no experience. The first tier of the three-tier coral reef system is very popular for snorkeling, because it flourishes in clean blue water, only about 30 feet deep. Photo Credit: GFLCVB

There are 75 wrecks off the shore of Fort Lauderdale and all 75 are artificial—sunk to help alleviate the stress on the reef system, by giving the local sea life another eco-habitat. New wrecks come from various sources: one might be a Coast Guard cutter, another a smuggling craft seized with illegal cargo. Professionals strip down the craft, remove anything toxic or potentially dangerous, and then implode and sink them. After only 30-60 days underwater, a new wreck will start to generate and sustain new sea life. Photo Credit: GFLCVB

If you're contemplating SCUBA diving South Florida, it's never been easier to start. People can get certified online, and complete the training upon arrival with an in-water course that takes two days. Pass the tests and you're off and diving. You'll find quite a party in full swing under the sea: Eels, puffer fish, Florida lobster and giant grouper are just a few of the 300 species of sea creatures that thrive in South Florida waters. Photo Credit: GFLCVB

It wouldn't be the boat-up luxury lifestyle if people didn't spend as much time on land as in the water. To get right into the heart of the action, dock at Las Olas Riverwalk. Stroll, shop and dine in the sunshine by day. At night, go to the bars if you want a party scene with live music and a casual-sexy dress code. One popular spot is Fat Cats, known for its draft beer selection. Or, for a little more culture, go to the Broward Center for the Performing Arts and catch a Broadway show. If you're lucky, you might catch a concert by Andrea Bocelli, who keeps a mansion on the Waterway and sometimes performs around town. Photo Credit: Las Olas

One of the simplest but greatest pleasures of having a boat in South Florida is the "dock and dine" tradition. It's as easy to boat up to many restaurants as it is to drive. Whether you're showing up at a casual outdoor café or a romantic dinner, arriving by boat always feels a little dolce vita. And watching boats go by is about a thousand times more relaxing than watching traffic on the street. Photo Credit: Coconuts

Stone crabs, prawns, Caribbean lobster, grouper and conch...these are just a few of the local seafood delicacies available fresh-off-the-boat in South Florida. Casual and fine dining seafooderies abound, but if you're looking for just one special occasion spot, local consensus points to Blue Moon Fish Co. Signature dishes include Key West yellowtail snapper, simply sautéed in lime herb butter; and roast grouper stuffed with roast lump crab and corn, atop wild mushroom risotto. These and other permanent menu items tend to be too rich to finish, but the daily specials are simple, often lighter, and just as delicious. Photo Credit: Blue Moon Fish Co.

Someone once said, it's not the destination that matters, but the journey. South Florida locals have taken that mantra as their own. Over any three-day weekend, and traditionally during the Columbus Day Regatta, groups of friends will "raft up"—i.e. tie their boats together and anchor—at a sandbars offshore or along the Intracoastal. An impromptu party ensues, with people swimming, sunning, playing games, playing music from somebody's shipboard sound system, grilling and watching the sunset. Photo Credit: Jim Crocker

Need a pricey, pointless but fun new water-based hobby? Join Wreck Racing League on the Formula H2O Circuit. It's a series of underwater scooter races in various offshore wreck sites along the Florida Coast. Founded by diving instructor Jeff Torode about two years ago, it is probably the quietest racing event in the world. Contestants use dive propulsion vehicles to maneuver around wreck sites dozens of feet below sea level, witnessed by only a few free divers or SCUBA-outfitted supporters. Photo Credit: Formula H2O Racing
Follow JustLuxe on Twitter: www.twitter.com/JustLuxe