I am very passionate about classic and contemporary Scandinavian food, but I do actually wander off and cook things from other cultures quite often. But every time I do, I realize that I (perhaps subconsciously) tend to incorporate a few typically Scandinavian ingredients into the original recipe. Sometimes the result is horrible. But sometimes, it actually works.
Here is one of those recipes where it does work. Originally Italian, and actually fantastic just the way it was. But with that slight Scandinavian twist, it becomes something a little bit more elegant to serve as a pre-dinner snack, an appetizer, a preemptive food missile - an hors d'œuvre if you will. Whipped Smoked Salmon Butter On Toast. Yum.
You'll find variations on this lovely bite in many Italian cookbooks, and I have tried not to stray too far from the beaten path here. Just added a little dill to the butter, making it slightly more Scandinavian. But you can absolutely experiment with other variations. A little cayenne pepper, perhaps a slight hint of roasted garlic, or why not a few pinches of crispy fried pancetta?
The important part when making the smoked salmon butter is to wait, wait and wait just a little bit more, until the butter really is at room temperature. If you don't, you won't get that fluffy, whippy, creamy look, feel and taste to the butter. So, when you think the butter has reached room temperature - wait an extra 10 minutes before you start beating the bejeebers out of it.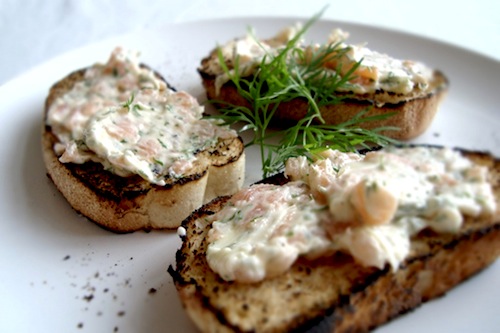 HOW TO

3,5 oz Smoked Salmon
2 Tablespoons dill, finely chopped
Your favorite white bread (baguette, toast, ciabatta or anything else), toasted
1. Chop the salmon into very small pieces.
2. Whip the butter by hand or in a food processor until very airy, almost whipped cream like.
3. Gently mix the salmon, butter and dill by hand. Season with salt and pepper.
4. Serve on toast, garnish the plate with dill and freshly ground black pepper.
SUBSCRIBE TO & FOLLOW THE MORNING EMAIL
The Morning Email helps you start your workday with everything you need to know: breaking news, entertainment and a dash of fun. Learn more