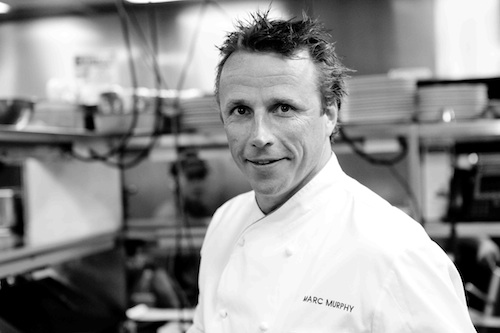 This week, I had the great pleasure of sitting down with renowned chef Marc Murphy. Marc has sure been to his share of locations around the globe. Milan, Paris, Villefranche, Washington, D.C., Rome, Genoa and that is all before the age of 12. Not only is this inspiring, but also an extremely important foundation for the chef and graduate of the Institute of Culinary Education. Never one to sit around and wait for the world to come to him, Marc went out and pursued restaurant jobs of all statures both domestically and internationally.
After many years of hard work and determination, Marc opened Landmarc in 2004 which was his first solo endeavor. This outing earned him rave reviews and fueled the fire for further success leading him to open Ditch Plains in the West Village. This time, Marc went for a more laid back feel featuring a menu of lobster rolls, fish tacos and the ditch dog. Next up for Marc? Opening his second Landmarc location of course. Marc also become the owner and executive chef of Benchmarc Restaurants by Marc Murphy. One sector of this company is Benchmarc Events. Through this outlet, Marc is able to reinforce his contemporary cuisine and flawless execution by way of events and catering.
Today, Murphy continues to be a juggernaut in the food industry appearing on everything from The Today Show to various programs on the Food Network.
1) Whom do you credit for inspiring you to be the person you are today?
My grandfather. He was the hardest working, most generous person I have ever known. Every piece of advice he gave me was instrumental in giving me the work ethic I have and he taught me to be interested in everyone and everything.
2) What is your favorite get-away-from-it-all destination?
Out in the waves at Ditch Plains beach in Montauk. I'm not the best surfer in the world, but I couldn't love it more. There's something about being out there in that line up that is truly inspiring and so calming for me.
3) How do you define your personal style?
What personal style? I am not big into fashion to say the least, and my motto is always comfort over style, but my wife is forever trying to get me to merge the two. I guess if I had to put a name on my style it wold be laid-back comfort.
For the full interview, please visit the Kara Ross Facebook page.