Call it a Sheen: Oil Hits Louisiana Coastline Today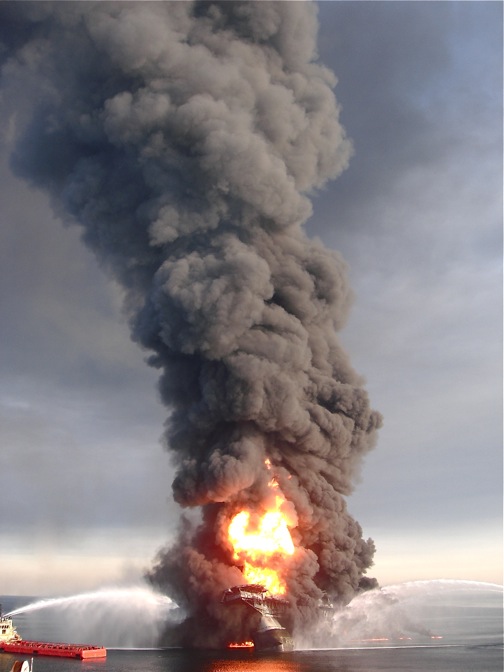 It took almost five years for the flooding of New Orleans post-Katrina to be nationally referred to as a massive failure of engineering rather than a storm. And that was by a fictional character in Treme. How long it will take to remove the word Spill from the description of the Deepwater Horizon rig explosion is anybody's guess. Possibly it will become known as an oil leak after millions of gallons of oil flow from the ocean floor this summer.
A spill has a finite amount of oil but what has happened here is that a shutoff valve failed after the Deepwater Horizon rig collapsed and 11 workers are missing and presumed dead in the explosion. Due to nondisclosure agreements offshore workers can't publicly talk about or share images of the rig disaster at risk of their jobs, but one shared these photos with me privately. Big oil is so powerful here that it invests in everything from wetlands associations to congressmen. An environmental forum on America's Energy Coast was sponsored by Chevron, Texaco and Shell.
The first coating of oil will probably hit Venice, Louisiana today and I can already smell it in New Orleans. Dr. LuAnn White, a toxicologist at Tulane University, told WWL that people with asthma, emphysema or other respiratory problems may need to stay indoors.
British Petroleum is asking for boat owners to volunteer in trying to clean the oil spill. Volunteers, because big oil doesn't have the funds to contain the petroleum before it comes ashore? Watching a slow motion disaster with business and government pointing the finger at each other and volunteers being asked to pick up the slack triggers memories of the years after the levees failed. Plaquemines Parish President Billy Nunguessor is setting up a fleet of fishermen, and my friend Jo who lives in the Parish says Billy has been in Venice around the clock as the oil approaches.
This rig failure has seeped into our local consciousness already. Eating seafood at the Jazz and Heritage Festival presented by Shell reminds you that fishermen have been given permission to re-open the season and harvest shrimp before the oil gets to shore. That has never happened before.
The disaster will affect the rest of the nation from the seafood industry to wildlife to the already endangered wetlands. There's talk of another controlled burn of the oil on the surface of the water, but that can't succeed before the oil begins coming ashore today. No matter what happens, it's clear we're about to have to deal with one of the worst U.S. environmental disasters on record. All this is in the face of the Herculean Gulf Coast recovery efforts after Hurricanes Katrina, Rita and Gustav. Cameron International and Halliburton stocks are already taking a nosedive as they dispute liability according to Reuters.
Rep. Charlie Melancon has said here on the
Huffington Post
"The oil spill presents a very serious threat to the fragile ecosystems that support Louisiana's oyster, shrimp, and fishing industries -- a major source of jobs and a huge part of the economy here in southeast Louisiana. Regardless of how many barrels of oil are leaking every hour, the oil sheen seems endless on the water. We know that weather conditions are pushing oil north toward the coastal wetlands near Venice, LA -- and projections are that it may come ashore as early as this evening. You can see from the air the massive "booming" operation trying to contain the spill. The effort now is to pull these booms by boat to block oil from reaching the most sensitive areas of our coast."
The sheen seems endless, and that's from someone who has flown over and seen it. No BP sheen estimates are credible right now since their worst case scenario has already been surpassed several times. I'm calling it a sheen because it has to be referred to as something and maybe linking it to celebrity Charlie Sheen will get the nation to pay attention. Or if we really need to link it to a celebrity to force immediate action, does BP want to be the corporation that gives Sandra Bullock's baby a hacking cough? I would hope not.
Some members of Congress have launched investigations into the cause of rig failure, but Louisiana Sen. Mary Landrieu has said that the sheen shouldn't "be used inappropriately" to halt President Obama's recent push for expansion of offshore drilling, the Huffington Post reports. Landrieu's brother Mitch becomes the Mayor of New Orleans on Monday and I'm waiting to see what he'll have to say at that point.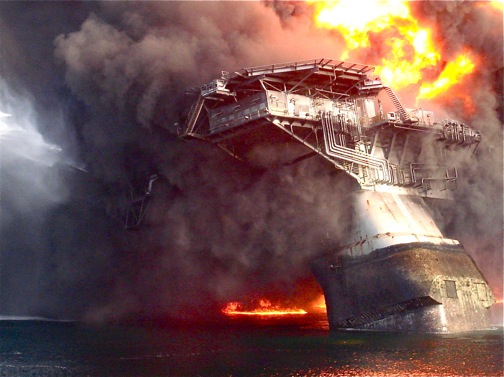 "We have some of the greatest science minds available," said Ayana McIntosh-Lee on PBS of installing a blowout preventer. It would seem that the blowout has already happened, so maybe she's talking about the nonfunctioning shutoff valve. It is high time we started calling things what they are.
This is a massive engineering fuckup, and any attempt to mask our outrage as politicizing disaster is the same information warfare we've gone through for almost five years here on the Gulf Coast. Throughout chemical alley many of our officials' voices have been purchased, so watch for who speaks out on saving our environment from the massive oil sheen.
And watch out for those who can't.
Update: The White House has put a halt on all new drilling in the Gulf as they investigate the Sheen.
Follow Karen Dalton-Beninato on Twitter: www.twitter.com/kbeninato