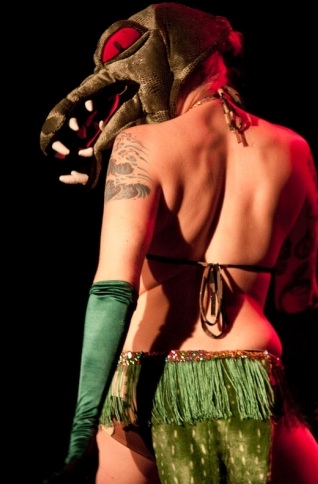 Coastal Heritage Society of Louisiana Founder Joanie Hughes called in some favors to raise funds for testing coastal rainwater after the oil spill, and Burlesque for the Bayou was born. With almost every burlesque troupe in New Orleans represented at the Howlin Wolf Saturday night, the ensuing heat wave may have been what buckled local sidewalks the next day.
MC Sharky kicked things off with, "How does BP change a lightbulb? Nobody knows, because you have to stay 65 feet away." Burlesque escape artist VeVe Laroux (pictured below) said she joined in the cause because, "I haven't had the opportunity to go down and help. I can't operate a skimmer boat. I don't know how to cap a well. But I have this gift." She brought a Gypsy Rose Lee with more rope style of humor to the benefit.
Wanting to find a way to help was a common theme among the dancers. Foxy Flambeaux said, "It's been so sad to watch, and I wanted to find a way to help the coast after the oil spill." Laroux, Flambeaux, Bella Blue, Roulette Rose, Dorian Faust, and Spooky LeStrange brought down the house with everything from a full mermaid set to a pair of burlesque Transformers. I would explain that last one, the photo gallery will do a better job of that.
"I was touched by the response, but not surprised," Hughes said of the all-volunteer effort. "While there are many uncertainties facing us here in Coastal Louisiana these days, one thing that you can always count on is the people of our area pulling together to help each other when times are tough."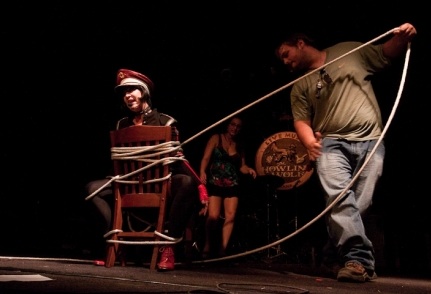 She came up with the idea for a burlesque benefit to fund tests of local rainwater after the oil spill hit her parish's shore, but it has been difficult to find a laboratory willing to independently test the rainwater. She finally found one, and this week they get results back from the lab.
"No one, including the EPA has tested one drop of rainwater in coastal Louisiana for chemicals from the spill," she said. Results will be posted on the CHSL site.
Hughes' son Jake has been setting up a booth in front of their local grocery store handing out the pamphlet "How to Talk to Your Kids about the Oil Spill," so environmental volunteering runs in the family.
SUBSCRIBE AND FOLLOW
Get top stories and blog posts emailed to me each day. Newsletters may offer personalized content or advertisements.
Learn more