Romantic ballads and gourmet surprises abound at M Bistro and Davenport Lounge in New Orleans, and you can reserve a cheaters' booth for Valentines Day, just don't call it that. Or opt for a candle-lit table overlooking the bandstand to hear Jeremy Davenport, named one of People Magazine's 50 most eligible bachelors, hold court in the Ritz lounge. If you have doubts about your Valentine date's fidelity, she can't see Davenport from the cheaters' booth.
The price fixe Valentine's dinner includes a bottle of wine, but if you'd prefer to woo your loved one in the manner of a Roman emperor, the Chef's Table keeps serving until you ask them to stop. We made it through 9 courses and I'm considering taking up competitive eating if Executive Chef Matt Murphy cooks all the dishes. Freshness is the signature of the restaurant, which receives constant deliveries from Louisiana farms.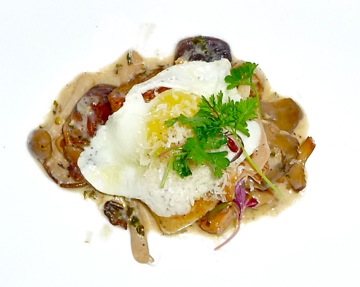 Dinner starts, appropriately enough, with heart shaped salmon carpaccio served with arugula, house made croutons, meyer lemon vinaigrette and shaved shallots; and sesame seared tuna with spicy mango pure' and baby lettuce. A flavorful lobster tail salad follows, featuring chilled lobster medallions with cherry tomatoes and mustard, lavender and fennel greens with vinaigrette. Not to be missed is a warm chanterelle and morel mushroom gnocchi with quail egg, reggiano, Parmesan and fresh herbs (pictured).
A trio of soups features chicken andouille gumbo; creole tomato bisque, and cauliflower bisque with applewood bacon hash. Viking smoked sea salt gave the cauliflower bisque staying power, and presentation includes a tiny Tabasco dispenser. Mango sorbet was the intermezzo; a heart shaped chocolate garnish adding a second Valentines note to the meal.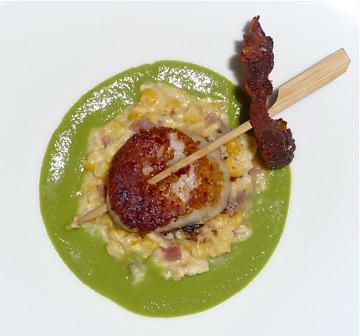 The third was Cupid's prosciutto arrow scallop with peppered prosciutto, hominy sweet corn risotto, green pea puree and Cinzano sauce (pictured). Chef Murphy and Chef Bradley McGehee stopped by our table and Murphy said, "We're having so much fun back there!" It showed, and Davenport was playing to a full house. Duck Amore, a slow cooked Moscovy duck breast, was served over pork belly black-eyed pea ragout with aged cheddar sweet potato sauce. The cheddar's cheesy deliciousness mixed well with the sweet potato.
As dessert approached we saw the finish line, until our server Peachy referred to it as "First dessert." Passionfruit crème brulée's caramelized topping gave it the perfect crunch. Next my husband dined on Southern peach cobbler a la mode and I made it halfway through a rich Venetian chocolate tort with Ponchatoula panna cotta sauce (pictured).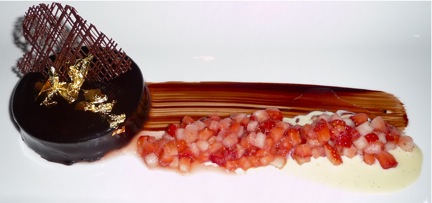 If you choose to woo your loved one with gastronomical feats of strength, the Chef's Table is calling. And M Bistro's namesake, Chef Murphy, has an Iron Chef's level of fortitude. He suffered a life threatening disease in 2008, but fought his way back to health for his wife, quadruplet daughters and new baby girl.
With that level of commitment, any romantic dinner is in good hands.
SUBSCRIBE TO & FOLLOW THE MORNING EMAIL
The Morning Email helps you start your workday with everything you need to know: breaking news, entertainment and a dash of fun. Learn more