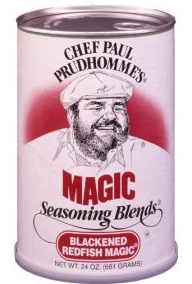 It's going to be hard to beat this in the Top Chef Quickfire Challenge. Paul Prudhomme, the New Orleans chef who made blackened redfish a staple of Cajun dining, was grazed by a falling bullet today while he was cooking for the PGA Zurich Classic golf outing.
The stray bullet tore his jacket but didn't pierce his skin, and after getting checked out for a clean bill of health Chef Paul kept right on cooking. According to WDSU, deputies are speculating that the .22 caliber bullet may have come from a hunter, and the range could be over a mile away.
The fact that its chef can take a bullet graze and keep cooking is reason enough to dine at Prudhomme's K-Paul's Louisiana Kitchen. Not to mention our upcoming festival season. But if you can't make it down to the Tennessee Williams Festival, French Quarter Fest or the Jazz and Heritage Festival, at least shake on a little Louisiana Magic Pepper Sauce.
And warn Padma Lakshmi - the cooking is getting tough down here.