If you were in New Orleans and up for two very different benefits, Saturday featured Burlesque for the Bayou for the Coastal Heritage Society of Louisiana at the Howlin Wolf, and Jazz for the Gulf for the Gulf Relief Foundation at One Eyed Jack's.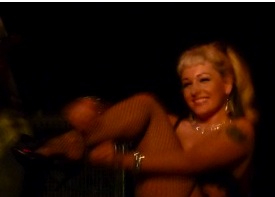 For the first benefit, you could see burlesque by Foxy Flambeaux, Bella Blue, Roulette Rose, Dorian Faust, and Spooky LeStrange; escape artist, VeVe Laroux, followed by The UnNaturals and We are the Pretenders. Proceeds will help CHSL to test Plaquemines Parish's drinking water, and benefit families and wildlife suffering after the BP oil spill. The organization is grass roots and non-salaried.
Kicking off a little later, Jazz for the Gulf at One Eye's Jack's featured top jazz musicians including Karyn Allison, Ellis Marsalis, Leah Chase and Charmaine Neville. Proceeds aid the Gulf Relief Foundation which raised $300,000 at Gulf Aid in May to support environmental organizations, the well-being of fishermen and those in the seafood industry affected by the oil spill.
Follow Karen Dalton-Beninato on Twitter: www.twitter.com/kbeninato