Very Sweet Update: Last night's d.b.a. event will have Mr. Okra back on the streets hawking his wares. The surprise of the evening included an unveiling of a new truck for Mr. Okra to surprise him. Ronnie Lamarque of Lamarque Ford, TG Herrington of Nom De Guerre Films, Weldon Frommeyer of River Parish Disposal and Tom Thayer of d.b.a. stepped up with gracious donations towards the purchase of the vehicle and money from the fundraiser will cover the rest. Folk artist Dr. Bob was on hand painting the new truck and the Mayor's Office bestowed upon Mr. Okra an honorary "Ambassador to New Orleans" commendation.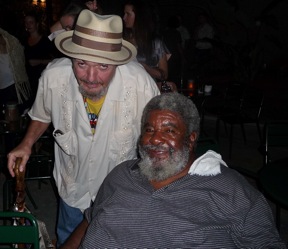 To hear New Mr. Okra's "I have eating pears and bananas," cadence coming down the street gives you the feeling that things are getting back to normal -- New Orleans normal. Mr. Okra has been selling his wares, including okra, from his colorful truck for decades, and The Nom de Guerre filmmakers produced a beautiful "Mr. Okra" short (here) that made both the Sundance and Cannes film festivals.
We know the film team and spoke at the film's premiere on behalf of the New Orleans Musicians Relief Fund (Mr. Okra at right with Dr. John at the premiere). Part of the proceeds would have gone to NOMRF and Make it Right but they've been needed to keep Mr. Okra's truck alive, and that truck is now most decidedly dead. That's where our Midwestern organic farmer friend comes in -- we showed him the film and he, like everyone else, fell in love with Mr. Okra's spirit.
His old truck could be modified to run on vegetable oil but it's generally too cold up north and veggie oil congeals. Veggie farmer, veggie oil, veggie sales -- it seemed like a plan and a local diesel mechanic was going to check the truck out to see if it's still road worthy but the team has decided to throw a benefit for a new truck and thank God. Because chances are we'd be standing by the edge of a cornfield with a farmer and a stalled truck if things went horribly wrong.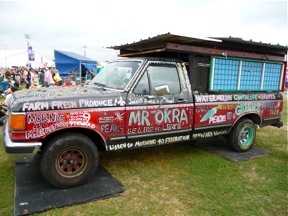 So if you're in New Orleans and want to support produce on wheels, go support the Mr Okra benefit concert at dba on Frenchman Street (May 20th). Tickets are $10 and donations are rolling in. Bands including Morning 40 Federation and the Happy Talk Band are playing in support of the new truck, and Morning 40 has the distinction of being painted on the truck by beloved New Orleans artist Dr. Bob.
Mr. Okra's new truck will also be painted by Dr. Bob, and some local museums are interested in buying the old truck. Here's hoping for a bidding war, a fancy new truck and all the eating pears and bananas Mr. Okra needs. Details on donating are available at: http://nomdeguerre.tv/foundation.html.