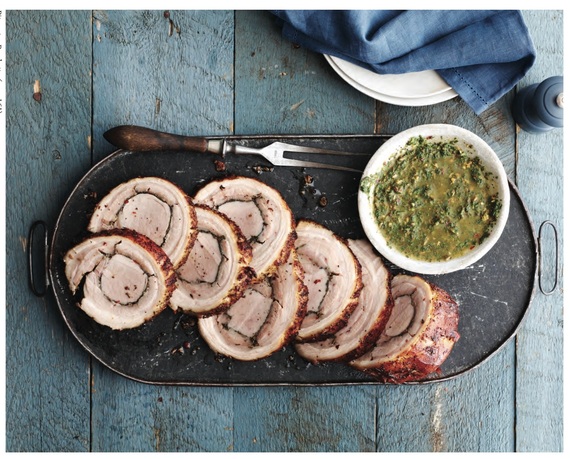 Just in time for BBQ season, New Orleans food writer Colleen Rush and beloved Chicago Barn & Co. pit master Gary Wiviott have come out with the book Low & Slow 2: The Art of Barbecue, Smoke-Roastings and Basic Curing. Clearly people are looking to get meat smart, a term I've borrowed from Rush who is also the author of The Mere Mortal's Guide to Fine Dining.
To get your mouth watering, see one of Rush's favorite recipes in the book: Smoked New Orleans-Style Barbecue Shrimp which she says is "inspired by the New Orleans classic, but with an added touch of wood smoke to give the traditional black pepper/Worcestershire/butter a rustic note."
Favorite number two, pictured above, Rush says is "Pitmaster Porchetta (what my co-author now refers to as his 'favorite vegetable;' it's a show-stopper. It's a riff on the traditional Italian porchetta. A brined pork tenderloin rolled inside pork belly with really vibrant fresh herbs -- smoked low and slow, then crisped to give it a smoky, fatty, crispy exterior. It's a ridiculously tasty smoked pork torpedo."
If pork torpedoes even need a follow-up, there's Pakistani Hunter Beef which she describes as Pakistani pastrami. "This is one of the most unusual and interesting recipes; it combines a technique that turns a regular, brined corned beef into smoked pastrami, delicious in its own right, but instead of using the traditional herbs/spices of pastrami (heavy coriander, black peppercorns), we asked a Chicago food writer, Mike Sula, also a James Beard award-winner, to develop a hunter beef rub -- cumin, coriander, chile pepper, ginger, cinnamon, cardamom," Rush describes. "He'd been writing about hunter beef found in Pakistani restaurants around Chicago, and the rub he developed is tasty. Not as salty as typical hunter beef, totally unusual, and definitely not your typical barbecue book recipe."
The book isn't the typical barbecue recipe read, Rush explains. "Just like the first one, it is a book about learning the true "secret" to barbecue -- building a clean fire, controlling airflow in your cooker. The recipes are great, but its the step-by-step method of learning how to cook with charcoal and control the temperature in a grill or smoker that makes it different.
"So many barbecue books say, 'Start a fire, run the cooker at 250*F for 10 hours,' but nobody tells you HOW to do that. It starts with the right charcoal load for your cooker, building a good fire, and adjusting the cooker's vents to control the airflow and grate temperature. We give a separate set of cooking instructions for four different cookers (the Big Green Egg, the Weber Smokey Mountain, an offset cooker, and the kettle grill). "
With some help from Low & Slow 2, I feel meat smarter already.
SUBSCRIBE TO & FOLLOW LIFESTYLE
Get top stories and blog posts emailed to me each day. Newsletters may offer personalized content or advertisements. Learn more