How to Guarantee Jennifer Aniston Won't Holiday With Your In-Laws
So here's how I see this playing out.
You're going to donate a substantial amount of time and money to rebuilding in New Orleans and here's what's going to happen next. Jennifer Aniston will not holiday with your in-laws. The United Nations will be loopy about you. You'll begin to accumulate a rainbow family to rival Josephine Baker's and that was one hell of a family. People will stop judging you for your holiday tofurkey.
A cute activist / architect in a newsboy hat will sit in front of 9th Ward slabs and reanimate Larry King on your behalf. Larry will then slooooowly whip out a checkbook.
Off camera.
Maybe you'll do all this before they bulldoze the homeless village downtown. That's scheduled in New Orleans next week. And perhaps the 20 percent of us finally diagnosed with post traumatic stress disorder will have a smidge less of a facial tic thanks to your efforts.
Mine's settling down already. I can almost guarantee that international superstars will find you hot. We all do.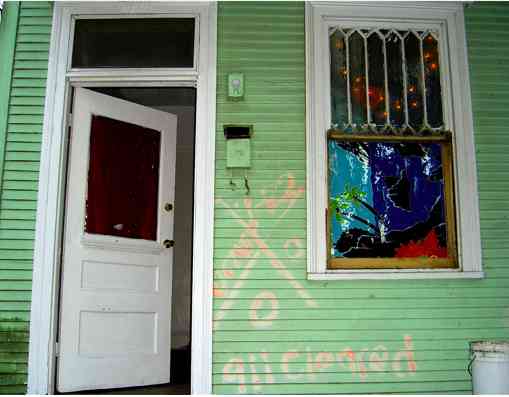 Next, you can write about it.
The Nation will give you a column that's so well written it settles the Writers Guild Strike by spreading both peace and love in one fell swoop of literary excellence.
Hollywood producers will be embarrassed that they have been focusing on the concerns of a workaday life while hundreds of thousands still languish far from home two years down the road.
By the way, you look fit. Have you been working out? Anyway, this is your invitation to whip out your huge heart and give a shit during the one time of the year when it's socially acceptable.
You'd be a fool not to.
My friend met Angelina Jolie and Brad Pitt at the unveiling of the Make It Right benefit art installation and described Brad's interview on Larry King as Christ-like. This is not a person generally given to hyperbole so my post is a tribute because that's what Friends are for.
And the above photo is the modest apartment another friend just found after two years on the road. One more New Orleans musician is home.
Follow Karen Dalton-Beninato on Twitter: www.twitter.com/kbeninato