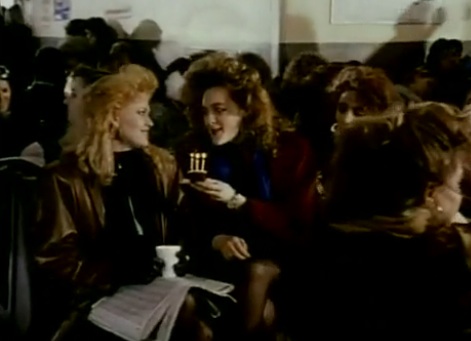 Setting: USDA Headquarters, Washington D.C.
For Shirley Sherrod backstory including the firing and unfiring, AP sums it up HERE. This is how I picture what happens next.
Shirley
Hi. Shirley Sherrod.
Secretary
Good morning.
Shirley
Good morning.
Secretary
The Director is out sick today, so he'll want to see you first thing tomorrow.
Shirley
Mm-hmm.
Secretary
Um...Mr. Vilsack's already up there. He'll show you the layout.
Shirley
Okay.
Secretary
It's all the way at the end of the hall.
Shirley
All right. Thank you.
Secretary
You're welcome.
Tom
(On telephone): Anybody's gonna be an improvement over that terrorist...I mean, just something semi-human. Oh! I didn't hear you come in. I'm Tom Vilsack.
Shirley
Shirley Sherrod.
Tom
I was just...using the phone.
Shirley
Yes, well...that happens.
Tom
How about some coffee?
Shirley
Sure. Just tell me where.
Tom
No, I'll get it. Um...oh...how?
Shirley
Milk and sugar, please. Thank you.
Tom
Uh...Miss Sherrod?
Shirley
Yes?
Tom
That's your desk. In there.
Shirley
I don't think so.
Tom
Oh, yes. I sit out here.
Shirley
I'm sorry. I thought the Secretary of Agriculture would sit out here.
Tom
That's right. I'm the Secretary. If it's okay, I prefer Assistant. You've got a ten o'clock meeting with Emmanuel from Administration, here. Eleven o'clock with Boehlert from Media Matters...his office is on twenty-three, and lunch with Ms. Maddow, her office downtown, one o'clock. It's all right there on the computer. Just hit shift-S for your schedule.
Shirley
Um...when I saw you...in here on the phone with your feet up, I figured this was your office.
Tom
I'm sorry about that, Miss Sherrod. It won't happen again, ever.
Shirley
It's okay.
Tom
Maybe now would be good time to go over what you expect of me.
Shirley
Um...I, uh...I expect you to call me Shirley. I don't expect you to fetch me coffee unless you're getting some for yourself. And, um...the rest we'll just make up as we go along. Okay?
Tom
Okay. I'll be...right outside if you need anything.
Shirley
Fine.
Shirley on Phone
Cyn...guess where I am?
Cyn
You got out! Oh, my God! I can't believe it! She's out! She made it out! She got out!

*That's how I picture Sherrod accepting the Unique Position offered by the Agriculture Department yesterday. Have I ever worked at a desk in a hallway? Have I ever had a terrible perm? Have I watched Working Girl far too many times? Yes, yes and yes.
So let the river run. Let all the dreamers wake the nation. And in case we're entering a new era of fairness, cue Carly Simon's New Jerusalem: