I spent the morning almost interviewed as part of CNNOnline's Blogger Bunch, but my feed dropped at the last minute. As a displaced New Orleans resident, that's either a metaphor or plain old bad luck.
To their credit, CNN and MSNBC are spending much of today focused on the 60,000 abandoned homes, the levees still only one third of the way into readiness for a 100-year flood and more than 100,000 former residents not home. As one of the CNNOnline panelists mentioned that, I waved back. There are as many reasons residents are not back yet as there are former residents due to issues of education, safety, jobs, Charity Hospital still sitting empty and, in my case, the need to stay north for parents who were in failing health when Katrina hit. But things are changing. We have a house shared with friends when we go down to work. It's a beginning, and news of New Orleans is now filtered through the feeling of having one foot back in the door.
With photo from NewOrleans.com, here is my liveblog of President Obama's Town Hall speech at the University of New Orleans today.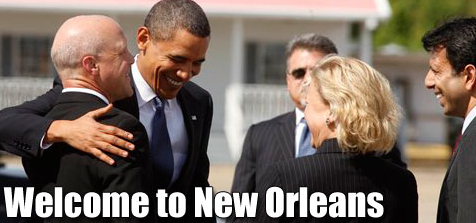 Via NewOrleans.com which is also livestreaming: The program is opening with a prayer for the city of New Orleans, a call for unity, and the pledge of allegiance before trumpeter Shamarr Allen plays the National Anthem.
1:15 The thank you's begin. No, no, Bobby's doing a good job. (boos!) Bobby, if it makes you feel any better, I get that all the time. And the second point is that even though we have our differences politically, this person is working hard on behalf of the state and you've gotta give people credit for working hard.
Senior Senator Mary Landrieu, Leutenant Gov. -- don't know if he's related -- Mitch Landrieu [he is]. Outstanding member of Congress Charlie Melancon [who had announced he would not attend but changed his mind]. Newest member Joe Cao -- asks his daughter's name. Those are some cute kids, they look like mom. I'm big on daughters. *Rep. Neil Abramson is also in attendance and submitted the photo below. Missing is Senator David Vitter.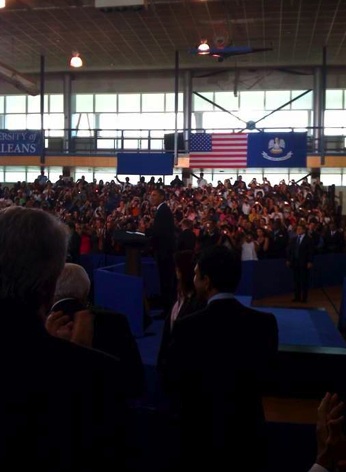 President introduces Mayor Nagin. Huge applause with rumble of boos. (There is a feisty crowd here!)
Secretary Homeland Security, HUD, Education, Environmental Quality (Shout out to Wetlands). Thanks Shamarr Keith Allen on the horn.
Thanks those who rebuilt in the face of ruin. May have swept through the city but it did not destroy this community and that is because of you, the people of New Orleans. Damage to Katrina not just caused by disaster of nature but also by a breakdown of government.
Mentions visits as Senator, presidential candidate. So far, I'm pleased to report we've made good progress. Fairly halfhearted applause.
Have sent more cabinet members to this region than anywhere else in the country. Mentions that won't tolerate turf wars between agencies, dispute resolution, 1.5 billion freed up from red tape. Schools, public health, broken roads, buildings -- Recovery Act has put thousands back to work. Tackling inefficiency that plagued HANO for years (applause).
Moving families toward self sufficiency. Just visited MLK Charter school, first to reopen in 9th Ward. Worked to be a better partner to allow universities to rebuild (First really big applause). Committed to building VA center downtown. Helping to hire cops and rebuild jails.
"I'm proud that my FEMA director has 25 years of disaster in Florida. A state known for its share of hurricanes. Put together group to study disaster recovery, modernizing emergency communication. Working to build miles of levees and strengthen wetlands and barrier islands that are the first line of defense for the Gulf Coast." (applause).
"Whether you're driving through New Orleans, Biloxi or south Louisiana houses still vacant, schools still waiting to thrive once more. I promise you we will not forget about New Orleans, the Gulf Coast, together we will rebuild this region and make it stronger than before." (applause.) Maybe the crawl saying "Mississippi mad" will change now.
Now Obama moves on to economic problems in the general recovery. "Our goal is not to just rebound from this recession but to build an America that works for everyone."
Talk of jobs created through the Recovery Act. Building a clean energy economy, education that equips every citizen with the training they need, building a health care system that offers affordable insurance to those who don't have it.
Gets the biggest applause so far.
"We are going to pass health care reform by the end of this year."
Just in case you were wondering, I never thought any of this would be easy. It's been 9 months, why? What did I say? Change is hard. And big change is harder. I don't quit. We get this stuff done. We keep on going until we get it done. Huge applause.
Obama: "Those folks who are trying to stand in the way of progress..." from lady in the crowd, "Alright now!" We now have full call and response cadence. Aaaaand, a Yes We Can from the crowd.
Mentions those who are struggling and challenges that wouldn't work with quick fixes. Diligence, perseverance, patience, renewed spirit of cooperation among our citizens. Asks for civility and areas of common ground. Same spirit that took hold of this region. You didn't get tired. You're still out there rebuilding. The true story is this community of unbending resilience.
Thanks first responders, emergency care, volunteer firefighters who recently helped Iowa tornado. Still remember when NYC firefighters who had been through 911 came to help after Katrina.
UNO graduating class this year is the first class that chose apply to a NOLA school after Katrina. Thanks the youth that came to help rebuild.
You believe in the possibility of remaking America to become what it can be.
*question time
Q: Girl Boy Girl Boy alternating. Calls on a Reverend Smith from Rayville. 30% dropout rate in US. We don't knock other schools but took our school to 97 percent attendance rate. No gangs and grad rate from 64 to 73.5 percent. In US, losing so many young men. We should look at all of our children in all of our schools.
A: MLK Charter school, schools weren't working for NOLA before the storm. COmmunity has used crisis as opportunity for new ways of learning. In Recovery Act, set up Race to the Top. Set aside $5 bil states can compete for. Show how you're improving performance, teacher quality the most important thing in a school, effective data, series to be good partner with state and local schools. Prob with No Child LFt Behind, bunch of tests but didn't follow through with tools to achieve goals. I can work hard, states, city but if parents don't insist on excellence from their children we won't succeed (applause). When I visited the school, beautiful kids charming, smart, introducing themselves very proud of their school you could tell adults had invested time...
(Cutting away to boy hanging from a balloon).
So from the morning's nonworking teleconference to this cutaway to a 6 year old hanging from a runaway balloon (which is, of course, terrible), New Orleans is still ready for our closeup. I'm jumping away to the NewOrleans.com feed. Wrapping up question on how to work more effectively with legal aid.
Q: It's a man's turn. Gabriel from New Orleans, FEMA reimbursements. Delgado largest vocational school had to turn away 1500 students not enough to cover. Without full service hospital for last four years. "I expected as much from the Bush Administration but why are we still being nickle and dimed in our recovery?"
A: Working as hard and quickly as we can. You mentioned Charity Hospital. Committed to working with city and state for world class health in New Orleans. Complication between state, city, feds. I wish I could write a check
Crowd: Why not?
There's this whole thing about the constitution and congress. Everyone will attack you for spending money unless you're spending it on them, you notice that? (laughter). Sprung loose 1.4 billion that had been held up for years. May not sound like a lot to you but it's real money. Talks about his team working, by the time my term is over you guys are going to look back and say this was a responsible administration...
Q: Calls on a woman who asks about immigration and kids lost in the system.
A: Discusses solution, "We are a nation of laws and we are a nation of immigrants. Don't have a lot of sympathy for folks who, once they're in, don't want somebody else to come in. But we're also a nation of laws." Reform would strengthen the borders, be serious about going after employers hiring undocumented workers (applause). In raids grab workers just trying to feed their families. Go after big companies purposefully hiring these folks. Several million undocumented workers who live here. Children now US citizens. Notion that you're going to send all those folks back, not all from Mexico. That's another stereotype that often gets promulgated. Describes fine, learn English, back taxes but pathway to get legal. Opportunity to solve in next year or two.
Q: Man's turn. Elliott Labaude on Healthcare Reform. This year's Social Security -- what will it do to remove Part B, removes increases we got in the past.
A: "SS will not see an increase because of deflation, costs down 6 percent. But with hardships $250 increase to seniors. In terms of Part B here's what health reform would do. Contain costs, lower across the board." Describes flawed medical care system. Electronic billing, saving 80 bil minimum on prescription drugs for seniors under medicare. With combined savings and reform Social Security benefits. Answers "What's in it for me?" Instead of deflation healthcare went up 5.5% Premiums going up 15 to 20 percent for employers. Will have to drop coverage or charge higher out of pocket costs. Average family premium doubled in 10 years. "If we do nothing your premiums will double again over the next 10 years." You heard a lot of funny tales, no cutting benefits under medicare, no forcing you to lose health insurance that you have. All we're talking about is giving you some options so you can still get insurance with preexisting conditions, employer can pool with others to get a better deal. (applause)
Insurance company stock went down, now they're getting nervous. You're going to start seeing a bunch of those ads. "Americans for good healthcare or something, probably a front group for the insurance industry and don't let them fool you. We're going to get this done.
Q: Ladies Turn. Environmental question mentioning there isn't even a recycling program in New Orleans. (big, big applause). In the midst of all the important things healthcare, education, domestic violence how can you as a leader make environmental policies more effective?
A: We have already invested in the biggest clean energy investment in American history. Retrofitting buildings, weatherization programs," Describes kind of a green Marshall Plan. Points out congressional leaders and says give your name and they'll give information on what they're doing (small laughter from audience). Climate change is real. Meaning worse hurricanes, more frequent, drought, famine, displacement around the world. Gone from 30 percent to 70 percent dependent on foreign oil. Ship out the wealth. Louisiana oil state. Good news is that coming out of this recession we're going to need new industry. Clean energy best opportunity. Increase environmentally sound ways to tap our oil and natural gas. Safe and effective nuclear energy like Japan and France. But most important new sources of clean energy and drastically ramp up energy efficiency (after healthcare) folks in Louisiana employed by energy industry will wonder how does this affect oil? Convinced package for energy independence can work. (Someone says he's ready to go). Lightbulbs, insulation other tips. Sealing natural gas leaks. Going to take a transition. Took a long time before you decided that Hummer didn't make much sense when gas went up to $4.
Last question, Man's turn (groans from ladies in crowd): Fourth grader Terrence Scott, why do people hate you and they're supposed to love you and God is love?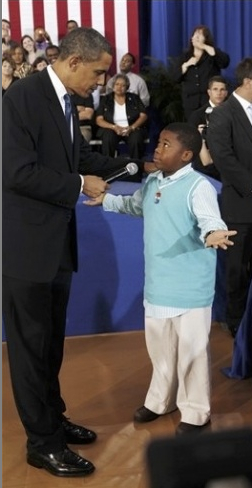 Photo by NewOrleans.com
A: Obama: "That's what I'm talkin about. Well first of all I did get elected President and not everybody hates me. If you're watching TV lately everyone seems mad all the time. SOme of it's just what's called politics. One party wins the other party feels it needs to poke you to keep you on your toes. You shouldnt take it too seriously. People are worried about their own lives, losing jobs, healthcare, homes and feeling frustrated. When you're President of the United States you've got to deal with all of that. Credit when things go good and blame when they go wrong. Keep on going when people are criticizing you as long as you know you're doing it for other people."
*And if you missed the result of the cutaway, there was no boy found in the balloon. MSNBC's Melissa Harris Lacewell is already mentioning on Twitter that her national interviews about New Orleans scheduled for today are being cancelled for coverage of the missing boy in a balloon.