"An angry man does not usually shake his fist at the universe in general. He makes a selection and knocks his neighbor down."
John Gardner
Grendel
As rebuilding leaves immigrants ensconced in the outlying areas that weren't destroyed in Hurricane Katrina, some of Senator Vitter's supporters have been posting locally that despite any peccadilloes, at least he fought President Bush's proposal for immigrants. They seem to feel that the Senator is all that stands between them and the willy-nilly availability of tacos in Jefferson Parish. That and Lou Dobbs.
Jefferson Parish has passed a new law to cite property owners for allowing taco trucks on their premises and the citations are flying.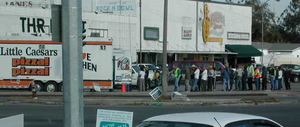 Back in the day, my grandfather-in-law sold his Blue Ribbon Hot Tamale recipe to Manuel, the Tamale king of New Orleans. Manuel would peddle his hot tamales in a very different social climate as a newcomer these days. Day laborers who haven't opened taco stands are packed into a limited number of apartments. They're not just filling "jobs others won't do" -- they're filling jobs no one should have to do under an OSHA nightmare. One Hispanic worker told his family he was fearful about his job raising houses to suit new flood guidelines. He was killed when the house he was working on fell and crushed him.
New Orleans' federal minority worker requirements should not have been waived post-Katrina, and Halliburton's no-bid reconstruction contract should have been replaced with a WPA type program, employing the many New Orleaneans who had no jobs left to return to. By now, many have found other jobs and there's no easy way to put out the welcome mat for 200,000 as the Road Home program teeters on bankruptcy. Everything is conjecture when it comes to the New Orleans populace these days. Some surveys say 5,000 New Orleans musicians were displaced. Others say 2,500. I know it was a lot. One study found out that deaths are up by 50 percent post-Katrina by counting local obituaries.
Whatever the immigrant numbers, (I'll say immigrant rather than illegal immigrant because I've never carded anyone), early on you could see them lined up outside Western Union on payday wiring their salaries somewhere else. They lined up in the Rock 'n Bowl parking lot getting fast food and most probably made a mental note to start taco stands. Many were housed in a tent village at City Park.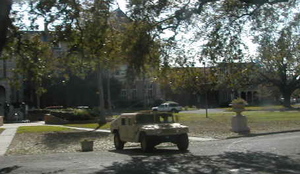 When we came home to move, I threw a musty suit jacket off the balcony because there was no proper garbage -- only a bobcat that picked everything up off the lawn the next morning. A day laborer walked up and asked if he could have it, so I gave him a lot of jackets. We had to hurry, the National Guard humvees came through at dusk to usher everyone out of neighborhoods that were still without power. At least one entrepreneur may be operating his taco stand in my '80s Donna Karan jacket.
At the time, many of those rebuilding were not in a position to spend their money in the city and that killed some small businesses. But two years down the road, some can contribute to the local economy. Hence the taco stands. New Orleans councilwoman Shelly Midura has invited the stands to her district. As the oil companies and their employees seep out of town two years post-Katrina, immigrants are invited to roll their carts in from the outlying Parishes.
New Orleans eventually welcomed its Italian immigrants, too. After the Civil War, Italians filled the labor shortages on plantations. They got a rocky start, which may be why Grandpa gave Manuel a hand starting out. In 1890 when the police chief was found murdered, more than 100 Italians were arrested in a sweep and 11 were lynched after a mob stormed the jail. But they kept coming. By the turn of the century, the population of the French Quarter was 80 percent Italian.
Many of the Italian immigrants opened fish markets, fruit stands, restaurants and corner groceries like one owned by Cosimo Matassa, who in his spare time invented rock and roll in his recording studio along with Wardell Quezergue and Fats Domino. Cosimo was honored with a Lifetime Achievement Award at this year's Grammy ceremony and took a vacation from the grocery store to go accept it. Two Italian mayors have been elected, and musically Nick LaRocca contributed to the birth of jazz and Louis Prima ushered in swing.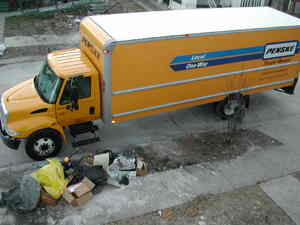 Sicilians often came straight into the Port of New Orleans and worked there. The founders of Progresso Foods sailed in from Palermo. There are now too many Italian restaurants in New Orleans to list and you should go down and eat at each one of them and overtip.
The Godfather of the Gulf Coast, Carlos Marcello, immigrated with his parents back when the French Quarter was known as Little Italy. After one of his trials, the Government deported him to Guatemala which he had falsely listed as his birthplace. So there's a Latin American tie-in, albeit obscure.
Eventually the French Quarter could be referred to as Little Mexico.
Jaquimo's is New Orleans' premiere Creole restaurant. As we left there just before Christmas, my friend yelled Felice Navidad into the kitchen. More cheering poured out into the restaurant than I've ever heard, even in New Orleans' rowdiest kitchens.
I think they're staying for the food.