Finding out Michael Jackson's birthday falls on the fourth anniversary of Hurricane Katrina was a bad day. Finding out that he was also going to be buried on 8/29 was worse. The New Orleans Musicians Relief Fund has hosted ReDefine 8/29 commemorations in the past, but this year we feared that the state of New Orleans recovery four years after the levees failed would be shown, at best, during intermissions.
So we decided to go virtual with Jackson Squared(c). It's just what it sounds like -- Michael and Andrew Jackson riding into the sunset in Jackson Square as Michael waves his magic glove in front of ReDefine 8/29 and Hurricane Warning flags. New Orleans pop artist L. Steve Williams, Jr. finished it this morning, and it's a thing of beauty.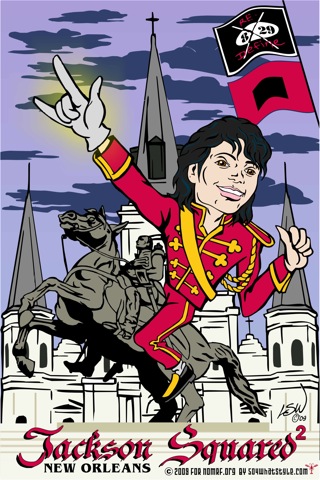 Michael's trademark band uniform is especially appropriate because 500 pounds worth of band uniforms are on their way from a New Jersey school to a New Orleans school for its first marching band. In this economy, grass roots charities are more likely to receive repurposed items than financial donations but people give what they can and we find it a home. The Jackson Squared Campaign hopes, against all odds, to dovetail into coverage of the King of Pop with reports from the Cradle of Rock and Roll. I suppose the real message is that yes, Mainstream Media, there's room for more than one topic at a time.
Jackson Squared will reach New Orleans shops soon but for now, Jackson Squared merch is available online. NOMRF's rock auction is posted HERE, wrapping up on 8/29 when many worthy charities will host commemorations. For those hosting commemorations, add a comment with your event below.
If you're in New Orleans for 8/29, the Midsummer Mardi Gras Krewe of Oak's theme is going to be "Beat It."
In other good news, the family has postponed Michael Jackson's burial to September 6th.
In otherworldly news, Michael Jackson's glove is now following me on Twitter.