Two thirds of America is wary of where their New Orleans charity donations have gone, according to a new University of New Orleans survey, so this is some information on what the New Orleans Musicians Relief Fund has done during last two years:
First of all, we have a tiny carbon footprint. Our staff of two has never bought airline tickets to attend a benefit. Amazing volunteer efforts have led to events around the world, and the Fund has distributed those proceeds to hundreds of displaced musicians.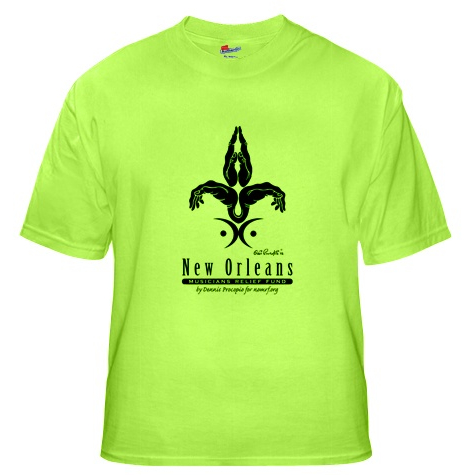 In further green efforts, NOMRF doesn't print emails, works by energy efficient light and has never mailed out glossy brochures to solicit donors. We have asked musician friends to offer support and thanks to Jeff's dB's background, those friends include Wilco who hosted one of the first benefits, and Rock and Roll Hall of Famers REM who donated a track to ReDefine 8/29, which received a four star review in Rolling Stone.
There are also very cool new friends like Dr. John and Jake, who has again collected 500 toys to distribute including BluzKat books.
Jake is 11 and lost everything to Katrina but still works to help kids who have it worse, which shows the emerging spirit of New Orleans.
Right before he reserved the right to run for president someday, Jake said in a speech at Jackson Square on the anniversary of 8/29: "We're not Katrina victims. We're Katrina survivors."
After starting NOMRF while displaced in FEMA rooms, we learned it doesn't take renting an office to mail checks to displaced musicians. A volunteer tech support team created the database and our vastly underpaid staff screens applications. A volunteer publicist helps spread the word, and a team of volunteer accountants keep our corporate filings in order. Volunteer attorneys helped process the title of the donated New Birth Brass band, which sadly was just stolen so the holiday drive is on to replace it.
Dr. John told Entertainment Weekly that "Small organizations -- they've done more than these big organizations with a lot of money. Everything is f---ed up with the politicians and all. There's nobody taking care of business but the people.''
MySpace has nominated NOMRF twice for its Community Building Impact Award, and we're waiting to see if the third time's the charm.
The new Saving NOLA Store in the French Quarter (First floor, Jax Brewery) has started selling gear to benefit NOMRF. Last year they raised enough to build a Habitat for Humanity home, so our nonprofit is in good company with Drew Dat, Make it Right, Musicians Village and Global Green merchandise.
Speaking of merch, New Orleans artist Dennis Procopio has just donated the Fleur de Mains image above (ONLINE SHOP), and it perfectly represents the city's renewal. There's still time for standard shipping gifts to arrive before the holidays if you've got stockings to stuff.
Renewed support would be very, very welcome.