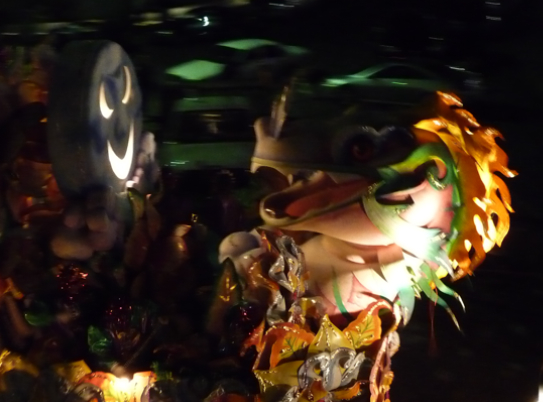 I've been blessed enough to have John Sinclair share excerpts from his upcoming book, and there can be no better day to publish it than Mardi Gras. The Mardi Gras Indians will be doing what only they can do at the Hi Ho Lounge this afternoon. If you can't be there, cultural icon John explains our celebratory nature with an early note from the storm. I'll try to post photos tonight but if we've learned anything from last year it's the fact that no one can properly liveblog Mardi Gras Day. Long live New Orleans and long live Mardi Gras. No one can express this as well as John Sinclair.

IV--WADE IN THE WATER

Dr. John Weathers the Flood

Excerpt by John Sinclair

"There is no native son of New Orleans more fiercely native than Mac Rebennack, known professionally now for almost 40 years as Dr. John.

Born in November 1940, Mac grew up in the Golden Age of New Orleans rhythm & blues and has spent a long and exceptionally productive lifetime in uninterrupted service to the music and the community that nurtured it.

From his first album, Gris Gris Gumbo Ya Ya (Atco, 1968), through classic early Atlantic/Atco LPs like Babylon, Sun Moon & Herbs, Remedies, Gumbo, Desitively Bonnaroo and In the Right Place, and into the modern era with productions like his Grammy-winning Going Back to New
Orleans (Warner Bros, 1992) and last fall's Hurricane Katrina benefit disc, Sippiana Hericane (Blue Note, 2005), the Doctor has proclaimed his love for the music and culture of New Orleans and helped turn the world on to the many joys of the Crescent City.

So when the high winds blew and the levees broke and 80% of the city was under water, Mac's mental landscape was as bleak and desolate as the gruesome geography of greater New Orleans. Although he's been based in New York City and environs for many years, he's got hundreds of life-long friends and family members going back to his childhood in the Third Ward 60 years ago, and he's remained a particularly active member of the Crescent City music community since returning home to cut Going Back to New Orleans in the early 1990s.

Mac has recorded countless albums under his own name and remains a ubiquitous participant in the music and recording activities of others way too numerous to list here. In New Orleans alone he's collaborated with everybody from Pete Fountain and Al Hirt to Donald Harrison Jr and James Andrews, and he's played a key role in several historic Mardi Gras Indian recordings by the Wild Magnolias, Golden Eagles and Guardians of the
Flame.

The Doctor's hometown practice is both wide and deep. He's tight with everyone from Eddie Bo and Dave Bartholomew to Lillian Boutte and the Dirty Dozen Brass Band. He came up under Professor Longhair and Prince La-La and Roy Montrell and Harold Batiste, Jessie "Ooh Poo Pah Doo" Hill and Joe "Mr. Google Eyes" August, and he's an exact contemporary of James Booker, Allen Toussaint, Art and Aaron Neville, Irma "Soul Queen of New Orleans" Thomas and Oliver "Who Shot the La La" Morgan (whom he still calls "Nookie Boy")--and he's influenced at least two entire generations of hip musicians of the Caucasian persuasion who have followed in his wake.

More than anything else, though, Mac Rebennack is a leading exponent of that small but potent fraternity of white Americans who have fully embraced African American life and culture in all its glory and completely immersed themselves in the musical and daily life of the black world within the United States that remains hidden to all but the very few white people who want nothing more than to be a part of it.

That said, it's easy to understand Mac's consternation at the ugly unfolding fate of the City That Care Once Forgot. From the days immediately after the flood when he was trying to locate a lot of the people he cares about, through the series of benefit concerts and recordings and important national appearances he's made in the months since, to his continuing participation in every sort of relief effort in the present, he's stayed in constant touch with the situation and done everything he knows how to do to make things better.

"You know," Mac confides in a trans-Atlantic telephone conversation between my base in Amsterdam and his Long Island home, "I ain't never got un-angry since the hurricane. Every night on the gig, no matter where we at, I give the audience an earful about my thoughts about it, you know?

"Every night on the gig I get on my robe and--you know I'm crazy, so I don't give a damn what I tell 'em. And the only time we ever had any complaints about it--actually, I got one in Seattle that was a complaint that I didn't say enough.

"In Miami, the only negative thing I got was a mayor, I think it was Hollywood Florida, she come up and said, 'We don't use the "C" word in Florida.' I said, 'Well, look, Lady Mayor, I'm a coon-ass. I think we had dibs on possibly inventin' corruption, so if you don't like the "C" word here, what do you call it? What you call corruption?" When I replied, "I think they call it 'business as usual,'" Mac said, "Well, we know all of what they might call it, but their business ain't cuttin' it for me. I don't know who it's cuttin' it for, but their portion of the pie looks kinda cock-eyed to me. So I'm very glad to see some of 'em fall, it makes me feel a tinge--as Jelly Roll Morton would say--a tinge better. "But if I was to look at these lames and try to say, hey, well, I feel good about anything, wow, I'd be really jivin' myself."

I reminded the Doctor that I'd heard him preaching at the Jazz Festival in Detroit last Labor Day weekend, right after the Flood. "I heard you all the way down on the other end of Woodward Avenue from the stage, sayin' 'President Bush don't like black people.' Man, I heard it three blocks away!"

"Hey," Mac laughed, "I got it from some hip-hop kid. I was talkin' to Bobby Charles, and I told him that, and Bobby says, 'Well, Mac, it's kinda obvious, daddy,' he says. 'Look on the TV. If ya look at the Convention Center and the SuperDome, you ain't gonna see no white faces--maybe one or maybe two, but you ain't gonna see 'em.' And Bobby was pissed."

Mac and Bobby go back a long way. Mac was a 15-year-old guitarist and bandleader in New Orleans when Bobby Charles came in from the sticks and cut "Later Alligator," "Take It Easy Greasy" and his other mid-'50s hits for Chess Records under the direction of Paul Gayten. They've been friends ever since, and Mac's cut a number of Bobby's hip compositions
over the years.

For his hurricane relief album, Sippiana Hericane, Mac framed his four- part Wade: Hurricane Suite with the Bobby Charles anthem "Clean Water." But Bobby had a new tune, written after the Flood, called "The road to the White House is paved with gold....and the truth will set you free." "I wish we coulda got the words and all," Mac laments, mentioning a garbled phone conversation where Bobby played and sang the song for him, "and the music for it--I woulda cut that sucker. But I didn't get the words from Bobby until like a month after we had done cut the record. (HERE and on Dr. John's new CD)

"I was wantin' to cut 'Clean Water' anyway, but I wanted to put that other one on too. Man, he had did it on the phone, but I couldn't hear it good enough, you know. Man, I was gonna roust up somebody to do some little hip-hop thing on there--that was my plot for that, but I couldn't get the words.

"Man, look, we was scufflin' just talkin', you know. Bobby had lost his pad--I mean, everything where he lives at was gone. I mean, the whole town don't exist no more, amongst a whole lotta other places. "We was comin' back through southwest Louisiana from Austin to work in Lafayette," the Doctor remembers, "and man, it was like--all of a sudden you could tell when you was outta the state of Texas and hit the Louisiana border. It was like--Lake Charles looked like a volcano flowed over it and alla that.

"We know we definitely Third World country material now," Mac says. "You know, everybody I know in New Orleans is elsewhere. You know, look, I run into people--I talked to little Tracy the other night, he said he just got his FEMA lights on...and he's lucky. And he's callin' it like it is. It's just pathetic crap, you know?" "Alright, man," I concluded, "I'm gonna write this up for a little magazine outta Oxford, Mississippi called Honest Tune, and they gonna put you on the cover."

"Yeah, that's cool," the Doctor chuckles. "Hey, listen, you just do whatever the hell you regulationally do, and it'll work. You know, I'm just tryin' to agitate the people."