It was a clash Tennessee Williams could have appreciated. During the Tennessee Williams Literary Festival a panel of very, very depressed editors held forth in the Bourbon Orleans Ballroom. Every topic ended up descending into the fact that print media is dying if not dead. With post mortems on Judith Miller and her devastating effect on the public's trust in the media (The New York Times editor kept her chin up throughout), the room was fairly electrified by the time I asked the last question of the panel and all hell broke loose.
It was meant as an inquiry into the viability of self-publishing on the internet. Not only did the last magazine I wrote for lay off its writing staff, but an editor's name has turned up on my article which may just be a horrible mistake. Writing for the Huffington Post is helpful exposure for environmental causes but not a career, so co-founding a New Orleans online publication seemed like hopeful middle ground.
"Like The Huffington Post?" a panelist asked?
"Well, smaller, local, green and . . . "
"Arianna Huffington is pure evil," he answered. And that's the nicest thing he had to say. There were aspersions cast on Jamie Lee Curtis' opinions on the Middle East, the New York Times editor, already having a bad day, did defend the internet as a viable media outlet, but the other two weren't having it.
I had already given the microphone back or I would have objected when they described the writing here as nothing but links to other reporting. When half a million gallons of oil spilled into the Mississippi River and candidate John McCain delayed his oil rig photo op with Governor Bobby Jindal claiming bad weather, that would have been true if it was raining oil. The Mississippi made my eyes water, oil was dripping off of New Orleans paddlewheels and the national media did not make the initial connection posted here in Oil of Delay.
There is rarely a blowback to print media's blog attacks since a) why bag on a medium that's already dying; and b) as staggeringly unlikely as it is, they may be hiring.
One aspiring writer told me later that after saving up for the seminar the bleak outlook for reporters made him want to give up. Another writer said he feels not only is journalism moving exclusively to the internet, but he would enjoy hearing some of his favorite writers reading their posts online. And one woman told me the panel wasn't nearly hard enough on the Huffington Post. I've left the editors' names out because maybe their disparaging of those of us who can no longer find jobs in journalism and still write here for love of the craft was all a horrible mistake.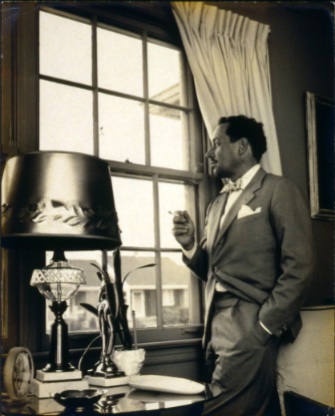 The Tennessee Williams Festival is by far my favorite literary event of the year, but launching LiveGreenOrleans kept us at the Superdome Green Zone all weekend so I only made one other event - Jeremy Lawrence's tour de force. Alternately euphoric and in despair, Jeremy became Tennessee as he read through journals, drank, danced and fought off a writer's demons.

It occurs to me that all of this hair pulling over types of writing, readers commenting and commenters writing comes down to the title of Jeremy's play: A Lonely Man's Habit. A woman who may have known Tennessee laughed as Jeremy sang, "I Cover the Waterfront," and cried when he crumpled to the ground talking about his sister Rose. Brass bands marched past and the sound bled into Le Petit Theatre which may soon be closing for lack of funding.
Note to old media: things are tough all over, but it's springtime in New Orleans. We've found a room with wild ginger growing outside the window and for the first time since Hurricane Katrina I can leave my shoes in a closet and know they'll be there when I come back to town.
Bloggers are blogging, Tennessee's dancing and I very much want to know what Jamie Lee Curtis thinks about the Middle East.