The following piece was produced by the Huffington Post's OffTheBus project.
It's not Fred Thompson's best week ever. Yesterday George Bush introduced an Admiral as surprisingly rooted in show business. ''After all, he is humble, well-grounded and filled with common sense. Not exactly what one thinks about when they think of Hollywood values."
Secondly, the actor finds himself on the campaign trail with a member of country band Big and Rich. That begs the question for the rest of the candidates, what musicians best get your values across and who do you want on the bus? To add to the challenge, what song? Candidates in italics have already selected a campaign song. For the rest, one has been selected for you.
Breaking News Update: Mike Gravel 2008 Campaign Office just sent me his tune and tour choices: "Frank Sinatra would have been his tour partner. Power to the People by Lennon is the tune of choice."
That should have been obvious as this is one of his flyers: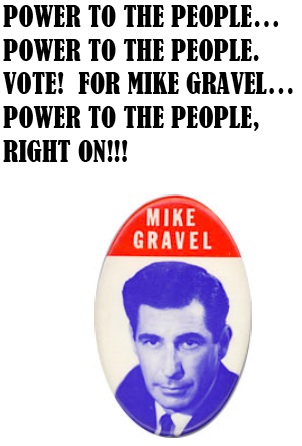 For the remaining candidates, some tour buddies have been chosen for appropriate band names, some for the mental picture of the road trip. If the band is defunct, I ask that they reunite. This is only a tentative list, so start thumbing through those album collections. Yes, albums. Barack has listed his two favorite bands as Stevie Wonder and Earth Wind and Fire. Submit your choices - I'm hoping for at least one coffee spit take today.
Bonus track? A link to Alan Keyes singing "Somewhere Over the Rainbow." Bonus Fact? Barry Cowsill of the family band who performed the hit song "Hair" was lost to Hurricane Katrina. Don't know if Edwards knew that when he chose the song for his video, but it ties in with his New Orleans campaign kickoff.
Fred Thompson
Big and Rich
Mind On My Money and my Money on My Mind
Brownback
The Dixie Chicks
Jailhouse Rock

Biden
John Fogerty
Center Field

Clinton
Celine Dion
You And I
Dodd
The Four Tops
Reach Out, I'll Be There
Edwards
The Cowsills
Hair
Giuliani
New York Dolls
Mr. Big Stuff
Gravel
Frank Sinatra
Power to the People
Huckabee
Slim Whitman
Son of a Preacher Man
Hunter
War
California Dreamin
Kucinich
Paul Simon
Is She Really Going Out With Him?
McCain
Toby Keith
One Step Forward and Two Steps Back
Obama
Ben Harper
Better Way
Paul
The Roots
Peace Train
Romney
The Osmonds
We Are Family
Richardson
Willie Nelson
War - What Is It Good For
Tancredo
Ted Nugent
Gypsies Tramps and Thieves
Vilsack
The Call
Let the Day Begin
Read more OffTheBus coverage and get involved by clicking here.