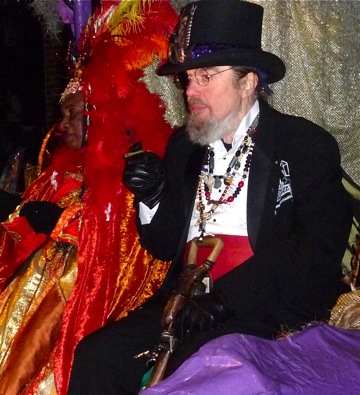 Dr. John's Oscar-nominated "Down in New Orleans" written by Randy Newman for the Princess and the Frog rounds out what could turn out to be the winningest week in the history of the city of New Orleans.
On Saturday, either one mayoral candidate will win the election, or two will make the runoff. And on Sunday the New Orleans Saints will win the Superbowl 35 - 17 (or so I predict).
Already this week, the NFL wrote the Louisiana Attorney General a letter clarifying that it does not own the rights to black and gold, fleur de lis or who dat, only to items represented as official NFL merchandise - a winner for local merchants in a brutal economy.
Add to all that the fact that New Orleans is in the middle of Carnival Season which Dr. John kicked off as Haitian Loa God Ghede in the Krewe du Vieux parade (above) with Voodoo Priestess Mother Miriam, and it is truly a magical week for the city.
Mid-week, Dr. John performed his original composition "The Only Thing New In New Orleans is James Perry" for Perry's mayoral campaign rally. But back to Disney, preview the Academy's nominee for best song and enjoy "Down in New Orleans."
And stay tuned for the HBO's Treme, coming up in April. As far as the culture of New Orleans, it explains a lot.
Down in New Orleans
By Randy Newman

In the Southland there's a city way down on the river
Where the women are very pretty and all the men deliver
They got music it's always playing, starts in the daytime goes all through the night
When you hear that music playing hear what I'm saying it makes you feel alright

Grab somebody come on down bring your paintbrush we're painting the town.
There's some sweetness goin round catch it down in New Orleans.

We got magic good and bad, make you happy or make you real sad.
Get everything you want and lose what you had down here in New Orleans.
Hey Partner don't be shy, come on down here and give us a try
You wanna do some livin before you die? Do it down in New Orleans

Stately homes and mansions of the sugar barons and the cotton kings.
Rich people, poor people all got dreams. Dreams do come true in New Orleans
SUBSCRIBE AND FOLLOW
Get top stories and blog posts emailed to me each day. Newsletters may offer personalized content or advertisements.
Learn more